Top 25 Selling Cars In May 2019
Maruti dominates the sales chart in the month of May with the company taking up the top 6 spots.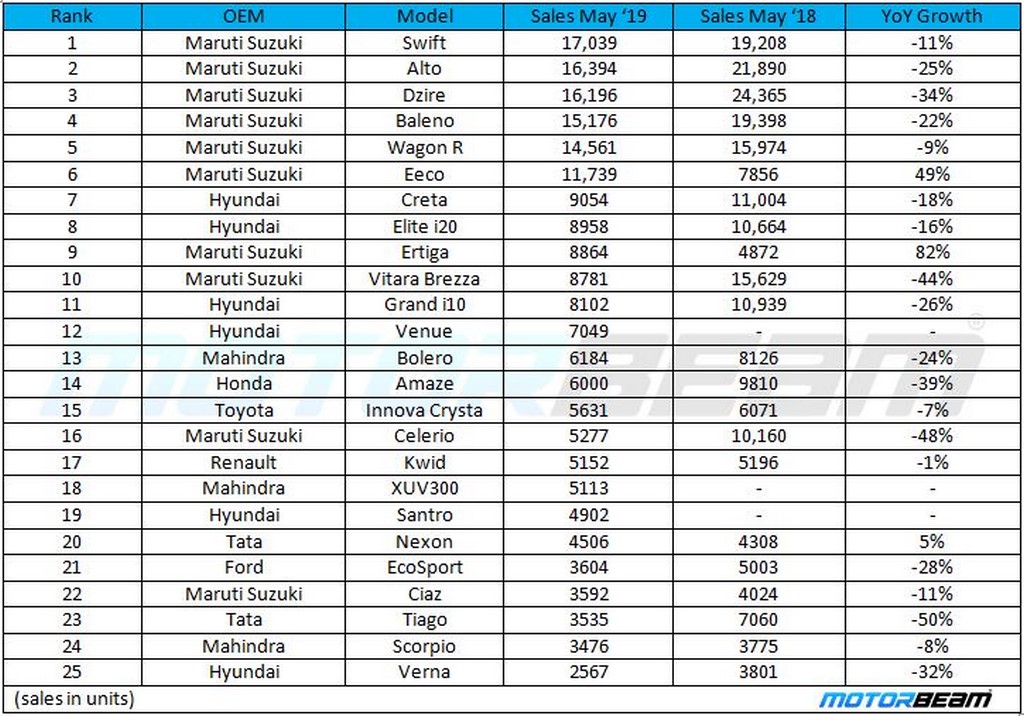 As we observe in the list, the majority of the vehicles have seen a decline in the YoY growth. Many manufacturers have seen low sales in May 2019 than May 2018. The top-selling Maruti Swift has seen 17,039 units being dispatched this year, which is less when compared to last year at the same time, where sales stood at 19,208 units.
Alto is one of the best selling hatchbacks in the country, but even the best seller has recorded a downfall in YoY growth by 25 percent. Coming below the Alto is the Dzire from the same brand that has also seen 16,196 units being dispatched this year. Whereas Maruti managed to sell 24,365 units last year. Hyundai is sitting on the 7th position with the Creta and has managed to sell 9054 units of the compact SUV this month.
On the list, the Maruti Ertiga has seen the maximum YoY growth of 82 percent, where the Indian manufacturer sold 8864 units of the car this May. Tata has also shown a positive trend with the Nexon compact SUV and has seen a YoY growth of 5 percent. Hyundai Venue, Mahindra XUV300, Hyundai Santro all have been introduced this year and have sales figures as 7049, 5113, 4902 units respectively. Dwelling at the bottom of the list is the Hyundai Verna that has seen a 32 percent decline YoY.
Renault has recently crossed the 3 lakh sales mark with the Kwid, yet has managed to grab the 17th position on the list, with a 1 percent decline in YoY growth. Ford has seen a 663 percent rise in sales with the Figo when compared to May 2018. The American manufacturer has managed to sell 610 units of the Figo this May and had only managed to sell 80 units in May 2018. Volkswagen has seen a 100 percent decline in YoY growth with the Tiguan SUV as the company has managed to sell 0 units of the vehicle in May 2019.
May 2019 Car Sales
– Maruti leads the list with 10 products on the top 25 list
– Mahindra is not faring well in sales with the fan favourite Scorpio
– Tata has managed to sell 1779 units of the Harrier this month