Meet Tony 535 – Inbred Son Of Royal Enfield & Yamaha R15
Delhi based customizers have given the bike a retro-racer look with stunning visual effects and a thumping heart.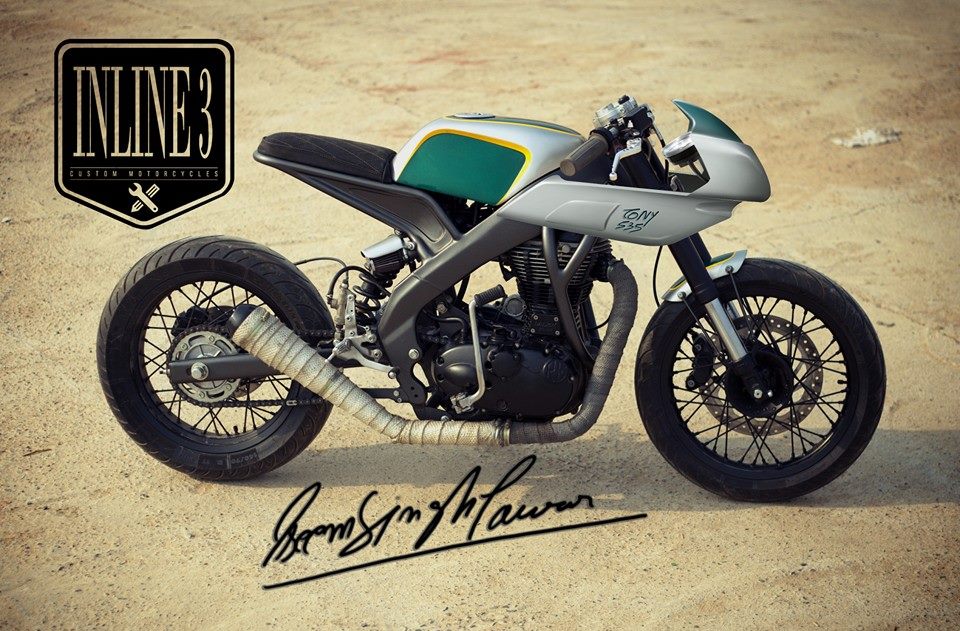 In the past, we have seen that automotive designers all over the world have a special liking for Royal Enfield motorcycles and their timeless design language. They usually enhance the visual appeal of the bike and add a custom and a more reliable engine to it to bring it to a full circle. But we all know that creativity and talent know no bounds, as showcased by Delhi-based motorcycle modifiers, Inline3 Custom Motorcycles, who have transformed a rowdy Yamaha R15 into a retro-racer and added a Royal Enfield Engine to it. They also gave it a cool sounding name – The Tony 535.
The Tony 535 is the perfect example of how Royal Enfield motorcycles are not just meant to be Bobbers, choppers or café racers at the end of a custom build. As obvious it is, the 535 in the name of the bike is because it uses a Royal Enfield 535cc mill which has been heavily revamped and upgraded. The machine gets a forged piston, performance valves, cams, engine bearing, con rod and power commander ECU, all of which have been sourced from Hitchcock Motorcycles, UK. The WP suspension system has been sourced from a KTM.
The first generation Yamaha R15 has also been given a complete transformation and made to look like a retro-racer bike trapped into a time-capsule. The Tony 535 has been painted in Grey and British Military Green. Built as a no-frills machine, the motorcycle looks lean and has a clean aura attached to it. However, the overall package flaunts a mean look inviting the rider. Brakes include discs at both ends while the swingarm has been borrowed from a Royal Enfield Thunderbird.
The custom motorcycle and its evident beauty showcases that there is no dearth of talent and will for gifted minded people who can conjure machines fit for riding into the sunset while looking awesome doing that at the same time.
Tony 535
– The first generation Yamaha R15 has been designed to look like a retro racer
– The engine itself has been upgraded with new pistons and valves
– The overall package flaunts a mean look