Mercedes-AMG SLC 43 Launched In India, Priced At Rs. 77.50 Lakhs [Live]
The Mercedes -AMG SLC 43 has been launched in India, and is priced at Rs. 77.50 lakhs (ex-showroom, Delhi). The car will replace the company's SLK 55 and comes with the new '43' nomenclature which is set to become the norm in all future AMGs.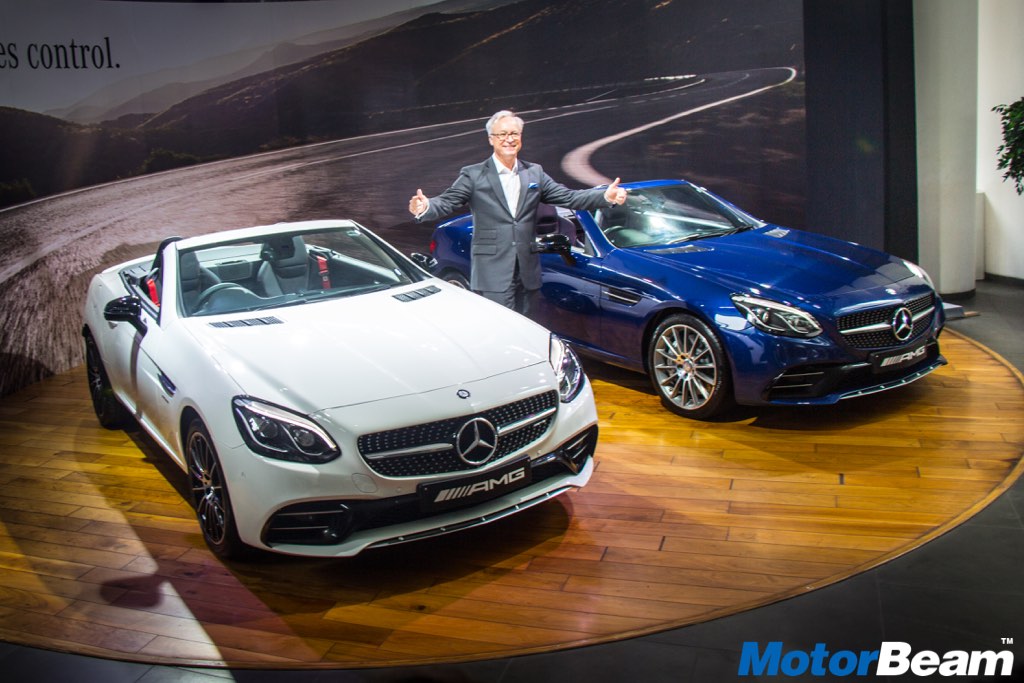 Mercedes has been working towards updating its AMG line up world over. The company now tries to cement the '43' and '63' tags for all its AMG powered vehicles. While most models have received a mere name change, some older cars are getting more than just a badge update. The AMG SLC 43 launched today, is one such beast. Replacing the iconic AMG SLK 55, the SLC is the first car in the Indian line-up to carry the AMG 43 badge.
The Mercedes-AMG SLC 43 now gets an all new design which better fits the current design language that can be seen in the Mercedes' family. The diamond grille looks strikingly similar to the A-Class and the AMG GT. It maintains the same roadster profile that we have come to love in the AMG SLK 55 with the long bonnet and the minimal overhangs. The rear seems to stay more or less similar to the older car.
The engine is another significant update over the older car. The Merc now gets a bi-turbo V6 rather than the growling V8. Capacity has gone down to 3.0-litres from the former 5.5-litres. The engine now makes a modest (by AMG standards) 367 HP of power and 520 Nm of torque. This comes married to a new 9-speed auto box. The company claims a 0-100 Km/hr time of 4.7 seconds, while the top speed has been limited to 250 Km/hr.
The SLC doesn't fall short on features too. The Merc gets all the goodies, like LED headlights, leather upholstery, 18-inch alloys (with plenty to choose from), Merc's proprietary COMAND infotainment system, a Harman Kardon audio system, ambient lighting, Apple Carplay and Android Auto. Mercedes has priced the AMG SLC 43 at Rs. 77.5 lakhs (ex-showroom, Delhi), which puts it right against the BMW Z4. The SLC  is the 6th launch of the automaker this year in India.
Mercedes-AMG SLC 43 Launched
– Mercedes has launched the AMG SLC 43 in India at Rs. 77.50 lakhs (ex-showroom, Delhi)
– Extended warranty for 4th year is available for Rs. 2 lakhs
– Service packages for the AMG SLC 43 start from Rs. 84,000/-