Mercedes-Benz & Smart Product Plans For 2014 Leaked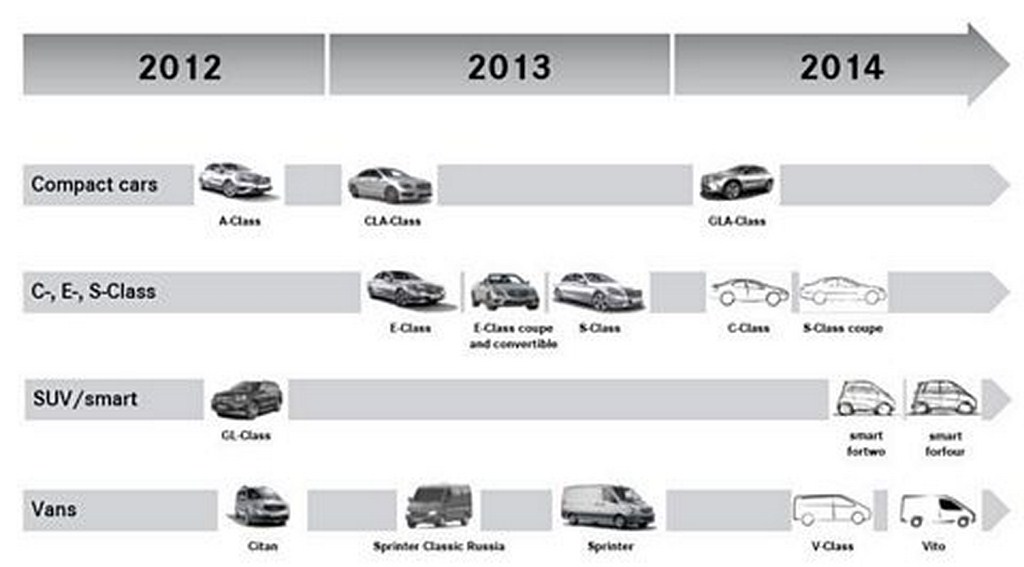 Mercedes-Benz with its product offensive strategy has proven to be a success in the year 2013. The Stuttgart based automaker was ready with new models and refreshes to gradually roll out new offerings almost every month. Even the refreshed models such as the E-Class got significant styling and equipment changes. Later in 2012, Mercedes introduced the A-Class hatchback, GL-Class SUV and Citan van in the international market. For 2013, the German luxury carmaker prepared six new models.
The new Mercedes-Benz offerings for 2013 include CLA-Class, E-Class (including coupe and convertible), S-Class, Sprinter and Sprinter Classic vans. Now for the year 2014, Mercedes-Benz has lined up seven new products for the time being including new products from Smart. Early in 2014, Mercedes will launch the GLA-Class in specific markets and the next generation C-Class. Mid-2014 will see the introduction of the S-Class coupe, V-Class MPV and Smart ForTwo compact hatchback. Later in 2014, the company plans to roll out Smart ForFour and the new Vito MPV.
The next generation C-Class has already leaked on the interweb, which reveals the latest design philosophy used on the new S-Class. The C-Class is expected to make its debut at the 2014 Detroit Motor Show in January. It will be placed above the entry level CLA sedan and will have a premium position over the existing C-Class. While the C-Class and the GLA are expected to hit Indian shores later in 2014, the CLA sedan is likely to be introduced in India early in 2014 to compete with the soon to be launched Audi A3. The new S-Class is also expected in a couple of months but the GLA will most likely arrive on our shores in 2015. Mercedes-Benz' Auto Expo showcase will be worth watching.
Source – Mercedes-Benz Passion Blog