Mercedes G63 AMG 6X6 Reaches Production!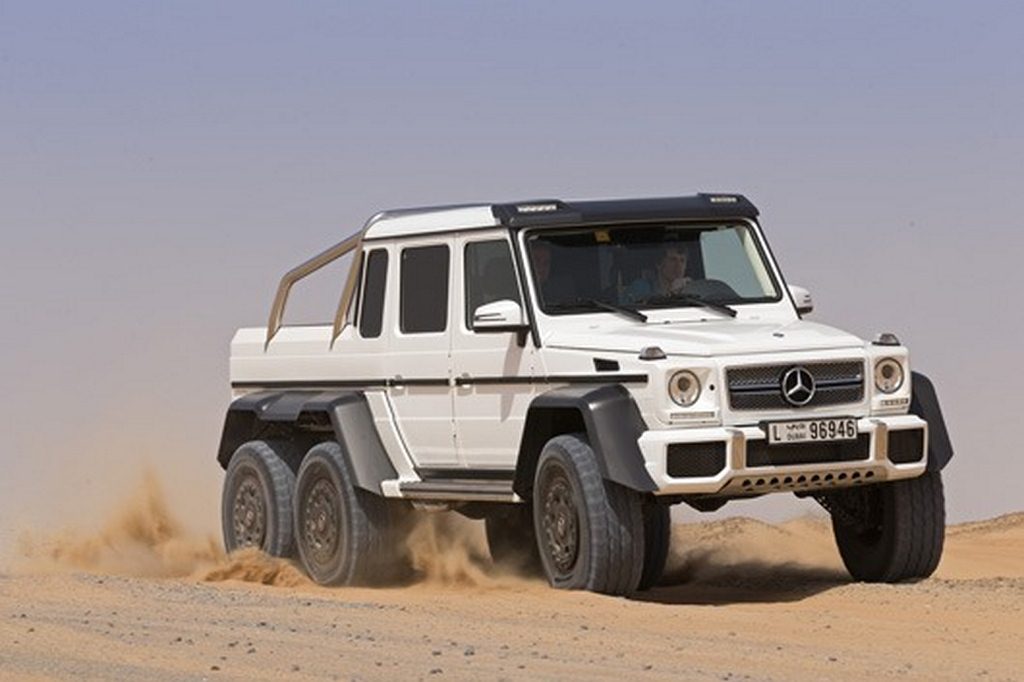 Mercedes-Benz will launch their maddest ever car, the G63 AMG 6X6, in the near future. This car is almost ready for production and will be launched in limited numbers every year. The amazing 6X6 G-Class, the G320 CDI, has been used by the Australian army for 2 years and a highly luxurious civilian version has been made for customers to buy who are rich enough to afford it or enthusiastic enough to use it for off roading and otherwise! This six wheel drive G-Class will be quite a special car to own and drive.
The G63 AMG 6X6 uses a 5.5-litre twin-turbocharged V8 engine which produces 536 HP of power and 760 Nm of torque mated to a 7G-tronic 7-speed automatic gearbox. The six-wheel drive is carried over directly from the army version and has 5 differential locks which can also do a 100 percent lock of all six wheels which can be used in the most extreme off-road conditions. The locks are controlled by buttons on the dashboard. The G-63 AMG 6X6 is a 4-seater 4-door with a pick-up truck body. It has 37-inch bead-plate design wheels.
The Mercedes G-63 AMG measures 5867 mm in length, 2111 mm wide and 2209 mm tall which is 1105 mm, 226 mm and 272 mm more in each respective dimension than the 4X4 G-Class. The ground clearance is a massive 460 mm and it weighs 3775 kgs. It is expected that this humongous truck will do 0 to 100 km/hr in under 6 seconds and will have a electronically limited top speed of 160 km/hr. The G-63 AMG 6X6 is expected to deliver 5.5 km/l in fuel efficiency. The vehicle will be the second most expensive model from the Mercedes line-up just under the Rs. 2.5 crore SLS Electric Drive. The 6X6 G-Class will be made in limited numbers of just 20 to 30 units per year.
[youtube:http://www.youtube.com/watch?&v=hEA02kfdh8o 540 375]