Metzeler Tyre Set For KTM 390 Priced At Rs. 16,160/-
KTM service centres will replace your worn out tyres for Rs. 16,160/- (for a set). Many of them have started keeping inventory of these imported tyres.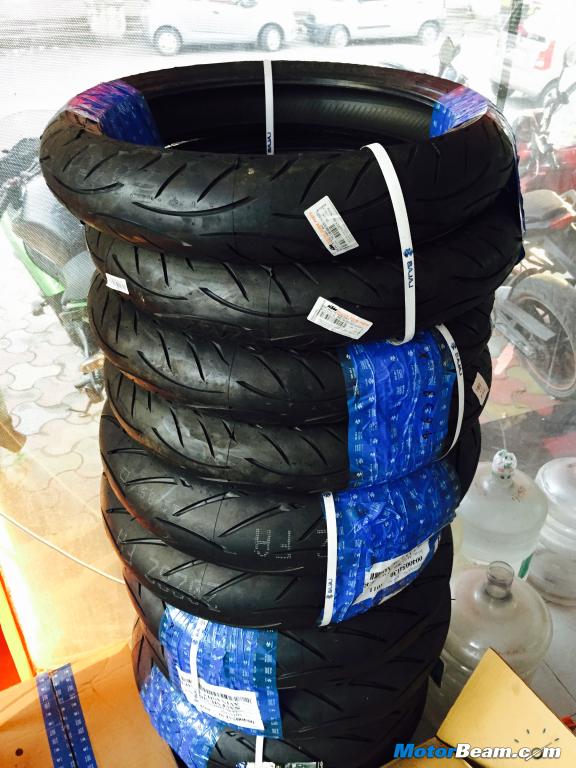 When the KTM Duke 390 was launched, many were impressed by the Metzeler Sportec M5 Interact tyres, even stating that they offer grip like its dry in the wet. However, enthusiasts were concerned about the cost of these tyres since they are made in Germany and imported to India by Bajaj Auto. Well, a set of rubber for the Duke/RC 390 will set you back by Rs. 16,160/-, the individual break-up being Rs. 7425/- for the front tyre and Rs. 8735/- for the rear tyre. One can also use these tyres on the Duke/RC 200 as they share the same tyre size although they come equipped with more cost effective rubber, from MRF (REVZ).
With the KTM Duke 390 completing around 1.5 years in the Indian market, many owners would have completed 15,000 kms, requiring a tyre change. The average life of these sticky Metzeler tyres are between 10-15,000 kms, depending on your riding style. Sure replacing them doesn't come cheap but one can equate the cost of using this fantastic rubber to be around Rs. 1/- per km. If you still want cheaper tyres, then opting for the MRF REVZ will result in a set costing under Rs. 6000/-, which is whooping 60% cheaper.
Even though the Metzeler tyres come at quite a cost, KTM service centres offer them at the cheapest when compared to individual tyre dealers who will charge you up to Rs. 25,000/- for a set. High cost of imports is definitely to blame, along with the duties on imported tyres. Still, if you have a Duke 390, chances are you love exploiting those 44 Indian born Austrian horses and for that very purpose, the grip offered by the Metzelers make them worth each and every penny.