Modified Yamaha R15 V3 Touches 16,000 RPM!
The perfect sports bike just got boosted with more power and an incredible sound.
This Yamaha YZF-R15 V3.0 features the full system Daytona exhaust that Yamaha offers as an accessory
The famed deltabox frame and forward-leaning ergonomics make the Yamaha YZF-R15 V3 a perfect track day motorcycle and a great tool for the beginners. However, while it does deliver segment-leading performance numbers, there is always some room to make it a more exciting affair.
YouTuber Abhinav Bhatt seems to share the same views, which is why he gave his R15 V3.0 a major mechanical upgrade to deliver more power than the standard motorcycle. His beefed-up YZF-R15 V3.0, as seen in his latest video, reaches a redline of 16,000 RPM. Close to its redline in the top gear, the speedometer can be seen displaying a speed of 190 km/hr (as seen on the speedometer while the bike was on paddock stand). However, the motorcycle is still being fine-tuned and the 16,000 RPM redline will be brought down to about 13,000 RPM.
Abhinav's YZF-R15 V3.0 features the full system Daytona exhaust that Yamaha offers as an accessory. The motorcycle required a re-flashed ECU, which wasn't available through Yamaha India. Thus, he purchased one from BRT Juken, Indonesia. The aftermarket ECU is capable of taking the redline of the motorcycle to about 16,000 RPM. It could result in a busted engine, and thus Abhinav plans to bring it down to 13,500 RPM.
The additional engine bits imported include new camshaft to support the higher revs, and the unit, similar to the ECU, came from BRT Juken, new valve springs, racing coil, and a tuning cable for the ECU. The total amount (excluding the Daytona exhaust that is already installed on the motorcycle) came to Rs. 32,000. The imports continued as Abhinav sourced a performance air filter and a bigger fuel injector from Thailand.
For improved cornering abilities, the motorcycle received a pair of stickier Metzeler tyres. A radially mounted master cylinder, Brembo brake pads and steel-braided brake lines on Abhinav's YZF-R15 offer superior stopping power.
Modified Yamaha R15 V3
– Heavily upgraded Yamaha YZF-R15 V3.0 touched 16,000 RPM
– The motorcycle comes fitted with Daytona exhaust and several imported parts
– The owner plans to bring the rev limit down to prevent the engine bust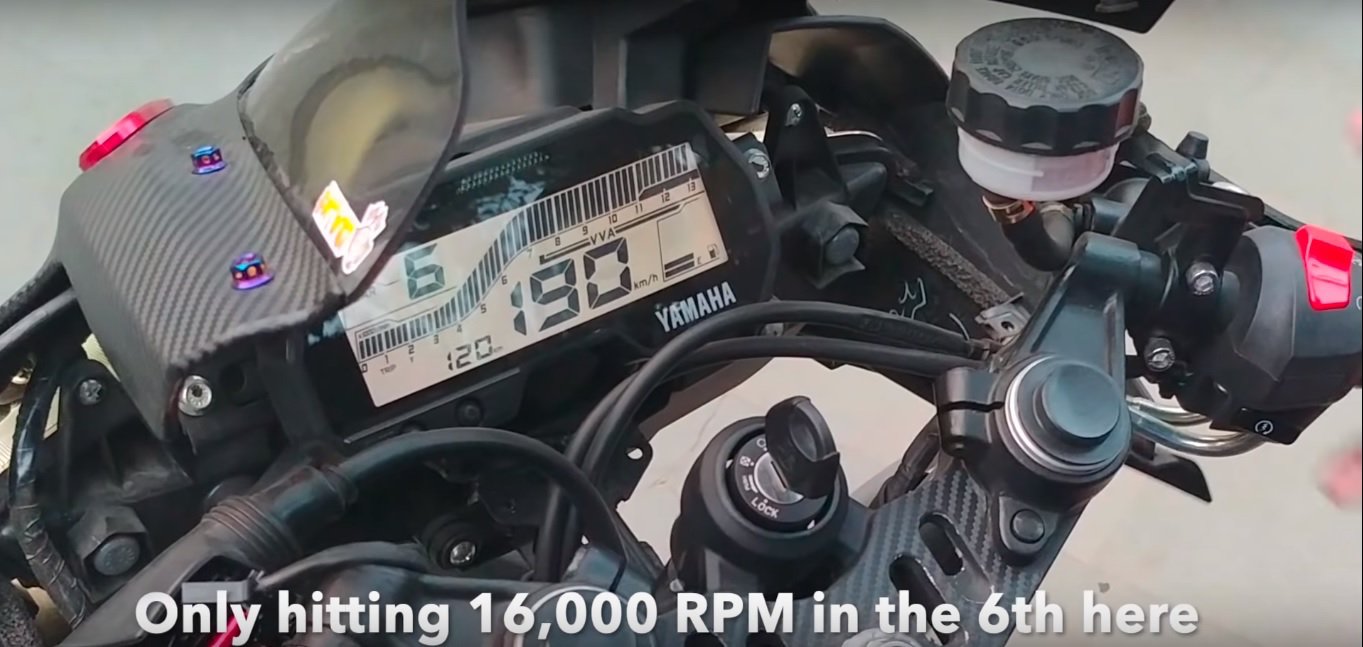 Source – Abhinav Bhatt on YouTube