Navjot Talks About His Pulsar 220F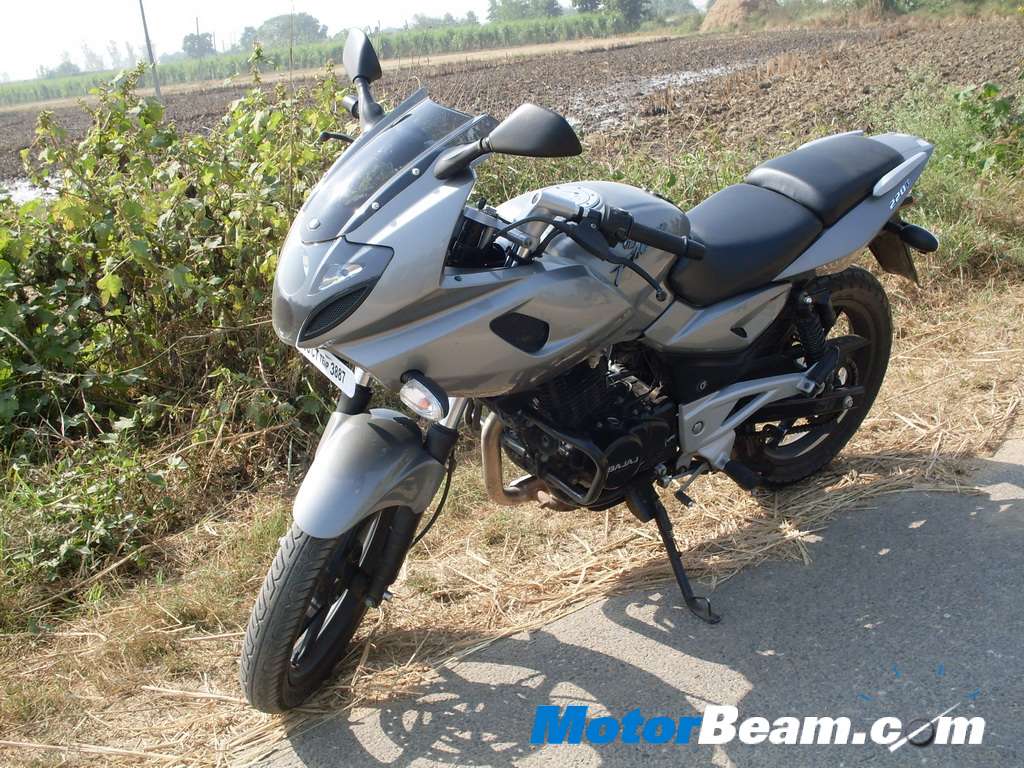 Hi, I am Navjot Singh from Ludhiana (Punjab) doing B.Tech in computers. From childhood I have been very passionate about bikes and cars. I used to drive a 2006 Bajaj Discover 125cc till 2009 but now in 2010 I bought a new bike BAJAJ PULSAR 220F. This time my father set me break free to buy any bike except Ninja (2.90 lacks for 250 cc !!!)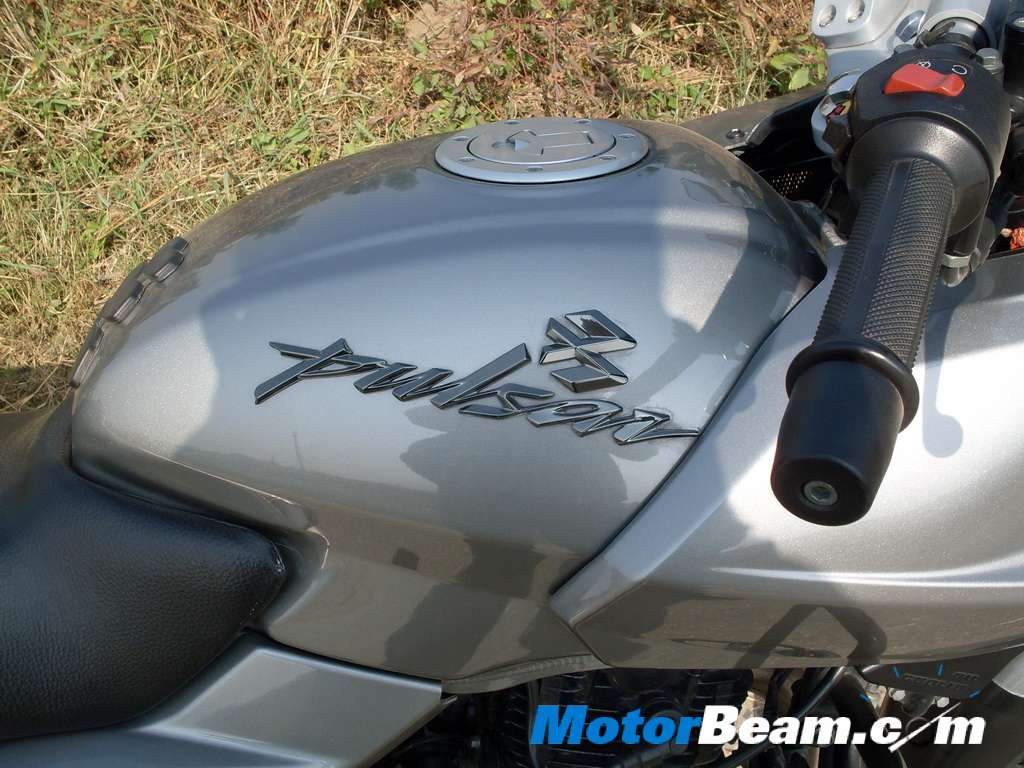 My shortlist was : –
1. Yamaha YZF-R15
2. Bajaj Pulsar 220
After checking all feasibility of needs I came to conclusion that Pulsar 220 is the bike that fits my need.
Reason – My daily driving kms are not fixed. I used to go on my college bus with my friends as it is about about 55 kms from my home. But I found it very difficult to go on a bus as a biker. So from my 20 day college in a month I manage approx 10 days to go to college on my bike, so my main driving is highway driving. I read a lot of forums, contact many people and found P220 is better option than R15 on highways. But still i requested a quote from Bajaj and Yamaha dealer near my house and took their permission for a 30 km test drive without pillion (Rs. 100 fuel from my side they mention).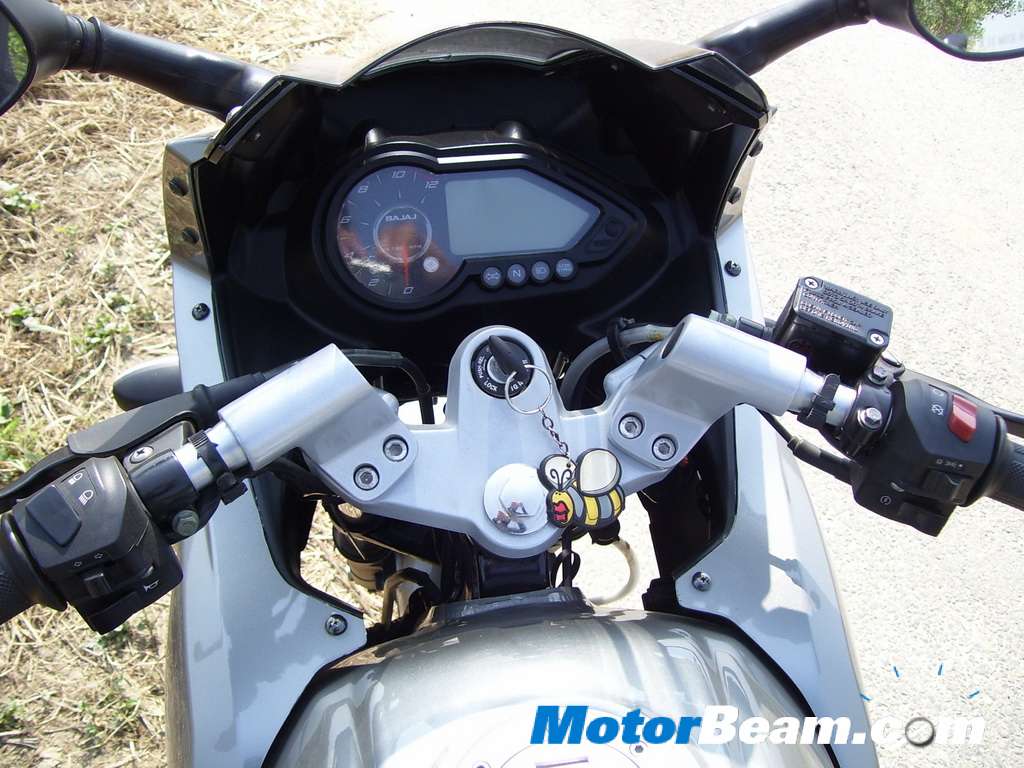 After this test my reaction were : –
Looks – Sitting on R15 is a amazing feeling, feels a very big bike, very sporty seating, all new atmosphere (like international bikes), soft handle grips and speedometers are like wow.. !! From front and side its a big bike but rear is very disappointing, even the tires are very thin and spoil overall bulky look of the bike.
On the other side Pulsar welcomes you with same old atmosphere like any other Pulsar but here in 220 you find different style speedo with sporty digits, fairing adding big bike feeling, sporty sitting and quality is good. This is also a big bike with broad tyres. Handsome looks.
Power – Obviously Pulsar 220 is more powerful but R15 is no less, past approx 6000 rpm and power of R15 feels like double, but where is the low end torque?? On highways under little hard braking which is very common in Indian road conditions R15 demands change of gears. e.g. I was driving R15 at 85 kmph (6th gear) under braking up to 55 kmph i needed to shift into 4th gear for proper pull!! Here I mention Proper pull!!!
Now in P220 u need not to shift down even if same above condition happens. Pulsar 220's low end and mid range is fantastic. One thing I clearly mention P220 above 8500 rpm until redline i.e 10,000 rpm is noisy, vibrates and feels uncomfortable unlike R15 which is very smooth until its redline due to fuel injected system. Inspite of this, one can easily cruise at 100- 120 kmph on Pulsar 220 without any stress for hours. So, in terms of price and overall benefits I choose pulsar 220 over R15.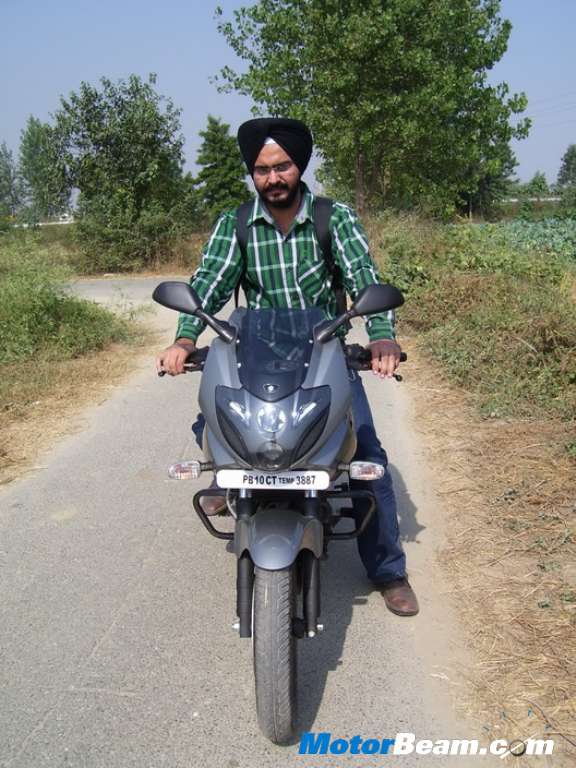 About Pulsar 220F – Bajaj recently launched the Pulsar 220 DTSi in 2009 with biggest carburetor used in any Indian bike to insure proper performance like fuel injected Pulsar 220 and proper fuel efficiency. In 2010, Bajaj again modified Pulsar 220 DTSi with minor changes as I heard from probiking guys that are little carburetter and fairing improvements and now renamed as Pulsar 220F , here 'F' stands for fairing as Pulsar 220 now also comes in 'S' model. F can be also used as Fastest Indian.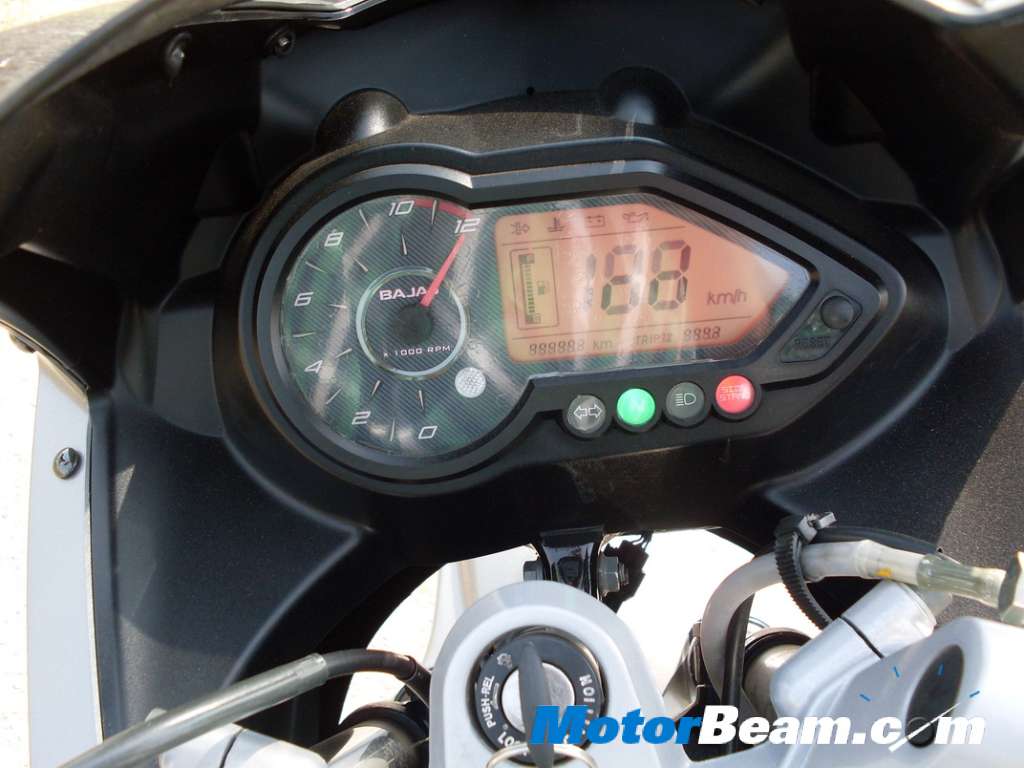 Bajaj Pulsar 220F Specifications : –
Engine Type 4-stroke DTS-i air cooled with oil cooler for engine oil.
Displacement 220 cc
Max. Power 21.04 @ 8500 (Ps @ RPM)
Max. Torque 19.12 @ 7000 (Nm @ RPM)
Carburetor UCAL UCD 32
Suspension
Front Telescopic, 130 mm stroke
Rear Triple rated spring, 5 way adjustable with 90 mm travel Nitrox shock absorber
Brakes
Front 260 mm Disc
Rear 220 mm Disc
Tyres
Front 90/90 x 17 – Tubeless
Rear 120/80 x 17 – Tubeless
Fuel Tank
Total liters (reserve, usable) 15 liters (3.2 liters reserve, 2 liters usable)
Electricals
System 12 V 9V Full DC
Headlamp (Low/High Beam- Watts) 55 projectors Low beam / Ellipsoidal 55 W High beam
Dimensions
Wheelbase 1350 (mm)
Kerb Weight 152 Kg
Some Goodies of Pulsar 220 : –
1. Even at these 3 digit speeds Pulsar 220 feels like cream. Any gear any speed and it goes like anything.
2. Very less affect of cross winds. Awesomely stable on highways.
3. Speedometer shows battery low, engine oil low, engine over heat, oil cooler choke indicators. Dual trip meters and side stand indicators are good feature.
4. Powerful Headlights and nice spread. Pure white not yellowish like other bikes including R15 and fazer.
5. Its wider IRC soft compound tubeless tyres (No MRF in 220F) provide an excellent road grip.
6. 3D decals looks very appealing.
7. Suspensions are simply superb with thicker front telescopic forks which doesn't let rider to be unstable during hard braking and twin 5- way adjustable nitrox shock absorbers at rear inspire superb confidence on long drives.
8. Silencer with muffler for proper cooling and safety.
9. Backlit switches looks cool and are of good quality. Self canceling indicates are boon
10. Auto coke is very responsive and helps easy cold starting .
My Views : –
Performance – Performance of 220 is very very good. Very easy to ride. 100 km/h can be easily attained very quickly and smoothly. 120- 130 km/h speed comes early than one could expert from a 220 cc bike. Oil cooler is always there to ensure engine oil is never get too hot on long drives to ensure proper performance even at continuous high speeds!
Oil cooler radiator – Twist the accelerator at any speed and you could feel the thrust of 220 cc engine, neat.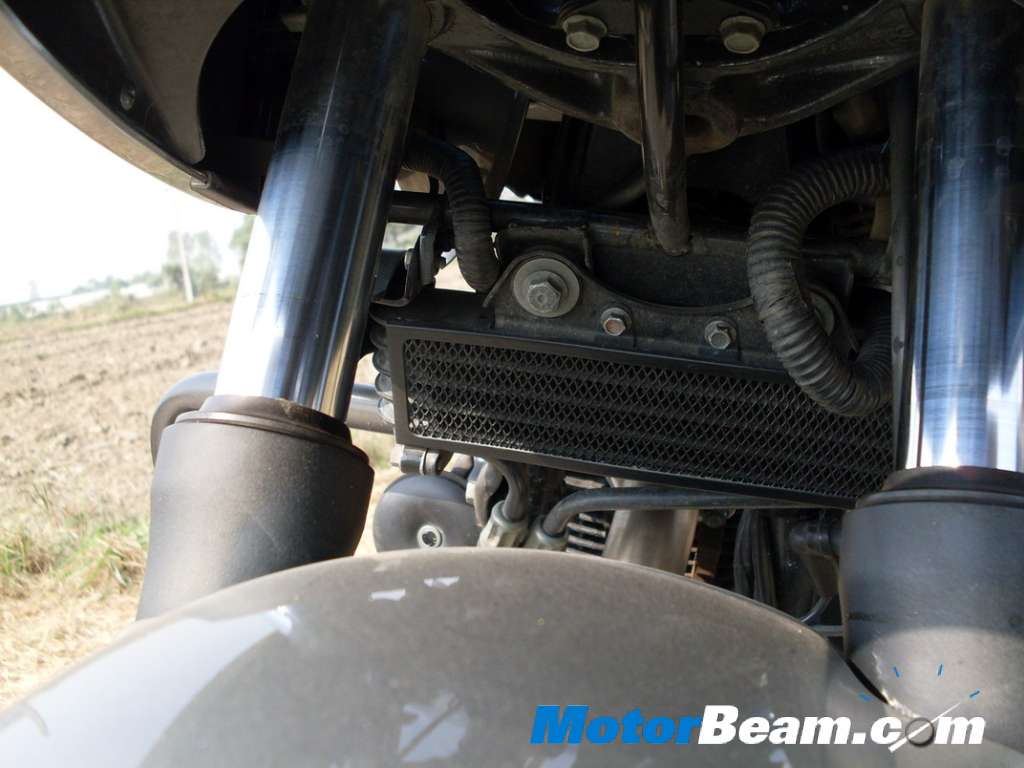 Braking – Perfect brakes for perfect bike. Front disc brake equipped with 260mm Disc which did its duty very well, Rear 220 mm disc is always there to satsfy every need of bracking. One down thing about rear brake is that its brake paddle is little hard to operate. Comes in play after long press.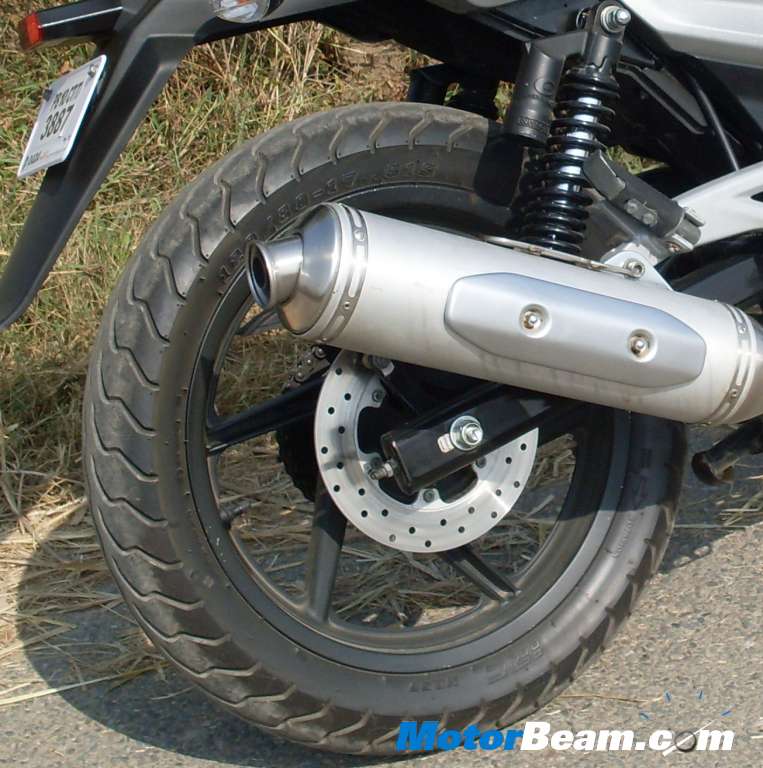 Tyres – IRC manufactured Soft and Sticky tyres provide excellent grip on highways and city. Inspire full confidence at high speeds on dry and wet roads. Fully Satisfied. Pulsar 220F now comes with IRC tyres and not with MRF Zappers. When asked why to probiking guy, he said these are more soft and sticky than Zappers to provide extra grip at high speeds.
Suspension – Pulsar 220 is set to Firm (stiff) side to ensure confidence inspiring drive on highways. Small pot holes can never be felt. Big holes on roads never make bike unstable.
Experience with tyres and Suspension – We all know All National Highways are beings made 6 lane in all over India. On NH1 same project is going on which i used to go to my college. Once when driving at about 70 km/h i just saw a big brick like block in front of me and about 7 cm in height which accidentally fallen on road and i cant see that piece due to car in front of me. But at that speed due to soft compound tyres and ultra good suspension nothing wrong happen !! THis bike pass that block without any drama, phew!
Headlights – First ever two wheeler which headlights really impresses me. Very bright and very nice spread. Light is actually purely white not a yellowish like other headlight. 55w Lights are very good on highway and city.
Fuel Efficiency – Most Important for Some people: On highways if driven under 80 km/h gently one can easily get 55km/h . Max average achieve till now is 52 kmpl with 40% city and 60% highway (Achieve during first 1000 kms) with max speed of 65km/h. Worst is 41 kmpl when drive like crazy for continuous 110kms (126km/h max and constant at 80km/h +) . For this kind of power, I am satisfied with it!
Maintenance – This bike is not a commuter, it is a sport category bike and it needs regular maintenance. Even Bajaj open different Probking showrooms for high performance bikes (ninja, pulsar 220 and avenger 220) . Different crew for these bikes.
1. Scheduled servicing is very important.
2. Requires good 4T 20w50 engine oil . I use Valvoline 4t Premium. Always use 20w50 4t oil for this bike as recommended by company. Bajaj Dtsi 10000 oil is also very good.
3. Air filter needs to be cleaned very frequently because of pollution and dust. I do it every 500 to 600 kilometers for good fuel economy and full performance.
4. Drive chain requires cleaning and lubrication frequently for long life of chain. Reduce noise and vast increase in performance. I use SAE-90 oil to lubricate it. Chain spray is bit costly so when needed got it from Bajaj A.S.S.
Many people say it doesn't have kick bla bla… I have a answer for them. Pulsar 220 (also 180) comes with a reserve power system that even if your battery is gone you have little reserve power for 3 self starts. No car in this world has a kick!
PROS
No large investment or major parts replacement required in my bike. Everything is present.

Very low maintenance cost if drive sensibly and gently

.
CONS
Bajaj should put fairing more neatly and more properly it vibrates (luckily without any irritating sound) at speeds above 70 kmph.
Side mirrors are very pathetic, one has to bend arm inwards to see behind. Mirrors vibrate a lot reduce clarity of rear objects. Bajaj should treat it with priority as they are safety features.
I hope you find my bike review useful and may it be useful for buying it. I would love to hear your comments, arguments, suggestions, etc.
Take care, Drive safe.
God Bless You.
– Navjot Singh