Nissan, Ford, VW & GM Exported More Cars Than They Sold In India
FY2016 saw Nissan, Ford, Volkswagen and General Motors exporting more cars from India than they have sold in the domestic market. Cheap labor and depreciation of the Indian Rupee has led to exports being a more profitable venture for these companies.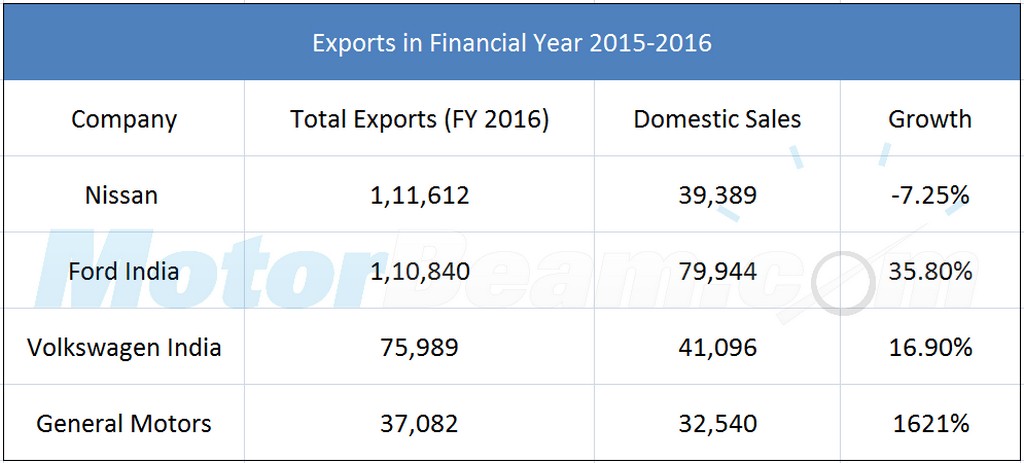 The mark of a developed industrial nation is often its automotive manufacturing industry. The automobile industry in India is one of the biggest employers and revenue generators in the country. On the other hand, India is also a very large market with vast potential and cut-throat competition. Thus automakers with archaic strategies and lacklustre products are quickly sidelined who then resort to stay afloat by only one way – exports. In FY2016, four passenger vehicle manufacturers in India – Nissan, Ford, Volkswagen and General Motors, have exported more from India than they have sold in the domestic market.
Nissan exported nearly 1.11 lakh units in fiscal year 2016 which is 7.2 percent lower than the number of units exported in the same FY2015. Nissan was however able to sell only 39,389 cars in the domestic market. Overall, Nissan is still the third highest exporter of cars from India after Hyundai and Maruti Suzuki.
Ford India also exported a sizeable 1,10,840 units from India, making it the 4th largest exporter of cars. This is 35 percent higher than 81,600 units sold in the same period last year. The biggest chunk of these exports comes from the Ford EcoSport as more than 73,000 units of the compact SUV were exported.
Volkswagen is also featured in this list as it exported 75,989 cars from India whereas it sold only 41,096 vehicles in the country. The mid-size sedan Vento was the most exported car by ze Germans with 56,738 units sent to the outside world. Overall, Volkswagen saw an increase of 17 percent in exports since last to last year.
Then there is General Motors which is constantly seen languishing at the bottom of the sales charts. The company's only exported vehicle is the Chevrolet Beat hatchback with 75,989 copies of it leaving the shores, whereas the automaker's domestic sales stood at 32,540 units only.
It is widely believed that the slow growth in the domestic market, increasing price competitiveness of the products in the global market due to higher local content, and depreciation of the Rupee makes exports more profitable and lucrative for otherwise loss-making automakers in the country.
Nissan, Ford, VW & GM Exports
– Nissan exported 1.11 lakh vehicles from the country but only managed to sell 39,389 cars locally
– Ford was the 4th largest exporter of cars from India with 1,10,840 vehicles exported last fiscal year
– Volkswagen and General Motors exported 75,989 and 75,989 vehicles respectively from India
– The major reason for the surging exports is depreciation of the Indian Rupee and slow growth in domestic market
Source – ETAuto.com