Nissan Launches Evalia Priced At Rs. 8.49 Lakhs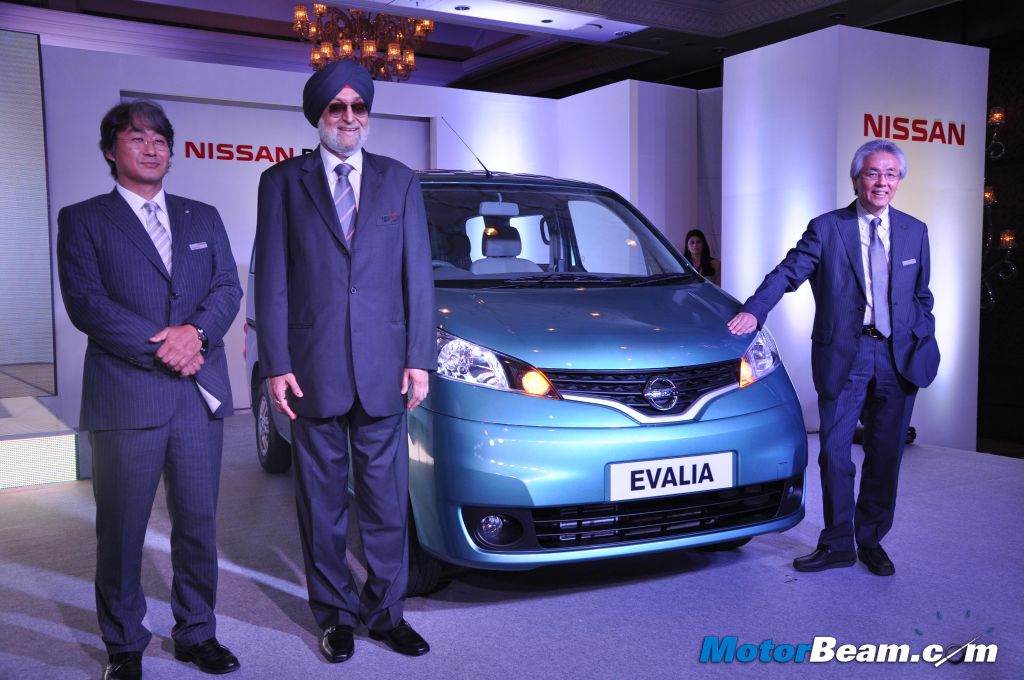 Nissan India has launched the Evalia in India, offering it in four variants. The Japanese automaker plans to launch the 10 new models in India by FY-2016. The Evalia has 50% better mileage than its competitors. The vehicle returns an ARAI certified mileage of 19.3 km/l. The Nissan Evalia is powered by a 1.5-litre, k9k diesel engine which produces 85 PS of peak power and 200 Nm of peak torque. The MPV has a low turning radius of just 5.2-meters, and features sliding doors. The Evalia is loaded with equipment such as rear view camera, front airbags, ABS, EBD and intelligent key.
Read the Nissan Evalia Review
Nissan Evalia vs Toyota Innova vs Mahindra Xylo Price Comparison (Maruti Suzuki Ertiga is much smaller and shouldn't be compared) : –
Nissan Evalia Prices (ex-showroom, Delhi) –
* Evalia XE – Rs. 8,49,000/-
* Evalia XE+ – Rs. 8,92,000/-
* Evalia XL – Rs. 9,49,000/-
* Evalia XV – Rs. 9,99,000/-
Toyota Innova Prices (ex-showroom, Delhi for 7-seater model) –
* Innova E – Rs. 9,94,845/-
* Innova G – Rs. 10,44,351/-
* Innova GX – Rs. 11,85,177/-
* Innova VX – Rs. 13,84,884/-
Mahindra Xylo Prices (ex-showroom, Delhi) –
* Xylo D2 – Rs. 7,50,989/-
* Xylo D4 – Rs. 7,92,428/-
* Xylo E4 – Rs. 8,53,371/-
* Xylo E8 – Rs. 9,71,618/-
* Xylo E9 – Rs. 10,52,461/-
Nissan Evalia Variants, Specifications & Features (click to enlarge)
Nissan expects to sell 2000-2500 units of the Evalia every month. The company is targeting 8% market share by FY-2016 and will launch two new models from Datsun by 2014. The Evalia is priced right between the Xylo and Innova. While the Evalia costs more than the Xylo, Nissan has undercut the Innova by a considerable margin. The top end Nissan Evalia and the base Toyota Innova retail for almost the same price. The Innova is a proven product but the Evalia offers more space, more mileage and is much easier to drive as well.
[flickr size="center" float="medium"]http://www.flickr.com/photos/motorbeam/7753525258/[/flickr]
[flickr size="center" float="medium"]http://www.flickr.com/photos/motorbeam/7753522106/[/flickr]
[flickr size="center" float="medium"]http://www.flickr.com/photos/motorbeam/7753519854/[/flickr]
[flickr size="center" float="medium"]http://www.flickr.com/photos/motorbeam/7753526634/[/flickr]