October 2013 Two-Wheeler Sales Figures & Analysis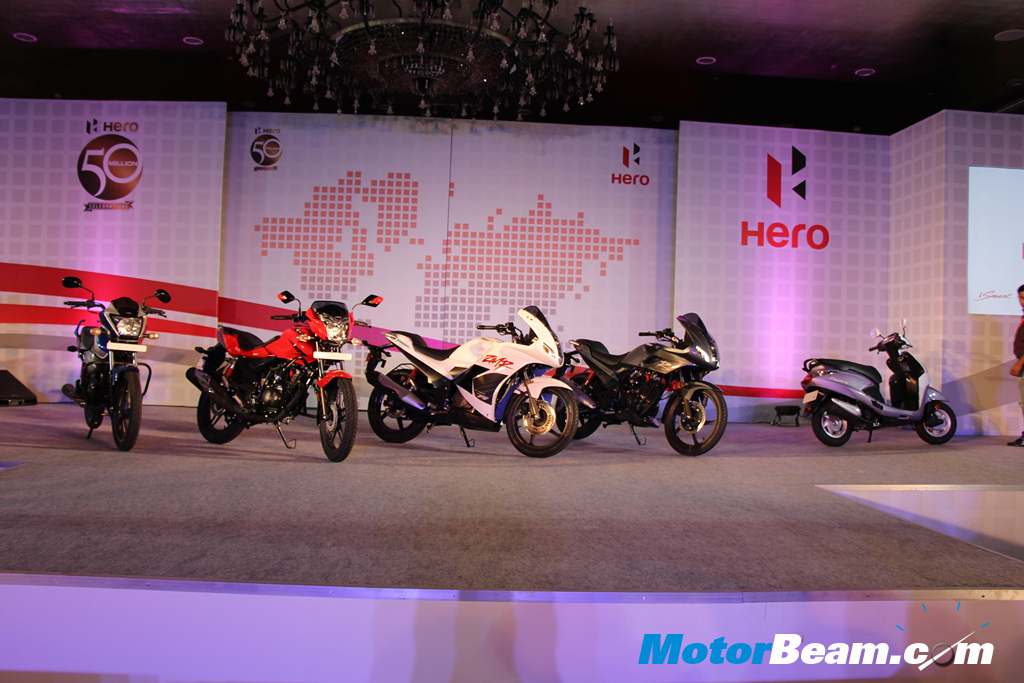 Happy Diwali and a prosperous new year are the words that everybody is using to greet each other. But has the Diwali been successful this time? We don't think so. Diwali did not go well for most people. Everybody has seen downfalls and lack of sales. Right from new clothes, gadgets to sweets, everybody is complaining this festive season. The Indian auto industry has been affected too when it comes to YoY numbers. Yesteryear Diwali was far more successful and profitable for the auto world. Sure, smaller 4-wheeler manufacturers have seen some increase in YoY numbers but that's just minuscule. MoM numbers have gone sky high for 2-wheelers and 4-wheelers which drags us to find out what happened this October within the world of 2-wheels as most companies have achieved "record breaking figures".
Hero MotoCorp – Yes, the Gurgaon based company is the largest 2-wheeler manufacturer in the world which has broken all barriers and have gone ahead and sold a whopping 1,56,750 units more last month than what they sold in September. Hero has crossed the six lakh mark for the first time by selling 6,25,420 units, which is an industry first. The 15 products shown at the recent unveiling has paid off and the demand is sky high. Needless to say where the majority sales came from. The 15 new products are bound to increase the sales and could break more records. MoM increase was a huge 42.5% and YoY was a substantial 18.17%. Hero played the cards really well indeed.
Honda – Honda has seen 50% growth in scooter as well as motorcycle department, which is a Honda first ever since they went solo. The well priced CB Trigger is doing quite well which is a surprise to many, but it's true. CBR series with limited editions being sold with free helmets seems to be working too. Honda's idea of selling their products not through just showrooms seems to be helping them. Honda says Dream Series has seen an overwhelming response in particular because the rural market has accepted their products. MoM gain was a healthy 14.6% and YoY gain is a huge 50%. Scooters are the backbone for Honda and they remain the elite soldiers for the company to achieve their goal of market leadership and complete domination. We only wish the soldiers have technologically advanced weapons to fight!
Bajaj Auto – Slightly behind at third position is Pune based manufacturer Bajaj Auto. Bajaj has sold 3,48,323 units which is 24,444 units more than last month which sums up a MoM increase of 7.54%. YoY decrease is 4%. The Discover family is growing fast and the Pulsar continues to go strong. The Discover is the reason why Bajaj has reached the 3.5 lakh number quite flawlessly. The newly launched Discover 100M is targeted at the rural market which should help tap even more numbers. If that does not go according to plan, there are two more Discovers in the pipeline which will arrive before the current financial year comes to an end.
TVS – Calculating only domestic scooters and motorcycles led us to a conclusion that TVS has gone down 1.4% on MoM basis. The company sold 1768 less units last month which is most likely due to a production issue or other companies have stolen the lime light with array of new products which TVS does not posses. The Jupiter seems to be going strong but overall scooter sales have gone down by 1077 units. New colours introduced throughout the motorcycle range have just managed to keep things going. Only thing to wait for us enthusiasts is the TVS-BMW alliance bikes which are going to come really late, which is in year 2015.
Mahindra – Mahindra is opening eyes of many people when it comes to maiden product success. Readily available products from other manufacturers in the same category and still Mahindra Centuro continues to keep receiving bookings. Home state of Maharashtra sees a lot of Centuros on the road. MoM gain is a whopping 42.15% with a extra 8806 copies being shipped out of the factory. Due to festive season demand, production has been increased, after all, you can't disappoint new customers and delay the deliveries in the festive season. YoY increase as always is in triple digits standing at 157%. Only if Mahindra strengthens their after sales service and increases outlets in the urban markets, it can see a lot more customers walking into the showrooms which seems to be the only downer for the company right now.
Yamaha – Yamaha is riding well on the new scooter, the Ray Z, which is helping them achieve numbers and is their main priority as of now. This should not be the case, as the company is famous for being a performance oriented brand. Anyways, the Japanese giant gets a 10.72% increase when it comes to MoM and 32% increase when it comes YoY performance. FZ, Fazer and R15 continues to help Yamaha remain near the 50,000 mark. A new scooter which is going be the spectacle at the Auto Expo should boost the sales further, once launched.
Suzuki – Estimated numbers as always. No numbers from Suzuki. Limited edition scooter with instant delivery and 125cc tag helping company to garner some sales this festive season. A secret which Suzuki is hiding is about to be broadcasted real soon.
| | | | | |
| --- | --- | --- | --- | --- |
| Sr. No | Company | Bike/Scooter | Oct-13 | Sep-13 |
| 1 | Bajaj | Bike | 348323 | 323879 |
| 2 | Hero MotoCorp | Bike+Scooter | 625420 | 468670 |
| 3 | Honda | Scooter | 193058 | 165736 |
| | | Bike | 182683 | 163229 |
| | | Total | 375741 | 328965 |
| 4 | Mahindra | Bike+Scooter | 29696 | 20890 |
| 5 | Suzuki | Bike+Scooter | 32000 | 30000 |
| 6 | TVS | Bike | 82352 | 83043 |
| | | Scooter | 42124 | 43201 |
| | | Total | 124476 | 126244 |
| 7 | Yamaha | Bike+Scooter | 51808 | 46790 |
| | | Total | 1587464 | 1345438 |
Note – Suzuki sales are estimates while some sales might contain export numbers.