October 2015 Car Sales In India, Gainers & Losers
The Indian four-wheeler market has had a lot of winners and losers when it comes to sales. Mass-market companies with excellent packages are nailing the market.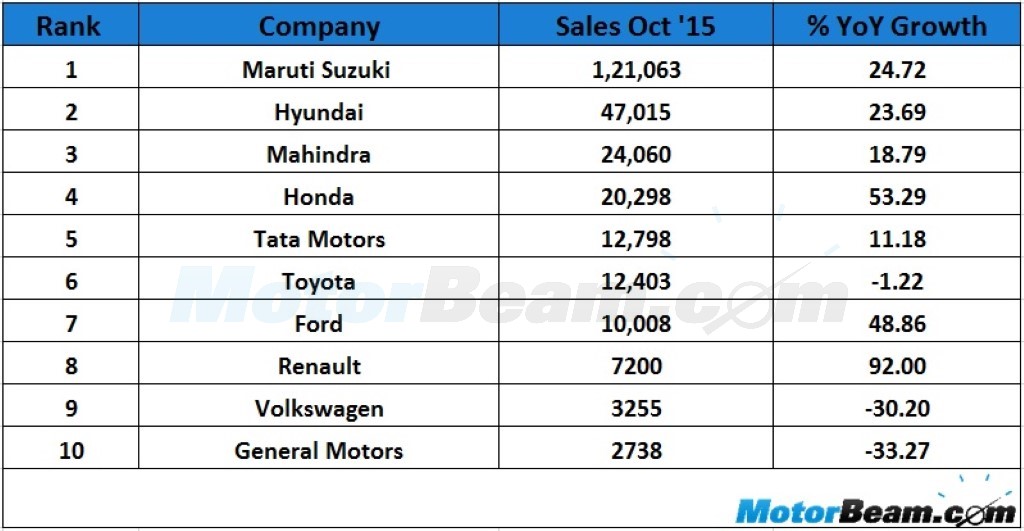 The Indian automotive market has seen a flurry of new products being launched in this year. While mass-market manufacturers are obviously fighting it out amongst themselves, even premium brands are launching a lot of new products. In this analysis, we'll be talking about mass-market companies and how their growth has increased or decreased in October 2015 as compared to October 2014.
First up is Maruti Suzuki. The company sold 1.21 lakh units this month which marks a growth of 24.72% as compared to last year. This growth can be attributed towards the newly-launched S-Cross as well as the Baleno. It will be more interesting to see the sales figures in the coming months once the initial demand for the new cars settles down. Hyundai has also had a good growth figure and credit for that can be given to the Creta which has been selling in good numbers and has also appeared in the list of top 10 selling vehicles.
Indian auto giant Mahindra has showcased 18.79% growth YoY. The TUV300 is selling in decent numbers while the facelifted XUV500 is also doing well for itself. Moving to Honda, we see that the company has had a massive rise in sales. The Jazz has definitely upped Honda's game in the market and the premium hatchback even overtook the City in terms of sales once. Tata Motors had a not-so-great growth in sales. Both the new vehicles, Bolt and Zest aren't really performing good in the market inspite of offering so good packages.
Toyota is one of the few automakers to have seen a decline in sales. For the Japanese automaker, the decline is quite minuscule while overall numbers remain consistent more or less. Ford and Renault have had just brilliant hikes in sales. Ford can thank the new Figo and Figo Aspire for this while all the credit for Renault's growth goes to the Kwid which has got an excellent response from the market. Volkswagen and General Motors have seen declines in sales though. While the former hasn't launched any new products in the last one year apart from facelifts, the latter launched the TrailBlazer recently. Sales of other GM vehicles have been dying down thanks to better options being made available in the market.