Top Selling Hatchbacks In June 2020
Hatchbacks are heading towards revival as June figures show better sales than May.
June 2020 hatchback sales witnessed some drastic changes in positions. As the market is heading towards revival, the old segment leaders are getting back on track. However, there are some surprise elements too.
The small hatch segment continues to be led by Maruti Alto albeit with much better numbers compared to May 2020. The Alto has managed 7298 units, which is a strong revival but still 61 percent degrowth compared to last year.
The Maruti S-Press has climbed up a position with 3160 units replacing the Renault Kwid that has scored 2441 units with 44 percent fall in YoY sales. Despite the new model launch, Datsun redi-GO is in the bottom of the list with 404 units and 44 percent fall in YoY sales.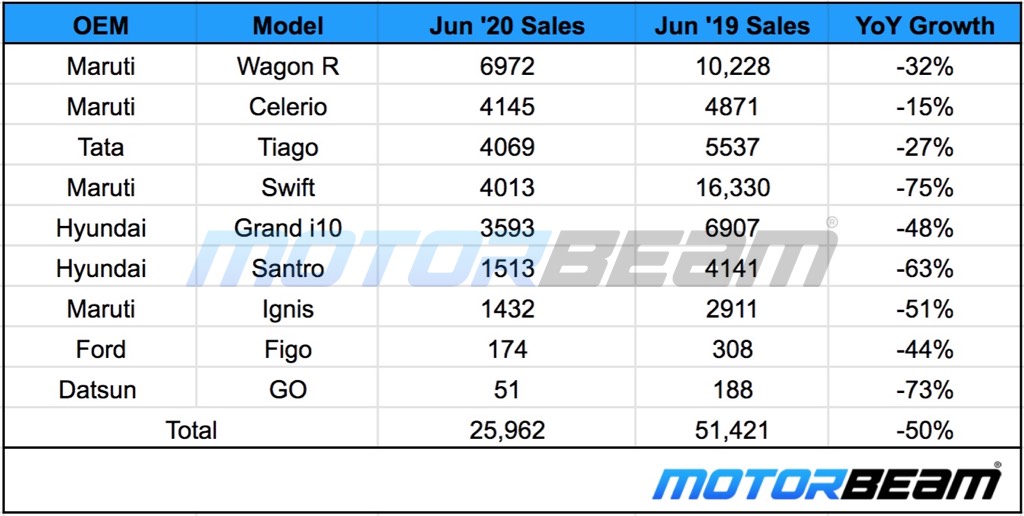 A segment above you'll notice some strong comeback from Maruti hatchbacks. The Wagon R leading the chart with 6972 units. There's 32 percent fall in numbers. The Maruti Celerio scores 4145 with 15 percent fall and it's the least affected car here.
Tata Tiago falls one position down with 4069 units and 27 percent degrowth. The Swift is suffering in the fourth position with 4013 units and 75 percent fall in sales. Datsun GO takes the bottom spot here with only 51 units sold and 73 percent decline.
The premium hatchback segment continues to have Maruti Baleno on top with 4300 units and 69 percent degrowth. The second spot is impressively retained by Altroz scoring 3104 units, well ahead of i20 which has done 2718 units with 71 percent degrowth.
The Volkswagen Polo takes the fourth spot with 1228 units and 15 percent fall in sales. The Glanza has taken some hit with 914 unit sales and 52 percent degrowth. Ford Freestyle comes last with 506 units and 15 percent decline. The premium hatch segment witnessed overall 53 percent YoY decline.
June 2020 Hatchback Sales
Maruti Alto is now the best selling hatch
Maruti Suzuki leads all three hatchback segments
Tata Altroz churns out significant numbers