Porsche 918 Spyder Details Revealed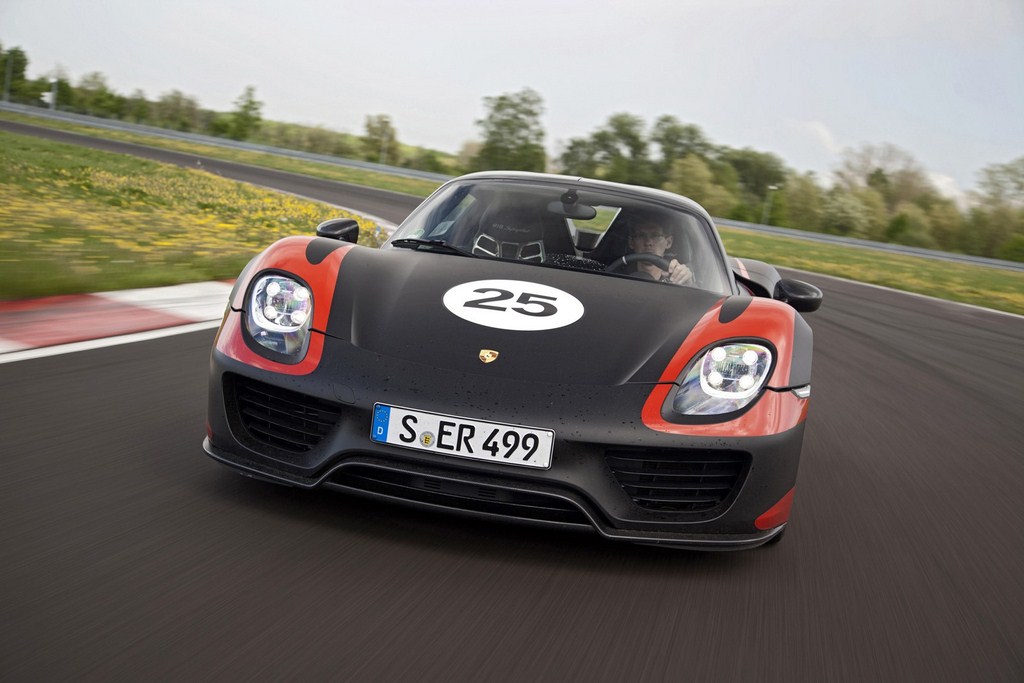 The Stuttgart based performance carmaker is readying its upcoming flagship hypercar, named as the 918 Spyder. The performance oriented beast from the Porsche stable is passing through its final stages of development currently and will be showcased officially in the coming months. The Porsche 918 Spyder is a two-seater mid-engined supercar featuring a 4.6-litre V8 engine, coupled with an lithium-ion battery with a 6.8 kWh capacity motor.
The hybrid churns out a combined power output of 887 HP with a peak engine torque of 528 Nm. The 4.6-litre engine is mated to a 7-speed automatic PDK transmission. The Porsche 918 Spyder is capable of revving up to 9150 RPM and has a top speed of 340 km/hr. It can do a sprint of 0-200 km/hr in just 7.9 seconds. The 100 km/hr mark comes up in 2.8 seconds from stand still, while in electric mode, the environment friendly supercar does 0-100 km/hr sprint in just 7 seconds.
The pure electric mode of the Porsche 918 Spyder has a range of almost 29 kms. The lithium-ion battery is plug-in charger compatible, which can charge fully from a conventional household socket in less than 7 hours. The fuel efficiency of the 918 Spyder rates upto 33 km/l. With extensive use of CFRP (Carbon fiber reinforced polymer), the hypercar just weighs around 1640 kgs with a weight distribution of 57 percent on the rear axle and 43 percent on the front axle.
The 918 Spyder gets equipped with PASM, which is an adaptive shock-absorber system and rear-axle steering. The system steers the rear wheels in the opposite direction of the front wheels at low speeds, which helps in reducing the turning circle. While at higher speeds, it steers the rear wheels in the same direction as the front wheels, improving the stability of the rear end when cornering hard.
There are four driving modes available on the Porsche 918 Spyder. The E-Power mode runs purely on the electric power with 150 km/hr of top speed and 33 kms of battery range. The Hybrid mode provides the driver with combined usage of electric motor and combustion engine to return maximum fuel efficiency. In Sport Hybrid mode, combustion engine works continuously aided by the electric motors in the form of electric boosting. The Race Hybrid mode provides maximum performance with sporty driving characteristics with the emphasis put on the combustion engine.