Renault Launches Scala Priced At Rs. 6.99 Lakhs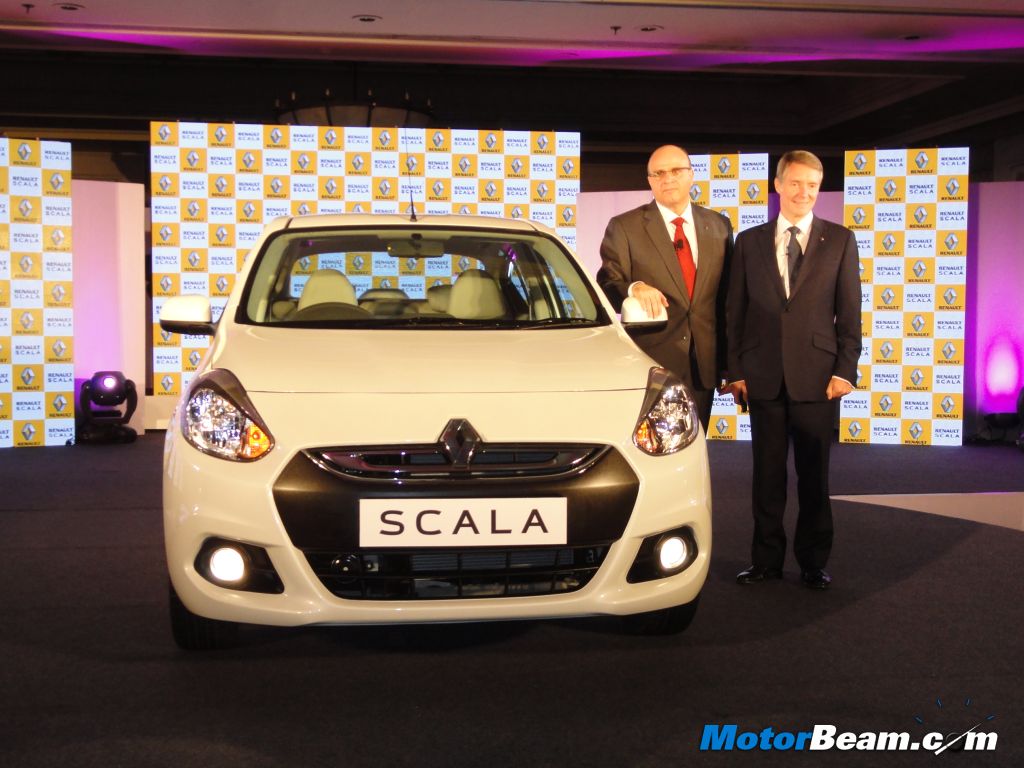 Renault has launched the Scala in India at a starting price of Rs. 6.99 lakhs (ex-showroom, Delhi). The vehicle is available in four variants – two petrol and two diesel. The Renault Scala is nothing but a re-badged Nissan Sunny. It is visually more appealing, thanks to the changes made to the exteriors, which are in-line with Renault's family styling. The interiors are a carbon copy too and except the Renault badge on the steering wheel there is absolutely no difference with respect to the Sunny. The top-end Scala is offered with leather seats as standard.
Read The Renault Scala Test Drive Review
Renault Scala Pricing (on-road, Mumbai) –
Scala Petrol RxE – Rs. 8.28 lakhs
Scala Petrol RxL – Rs. 9.32 lakhs
Scala Diesel RxL – Rs. 10.49 lakhs
Scala Diesel RxZ – Rs. 11.64 lakhs
Nissan Sunny Pricing (on-road, Mumbai) –
Sunny Petrol XE – Rs. 6.82 lakhs
Sunny Petrol XL – Rs. 8.09 lakhs
Sunny Petrol XV – Rs. 9.07 lakhs
Sunny Diesel XL – Rs. 9.31 lakhs
Sunny Diesel XV – Rs. 10.23 lakhs
As can be seen in the price difference above, the Renault Scala is priced at a premium of Rs. 1.41 lakhs (the top end diesels). This is indeed a massive price premium which Renault is charging for what is essentially the same car with a slightly different styling. It remains to be seen if Renault is able to command this premium and sell a decent number of units in the Indian car market.
Power comes in from the same 1.5-litre petrol and diesel engines which produce 99 PS and 86 PS respectively. Both engines are mated to a 5-speed manual gearbox and Renault will also offer a CVT option on the petrol variant. The Scala Automatic will be launched in the near future. Renault is also aggressively advertising the follow me home headlights feature on the Scala. The same feature is also present on the Sunny but never advertised about.
[flickr size="center" float="medium"]http://www.flickr.com/photos/motorbeam/7858763978/[/flickr]
[flickr size="center" float="medium"]http://www.flickr.com/photos/motorbeam/7858760372/[/flickr]