Royal Enfield Custom-Built Bikes Unveiled, Based On 650cc Twins
Royal Enfield custom-built bikes based on the upcoming 650cc twins have been revealed at Wheels and Waves 2018.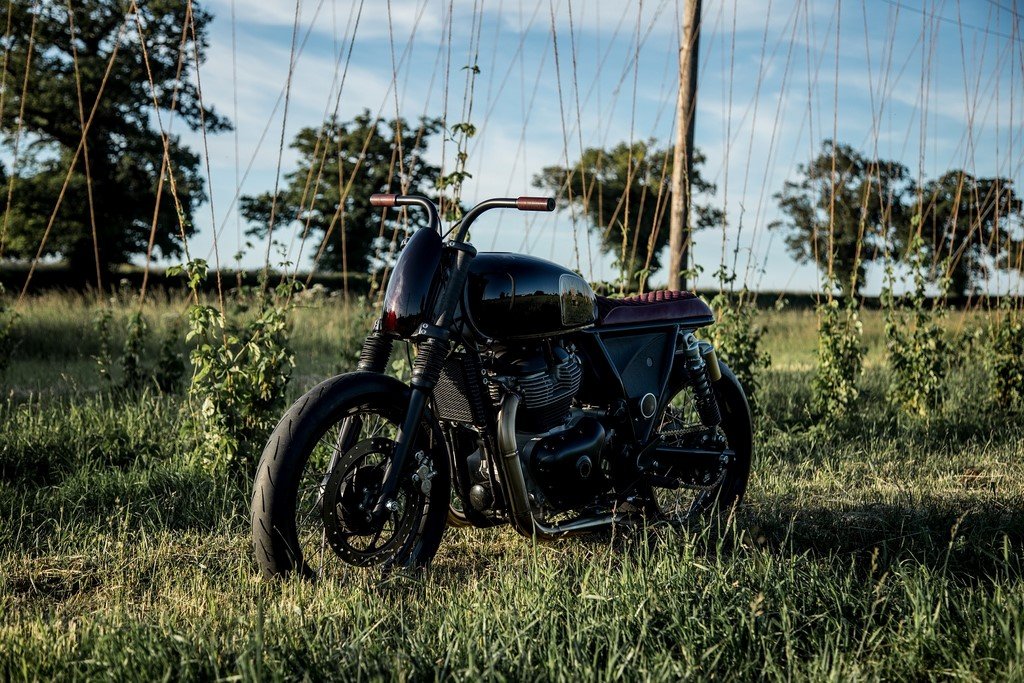 Royal Enfield has unveiled three of its latest custom-built motorcycles developed for the very first time on its yet to be launched 650cc twins (the Interceptor 650 and the Continental GT 650) at the seventh edition of Wheels and Waves. For those who are not aware, Wheels and Waves is Europe's landmark surfing and motorcycling festival that is held in the city of Biarritz, France.
The three custom renditions have been named as the Lock Stock, Rohini and the Interceptor. The Interceptor is built by Old Empire Motorcycles and is based on the Interceptor 650. The custom bike gets a deep metallic red paint, Oxblood leather and Alcantara seat. The engine parts and the rims have been blackened for a sinister look. The Interceptor does not have a stock lock barrel and key instead gets a keyless ignition integrated into matching riding gloves!
The second custom bike is the Rohini, built by Young Guns Speed Shop. The name Rohini takes inspiration from India's space program and its Rohini satellites. The idea behind developing the Rohini was to retain the design elements of the stock bike as much as possible and give it a curvaceous fairing and a monocoque tail unit. The highlight of the Rohini is that in the dark, a layer of reflective paint transforms the classic lines into a riot of Razzle Dazzle light, blurring the lines between being beautifully retro and wildly modern.
The third and the last custom bike unveiled is the Lock Stock. Designed and developed on the Continental GT 650, it is the first custom motorcycle by Royal Enfield in many years to have two smoking barrels. The bespoke brazed steel drag racing frame has been developed in partnership with legendary chassis masters Harris Performance to blend old-school beauty with performance capability. USA's S&S cycles have converted the 650cc motor into a 865cc engine with nitrous injection. The custom bike gets a Dazzle Camo paint job with carbon-fibre body and leather work.
The Lock Stock's rear wheel HP with stage 1 nitrous of the bike is rated over 100 HP at 7040 RPM and the torque output is rated at 114 Nm at 5840 RPM. The Rohini and the Interceptor's specs aren't made available by Royal Enfield yet.
Royal Enfield Custom-Built Bikes
– Royal Enfield debuts 3 custom-built motorcycles at Wheels and Waves 2018, France
– The event brings together the multifaceted world of motorcycles with surf & skate culture
– Custom bikes are named Interceptor, Rohini and Lock Stock
– Rohini and Lock Stock custom bikes are based on the Continental GT 650