Skoda Launches New Variants Of Fabia [Updated]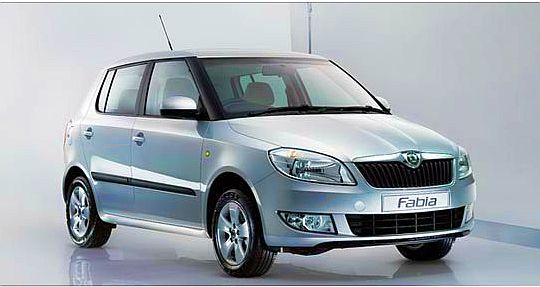 The automobile industry is predicted to be on it's way to a saturation point where sales will be slacked. With rising petrol prices, government import policies, increase in insurance premiums car makers are having a tough time to sell their cars. Most of them have understood the importance of mass market and are launching smaller cars like the Honda Brio and Hyundai Eon. Skoda on the other hand is busy preparing for its C-segment sedan and had to look after the Fabia sales too as  they were becoming stagnant and heading down south. Hence Skoda has introduced the Fabia in new trims which are supposed to be cheaper. We will give you a reality check regarding the new pricing strategy by Skoda.
The base variant earlier was the Fabia Classic and the petrol version was priced at Rs. 4.47 lakhs. The new base variant is now called called the Active, with the petrol version being priced at Rs. 4.43 lakhs. Though the deal sounds good as the new version is Rs. 4000/- less it does not have the airbag which is a vital safety feature and surely costs more than Rs. 4000/-. Similar story is seen on the diesel version which is now priced at Rs. 5.52 lakhs while the earlier version was Rs. 5.50 lakhs. The mid-level Ambiente which is now called Ambition and is priced at Rs. 4.91 lakhs which earlier costed Rs. 4.99 lakhs has to again loose the airbags as a part of cost cutting measures. Even the diesel has undergone the same treatment with the Ambition costing Rs. 6 lakhs which earlier was priced at Rs. 6.08 lakhs.
The top end variant has retained the name Elegance. The new prices for the 1.2 MPI petrol engine is Rs. 5.84 lakhs while the 1.6 petrol engine is priced at Rs. 6.16 lakhs and the 1.2 liter diesel is priced atan Rs. 6.89 lakhs. So looking at the whole pricing and cost cutting we can say that Skoda has not reduced the price but indirectly increased the prices. Skoda has also introduced two more variants called the Active Plus and Ambition Plus which have minor additional changes compared to their non-Plus versions. We will have to wait and see if the new pricing strategy affects the sales of the Fabia.
Following are upgrade's to the variants –
Skoda Fabia Active
Lower glove box cover
Rear interior roof handles
New three spoke steering wheel
Skoda Fabia Ambition
Rear roof handles
Heat-protect tint glasses
New three spoke steering wheel
Skoda Fabia Elegance
15" alloy wheels
Rear windscreen heater
Rear windscreen wiper
Skoda Fabia Active Plus
Front electrically adjustable windows
Rear electrically adjustable windows
Comfort opening and closing of windows
Skoda Fabia Ambition Plus
Remote control with two foldable keys
Remote control locking and unlocking of doors and boot lid
Rear electrically adjustable windows
Comfort opening and closing of windows
Remote control opening and closing of windows
2012 Skoda Fabia Prices
MODEL

VERSION

MOTOR

PRICE

Ex Showroom- DELHI

Fabia
Active
1.2 MPI, 55kW
           439,090
Fabia
Active Plus
1.2 MPI, 55kW
           458,990
Fabia
Ambition
1.2 MPI, 55kW
           485,550
Fabia
Ambition Plus
1.2 MPI, 55kW
           499,450
Fabia
Elegance
1.2 MPI, 55kW
           579,700
Fabia
Elegance
1.6 MPI, 77kW
           611,700
Fabia
Active
1.2 TDI CR, 55kW
           546,590
Fabia
Active Plus
1.2 TDI CR, 55kW
           566,490
Fabia
Ambition
1.2 TDI CR, 55kW
           594,050
Fabia
Ambition Plus
1.2 TDI CR, 55kW
           607,950
Fabia
Elegance
1.2 TDI CR, 55kW
           683,200