SUV Sales October 2015, Bolero Makes A Comeback
The Mahindra Bolero made a strong comeback in October 2015 beating the Hyundai Creta, while newcomer TUV300 is garnering healthy numbers.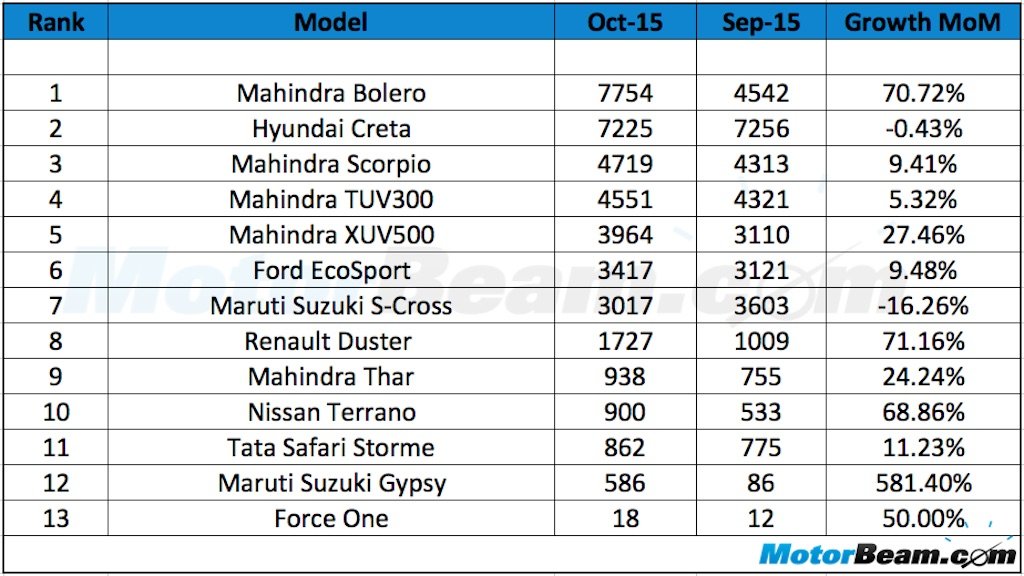 SUVs are the rage of the season globally and India is a market that appreciates its presence. With the festive season at its peak last month, buyers had all the more reason to go out and book themselves a rugged looking offering now available in all sizes. With cash registers ringing for most manufacturers, we take a look at the sales performance report of SUVs for October 2015. Starting with the Mahindra Bolero, the UV made the strongest comeback on the list at the number one spot after a gap of three months with 7754 units, an increment of 70 percent.
With demand exceeding production, Hyundai's Creta came in second as the compact SUV recorded a consistent 7225 units last month and given the strong demand, we don't expect to see any decline till early 2016. Apart from the Bolero, Mahindra has four more offerings on the list with the Scorpio coming in third with a 9 percent hike, clocking 4719 units. The automaker's smallest SUV, the new TUV300 also garnered positive numbers and clocked 4551 units in its second month of sales. The facelifted XUV500 saw 3964 units moving out of showrooms with a 27 percent rise in month-on-month volumes. With 938 units sold, the Thar clocked an increase of 24 percent in sales.
Also making a strong comeback in October was the Renault Duster witnessing a 71 percent hike in volumes compared to September 2015. On a year-on-year basis though, the Duster still saw a 50 percent decline in numbers, courtesy of more competition eating its market share. Other SUVs doing well included the Ford EcoSport clocking a 9 percent increase; Nissan Terrano clocking a healthy 68 percent hike and Maruti Gypsy clocking a whopping 581 percent rise in monthly sales with 862 units moving out, most of which will be government purchases. The only SUV to garner negative volumes was the Maruti S-Cross with a drop of 16 percent compared to September.
In the premium SUV space, the Toyota Fortuner continues to hold the pole position with 1230 units sold with a 12 percent increase in October 2015. The next best seller turned out to be the Mitsubishi Pajero Sport that clocked just 101 units, gaining a hike of 32 percent. The crossovers Hyundai Santa Fe, Honda CR-V and SsangYong Rexton clocked double-digit numbers, while the Skoda Yeti, Renault Koleos garnered single digit sales. Making its debut on the list was the newly launched Chevrolet TrailBlazer that sold 74 units in its maiden month. A tough competitor to the Fortuner, it will be interesting to see if the American SUV is able to hold its own against the Japanese giant.