SUV Sales September 2015, Creta Rises Above All
Looking at the SUV sales figures for September 2015, it can be seen that the new kid on the block, the Hyundai Creta has managed to beat all yet again.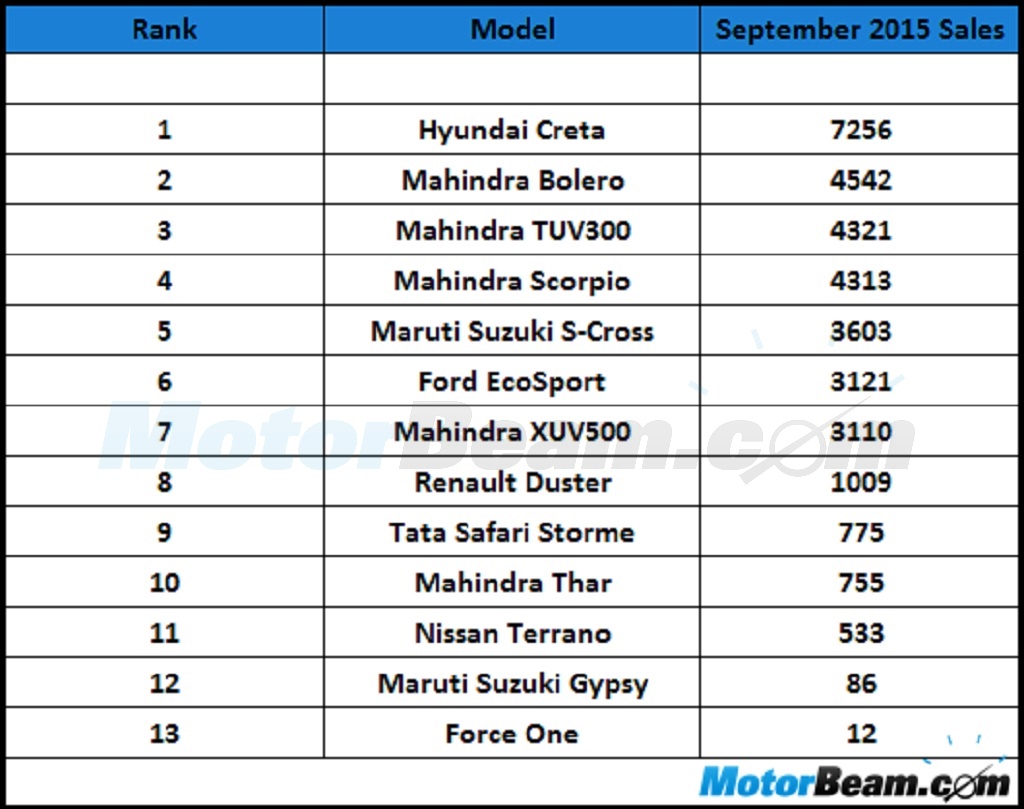 There is a saying which says 'Came late, came healthy'. This has been the case for Hyundai. Although late to the party, they have made an entry into the compact SUV segment with a bang. Since the launch, the Creta has been India's highest selling SUV beating the other cars by a big margin. The Korean brand has its hands full with booking for of the same and the waiting period is multiple months at most places. Another interesting brand in the SUV space is Mahindra.
Mahindra is to SUVs what Maruti Suzuki is to hatchbacks. Out of the thirteen SUVs on the list, five are from the Mahindra stable. With the launch of the TUV300, the Indian carmaker has another product which has the potential to sell in high numbers. Three of its products sold above 4000 units which a big achievement. The XUV500 which comes in at a higher price also managed to sell a healthy 3110 units which is the highest for a vehicle of its price range.
Maruti Suzuki on the other hand doesn't have the best of presence when it comes to SUVs. Their true blue SUV, the Gypsy sells in miniscule numbers outside of the military purchase. The newly launched S-Cross is also facing heat from the competition and sales are down by more than 20% as compared to August. While Ford EcoSport sold close to 3000 units, its sales are likely to increase a bit after the minor facelift it got very recently which has added multiple features to it.
The Renault Duster and the Nissan Terrano are both suffering from dwindling sales due to dated looks and Spartan interiors. Although the French carmaker has added AWD option to the lineup, it isn't helping much. In front of the newer and more contemporary competitors, these old SUVs just can't cut it. The Tata Safari Storme has seen a growth in sales due to the facelift it got recently. The Mahindra Thar also got a facelift recently which has made it easier to live with thereby increasing sales.
Coming to the premium SUVs, it is the Toyota Fortuner which dominates the segment selling thrice as much as all other cars in the segment combined. With a miniscule sales network, Mitsubishi Pajero Sport manages to come in at the second position. Soft-roaders like the Honda CR-V and the Hyundai Santa Fe continue to sell in low numbers whereas Skoda Yeti, Renault Koleos and Ssangyong Rexton face the issue of low sales. Surprisingly, Maruti Suzuki sold one unit of the Grand Vitara. With the impending launch of the Ford Endeavour, the fight is supposed to get exciting.