Suzuki Swish Long Term Review
Suzuki Swish Long Term Review
Bike Tested: Suzuki Swish
Kms Done: 7375 kms
Test Started at: 10 kms
Test Concluded at: 7375 kms
Fuel Cost: Rs. 12,792/-
Litres: 164
Mileage: 48 km/l (Combined), 45.4 km/l (City), 53 km/l (Highway)
The Suzuki Swish is still the most fun to ride 125cc scooter, in spite of intense competition
Suzuki Two-Wheelers is known for two things in India – the 125cc scooter offerings and endless love towards Salman Khan. The motorcycles are good as well but they never caught up for unknown reasons. Motorcycle business in India is a serious business. To make money out of it you have to take serious efforts, which Suzuki has not done yet. Motorcycles as tested by us are something really awesome and have excellent quality all around. If Suzuki uses the word premium in commuter motorcycles, we think they can sell a few more than usual. Trust us, quality is that good. However, even better are the scooters.
Despite the cost cutting, Suzuki has gained popularity not because scooters are in demand but Indians want everything and nothing at the same time. Confused? Well, so are we. Both the Access and Swish are great products mechanically and aesthetically but despite their bare basic nature they have caught up really well. So well in fact, that despite the popular scooters like Honda Activa and Piaggio Vespa, we bought home a Suzuki Swish. While reviewing it, we fell in love with it. For what reasons? We find out after doing more than 7000 kms on it.
It was the month of December 2012, we bought the Suzuki Swish and it joined the garage with the ageing 102cc, first generation Activa. We chose the Swish over let's say Aviator (telescopic suspension was a must) because we were fed up with Honda's super aggressive, super expensive service centres. During every service, the bills were so high that if we paid for them, we never would have been able to get a new scooter. Needless to say that the service was not up to the mark either. After getting parts from Honda and getting it serviced outside, it was the only time we started enjoying the Activa and Honda brand. Anyways, back to the Swish.
The Suzuki Swish was bought for Rs. 55,000/- (on-road, Navi Mumbai) and was a great deal despite no discounts were given. Mirrors, fixed footrest and floor mats came as standard and the all around body-guard was ditched because we did not like it as it ruined the looks. Looks remind us of how the Swish looks elegant, sleek and long with those long sweeping panels and subtle graphics. Grey colour was chosen because other colours were taking time to be delivered. The tail-light is very well done and does not look bulbous like most competitors. The headlight shape is quite unique as the turn indicators are mounted below which helps by a huge margin.
What looks completely disgusting is the instrument cluster, which, with the blue background and poor choice of fonts is seriously the ugliest thing on this cool looking scooter. Fit-finish is good but the quality in some areas that are not visible to the naked eye at first sight is not that great. However, whatever you touch and feel is very well done. Overall, the sleek and long panels on every side gives it a unique look in the crowded scooter market.
Ergonomics on the Swish are of a very comfortable scooter, however this is because of the offset riding position it offers. The moment you hop on after riding another scooter you feel the handlebar is misaligned which can be a problem for the first week but after that you get used to it. Offset riding position is because, usually your right hand is shorter than your left hand which the Swish supports. Seats are comfortable and are extremely well cushioned. Long rides have never been a problem, even for the pillion who has a chunky and well placed grab rail to hold on to. Mirrors are well positioned and the view behind is great.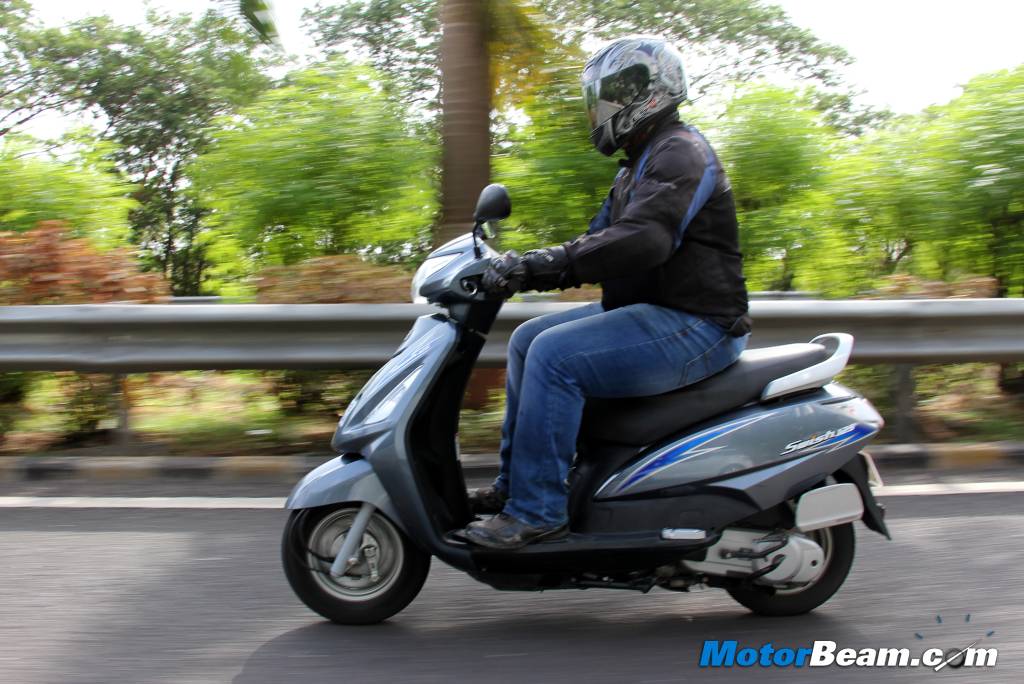 We know you have been waiting for this part. Powering this scooter is a 125cc engine producing 8.6 BHP of power and 9.8 Nm of torque. The Swish just shoots off the line and does 60 km/hr in 8.5 seconds which was very quick for its time but now the new Activa 125 is faster by 0.4 seconds to 60 km/hr. Throttle response is instant and crisp. The 125cc mill is extremely peppy and just loves to be on the boil all of the time. There is absolutely no moving part noise from the engine or gearbox whining even at a speedo indicating 100 km/hr. The pulling power is the best part of the scooter, let me give you an example. Two people roughly weighing around 90 kgs each and have three huge boxes of mangoes on board and the scooter still pulls strongly to 70 km/hr from standstill with absolute ease and loves to cruise at 75 km/hr with that kind of weight on it. True top speed is 93 km/hr while the meter shows 100 km/hr. The scooter used to annihilate every other 110cc scooter in the mid-range and top-end pull was class leading until now. Overall, the Swish still remains the best scooter to have fun with. Fuel efficiency in our daily cycle has been constant through the 1.5 years of ownership which is 47-48 km/l. A 6-litre tank gives almost 300 kms of range, which is a litre extra than others in the segment (Vespa aside).
Despite riding on 90 x 100 tyres slapped on 10-inch wheels, the Swish still handles really well. Stiff suspension at the front and soft suspension at the rear makes it a really well tuned and forgiving chassis. The Swish turns in really well and in a planted manner. Turn-in is one of the best we have ever experienced on any scooter. It is quite raked in so taking u-turns is pretty effortless. Push it to the limits and the rear lets go of your confidence because of the softer suspension there. MRF tyres were not that great during the run-in period but after 400 kms or so, the tyres got better and so did the brakes. The tyres as we know do need run-in just like the engine. High speed stability of the Swish deserves the best award in the industry. Despite crosswinds and doing high speeds, it does not make you feel that you are riding on the very limit. We nailed the throttle on a downhill and it managed to do 105 km/hr, the engine showed minimal signs of stress and the stability of the scooter is truly well done.
Cost cutting is seen in several areas, the hook which is under the seat is made up of plastic rather than metal. Rusted main stand and exhaust pipe is already witnessed on our long term scooter. Ground clearance may seem less on paper but with stiff suspension you won't scrape the under-belly. To open the lock of the under seat storage, you need to keep the key in the ignition slot and turn it to left to hear a 'click' which opens the lock. The headlight spread is good but the bulb used is not that great and seems like a part of cost cutting and does not provide good illumination like other Japanese rivals. Smartly integrated system takes some time to get used to, after that you realise that this is a well done system. You can access the spark plug and idling nut from the outside with two flaps on the left side of the scooter which are made of plastic. These are two important things, which need care separately and do not require the entire body to be opened from the top as always. Generous under seat storage stores up to six bags of food (party time) and a large bottle (2-litres) of Thumbs Up! The best part is that the food remains warm or becomes even more hot till it reaches home, that depends on your riding style.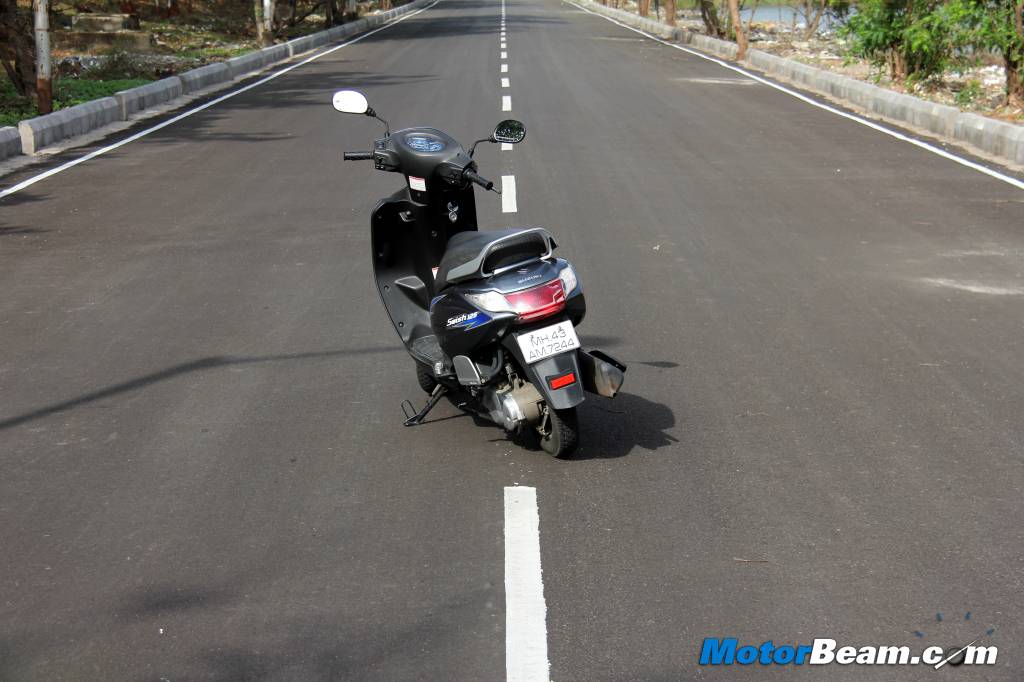 Service experience is fantastic with Suzuki. The service staff at Airoli in Riya Suzuki has been brilliant. Far away from our place in Navi Mumbai, it is not a problem to go and get it serviced because of the well done roads that connect both towns and the best part, you have a very quick scooter to ride. Another part of fabulous service is that for a nominal cost of Rs. 300/-, you can get your scooter picked up, serviced and dropped to your place too. Servicing is bang on. Every time, every single thing is checked because the service intervals are so high, which is six months. You don't need to tell them to check battery water or apply jelly to the points. Everything will be checked and scrutinised. A thing which most service centres don't follow. They just do what the customer has told them and get away to the next. Another superb part is the dirt cheap spare parts. We are a Honda user too and we can vouch to this fact very well. The 102cc Activa bill was usually above Rs. 1500/-, 5 years ago. Suzuki? Well we got almost everything broken changed this time and things including labour and parts costed us Rs. 1700/-. You can see the parts list below and calculate for yourself and compare it to your Honda service bill. Three services have been done and every time the oil has been changed at roughly 3000 kms and first service happened at 1000 kms.
When we reviewed the Suzuki Swish, we did mention the cost cutting and cheap parts used but still went ahead and bought it as a family scooter because it serves the purpose well. The large boot, the sleek and somewhat elegant styling dials the correct number for us. The price was spot on. Albeit, a bit expensive, no goodies whatsoever is offered and it is a scooter for the masses who want something different and need a 125cc scooter to do the pulling. We are quite happy with the scooter, the brand and its offering. We only hope that Suzuki step into the market with their new products in a more aggressive manner. With the competition finally coming and making the Swish even more relevant, it is now time for Suzuki to upgrade the game rather than sticking to the old theme. There is a lot to be aspired, however, there is currently a lot to be enjoyed as well.
The Suzuki Swish is a comfortable commuter and does everyday duties extremely well. Only if there were more goodies at the same price. Despite everything, the Swish remains the most fun to ride scooter in the market today.
Suzuki Swish Spare Part Prices
* Paid service – Rs. 280/-
* Engine oil – Rs. 253/-
* Spark plug – Rs. 100/-
* Air filter – Rs. 91/-
* Brake liner – Rs. 220/- (each)
* Oil filter – Rs. 40/-
* Transmission oil – Rs. 36/-
* Air inlet hose pipe – Rs. 136/-
* Speedometer glass assembly – Rs. 84/-
* Speedometer gear – Rs. 41/-
* Side stand – Rs. 123/-
* Tail lamp bulb – Rs. 20/-