Tata Aria Now Starts At Rs. 9.99 Lakhs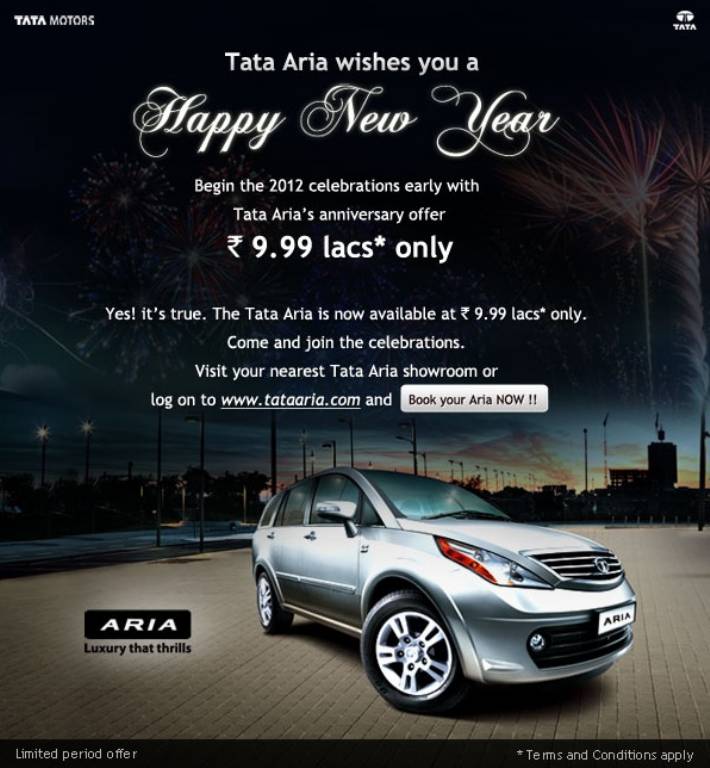 Just a few weeks ago, we had reported that the Tata Aria is being offered at Rs. 9.99 lakhs after discounts being offered by dealers to clear inventory. Now the Rs. 9.99 lakhs pricing has become official as Tata Motors is celebrating the Aria's first year anniversary. This pricing is for the base 4×2 variant and might not be kept for long. The reason for Tata Motors reducing the prices of the Aria is due to the poor sales by the crossover. The Mahindra XUV5OO has conquered the segment and the Aria is finding it tough to sell. Now with the reduction in prices, Tata Motors hopes to woo buyers to the Aria, which is a very competent vehicle in its own right. With new SUV's set to debut from Maruti Suzuki, Ford and Renault, the Aria still has alot to do to save its turf.
The Tata Aria is powered by a 2.2-liter diesel engine which produces 140 BHP of power at 4000 RPM and 320 Nm of torque at just 1700 RPM. The Aria is Tata Motors' flagship vehicle and has technology unheard of for a Tata vehicle. Tata Motors has realised what went wrong with the Aria (styling) and are working on improving it in the Aria V2. One of the most spacious vehicles under 20 lakhs, the Aria has close to 30 cubbyholes for storing your knick knacks. An automatic version of the Aria is expected to arrive soon, while the company has no plans to offer the Aria with a petrol heart anytime in the near future.
[singlepic id=7269 w=540 h=375 float=center]
[singlepic id=6779 w=540 h=375 float=center]