Tata Bolt Sells Just 458 Units In June 2015 [Hatchback Sales]
The Tata Bolt continues to crawl when it comes to sales while other rivals continue bolting across each month's benchmarks.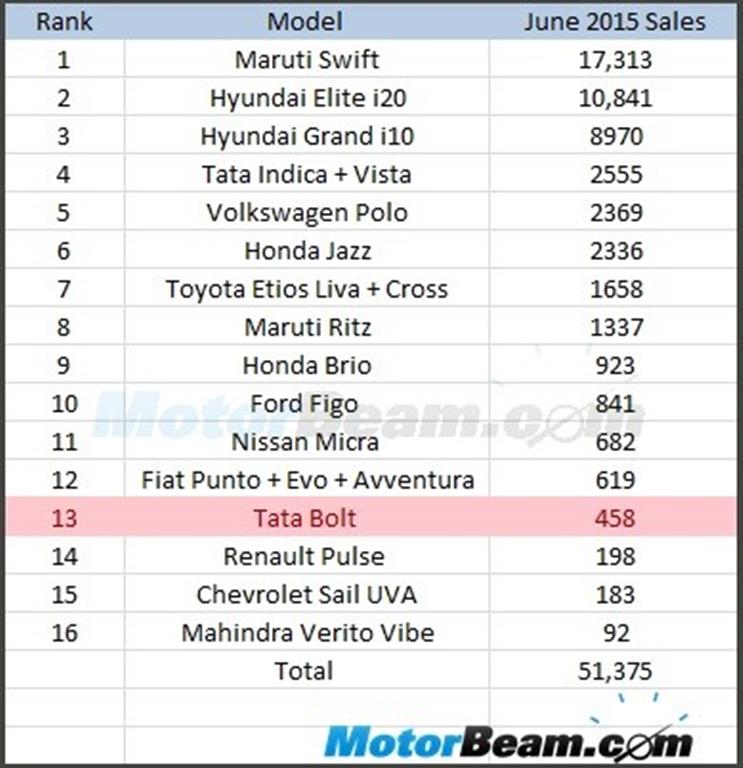 The Bolt is one of the latest offerings from Tata Motors and is significantly better than most of the older cars from the company. The Bolt was launched earlier this year to compete with the Maruti Swift, Hyundai i20, Ford Figo, Nissan Micra and the likes. The hatchback comes loaded with features and interior quality has also gone up by a huge margin. Yet, the vehicle constantly sells in low numbers every month. In June 2015, the Bolt sold just 458 units which is downright shocking.
There are a lot of hatchbacks in India and many of them are much older than the Bolt and still they sell in more numbers. Case in point being the Indica + Vista siblings from Tata's stable itself. These cars have sales numbers that are more than 5 times that of the Bolt. Even the discontinued (production stopped) Ford Figo and Maruti Ritz are selling more than Bolt! Other segment trends remain quite unchanged though. The Maruti Swift is still at numero uno position followed by the Hyundai Elite i20 and Grand i10 siblings. The newest entrant Honda Jazz received 2336 dispatches last month.
So what has gone wrong with the Tata Bolt that it continues to fail so miserably in the market? First of all, the company could've seriously given more thought to the pricing. The Bolt is pricier than the Swift. Even though the latter misses out on some features that the Bolt boats off, it continues to remain a top choice thanks to a word called trust. Frankly, most buyers don't have trust in the Tata brand which the company needs to address. Even the Elite i20 is expensive but then again Hyundai offers much better levels of customer satisfaction.
What Tata Motors could have done is that even though the Bolt comes with a long equipment list, they should have still priced it lower than the market leader. With this strategy, of course the vehicle wouldn't become a sudden hit, but then a considerably higher number of potential buyers would at least consider and give the vehicle a look. As straight as it may sound, it seems difficult for the Bolt to climb up the sales charts and we have a feeling that it might just go the Nano way.