Tata Launches Grande Without Sumo Name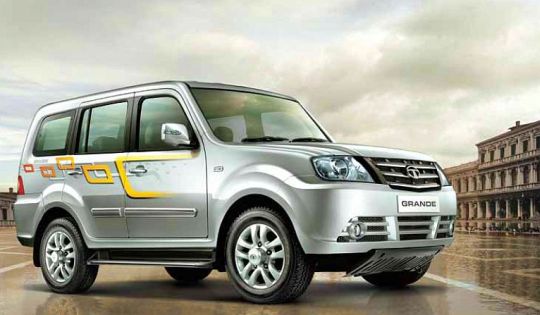 Tata Motors has launched the new Grande and dropped the Sumo name from the vehicle. The company very discreetly launched the product without holding any media event. The Grande comes with a minor facelift which includes a new chrome grille, new style side view mirrors with turn indicators, chrome on rub rails, chrome on door handles, the B and C pillars are blacked, there are new graphics which do not really add to the visual appeal. In the insides the Grande is still the same with no major changes. Tata has retained the two captian seats, a three seater bench and two seats at the rear in 7 seater and 8 seater configurations. The comfortable part in the Grande is the rear AC vents for the second and the third row.

Under the hood you will find the same old 2.2 lit DICOR diesel engine which produces 120Bhp of power and 250Nm of torque. There is a smaller 2.0 lit engine also available which gives 90Bhp of power but is a BSIII compliant so it has limited availability. The cost of the base model is 7.1 lakh Ex-Delhi which is a decent price for the car with decent features. Tata offers a 3 year\100,000km warranty with the Grande. Tata Sumo enjoyed all its good times back when it was launched but the car could not evolve as per the competition, looking at Toyota it had launched Quallis which sold like hot cakes but when they stopped Quallis and introduced Innova which was priced a notch above Quallis the market was sceptical whether Innova will be able to do what Quallis has done. Today we see that Innova is still the King of the segment the same way as Quallis was during its time.