Terra A4000i Electric Scooter India Bound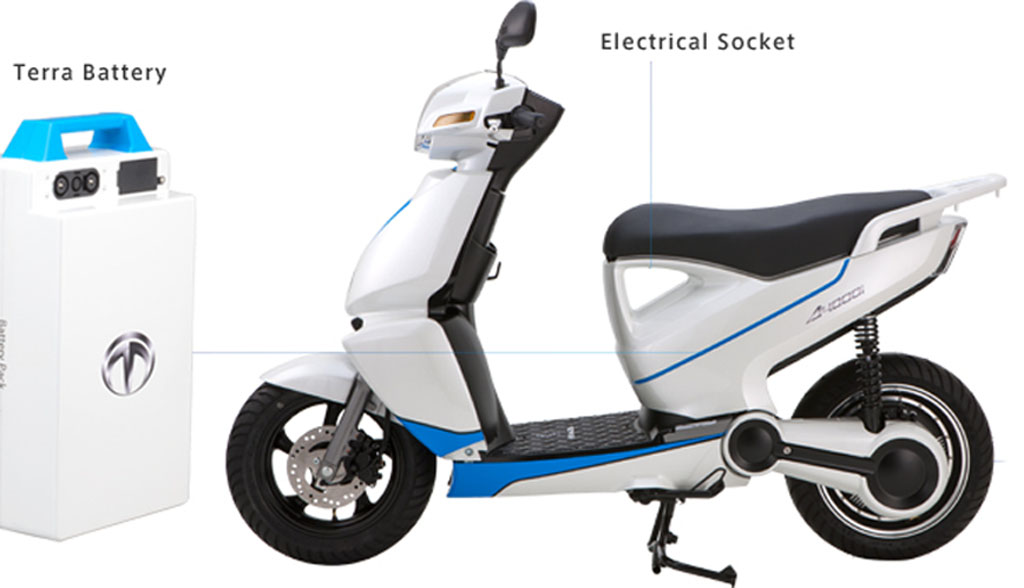 Terra Motors from Japan has launched a new range of electric scooters that can be connected with the iconic Apple iPhone to provide several riding related information on the go. The model names are A4000i and A4000 that are the world's first scooters accompanied with a smartphone and displays data related to power consumption, battery status and mapping data for GPS navigation along with various other updates while on the move. The A4000i range is only compatible with the iPhone (3G and later versions). The updates will be transmitted through the iPhone and can be monitored via the web on the screen.
The Terra A4000i electric scooter is powered by a 48V lithium battery that takes only 4.5 hours to charge completely. The company claims that the battery has a life cycle of 50,000 kms in comparison to the 10,000 kms range on general electric scooters. The A4000i features disc brakes at both the front and rear. The e-scooter can reach to a maximum speed of 65 km/hr, offering 65 kms running range in one complete battery charge.
The other interesting thing about the A4000i scooter is Terra Motors has installed a removable battery, so that you can uninstall and carry the battery for charging it inside your house. This is helpful if the electric plug is not in the near reach of the scooter. The battery weighs only 16 kgs (still quite a lot to carry) while the total weight of the scooter is 118 kgs.
Terra Motors has introduced the A4000i range a few days back in the Japanese market but the company has not announced the price yet. The 2-wheeler manufacturer is targeting sales of 1 lakh units by the end of 2015 with the commencement of its business operations in several Asian markets. The Japanese scooter brand is also willing to invest with other settled business players in offshore markets. Terra Motors will debut the A4000i in the Indian market by the end of this year, priced around Rs. 90,000/-.