Tesla India Launch In The Pipeline
Tesla India launch in the pipeline, GoI's strict regulations playing spoilsport for the automaker's entry.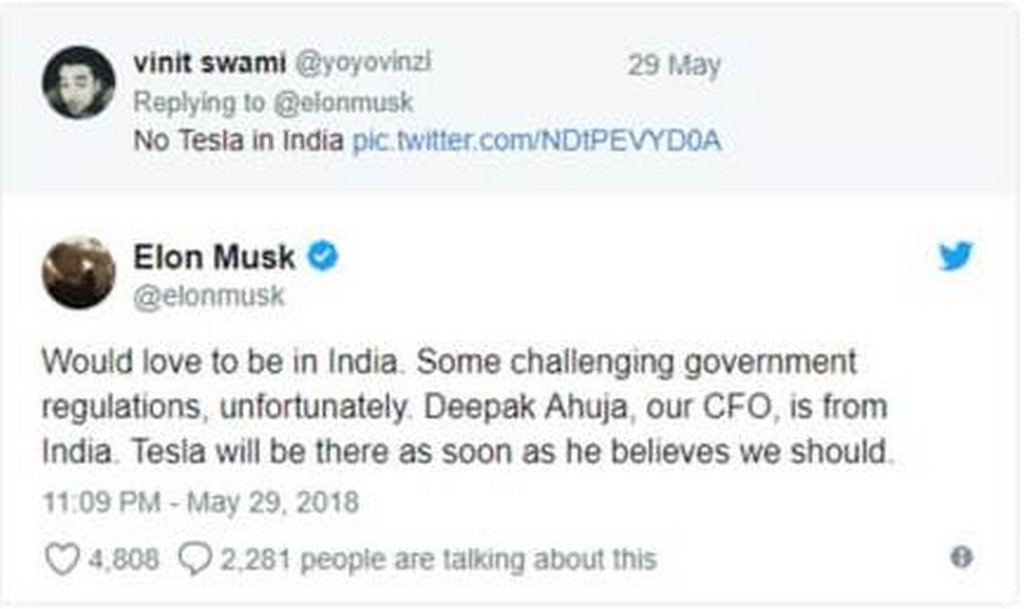 The launch of a Tesla car in India has been the most awaited thing for many. Time and again, the launch of a Tesla vehicle has been delayed and the company has cited the strict regulations of the Indian government as the reason for its delayed entry. The last deadline specified was summer 2017. It has been over an year now and there have been no updates on that front.
In a recent development, Elon Musk, the CEO of Tesla responded to a tweet and also went on tell that Tesla would soon enter India as and when the company's CFO Deepak Ahuja (an Indian) gave a green signal. "Tesla will be there as soon as he (Deepak Ahuja) believes we should" said Musk. The EV maker was supposed to enter India with its most affordable car, the Model 3. The company had also collected an advance booking amount of $1000 from several car enthusiasts. However, India still does not have the necessary infrastructure to support electric cars. Understandably, a lot of charging stations and pods are required at various locations if we want EVs to gain demand.
Considering the Indian Government's ambitious initiative of making India an all-electric car nation, Tesla could make its entry to the country pretty soon, probably in the next 3-5 years. Every other carmaker in the country is busy announcing their intentions to electrify their existing line-up of cars or launch new EV models. Mahindra, Maruti, Tata and Hyundai are among the car manufacturers who have expressed their interest in developing an EV for the mass market. Tesla, however, will operate in the luxury space.
Tesla India Launch
– Tesla India launch dependent on the CFO of the company
– CFO Deepak Ahuja will time the launch of Tesla in India
– Due to unavailable infrastructure and supply chain, the launch has been delayed