Top 25 Selling Cars Of 2017, No Maruti In Sight
The list of top selling cars got shuffled enormously in 2017 but the Toyota Corolla held the first spot with ease.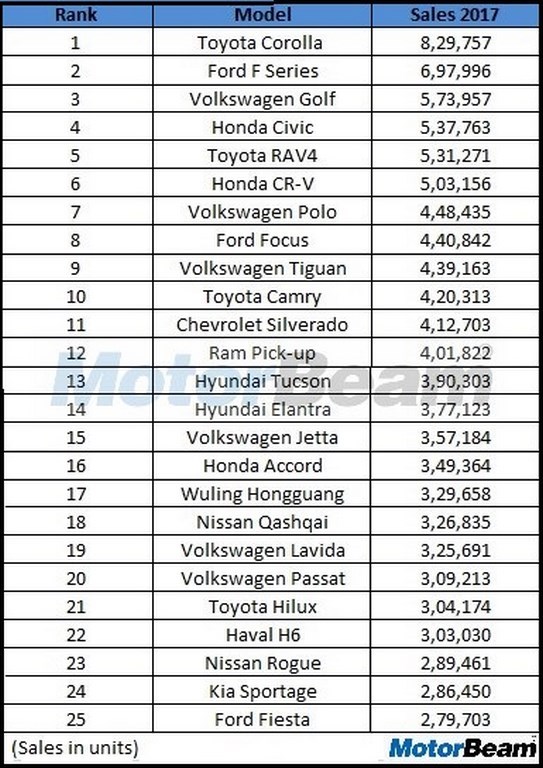 Global car sales saw huge fluctuations this year (January to August 2017). Ranking of many vehicles shuffled to a great extent with some witnessing sudden rise in their sales while others sold in much fewer numbers as compared to the previous year. The Toyota Corolla continued to rule the ranking chart. In fact, first three cars held their positions firmly while change is largely observed from the fourth position. However, something worth noticing is that the Maruti Alto, a car which has been a huge success in India, sat on the 67th number in global sales and no other car from Maruti was seen in the list of top 100 selling vehicles.
Starting from rank one, the Toyota Corolla has been leading the list with 8,29,757 units being sold this year. Although the graph went down by 6 percent for the Corolla, no other model managed to outsell it as it leads with an enormous margin. On the second position stands the Ford F Series, fetching 6,97,996 buyers and has seen a 9 percent growth over the last year. It is followed by the Volkswagen Golf, 5,73,957 units of which are retailed, encountering a downfall of 8 percent.
The list changed from the fourth position as compared to the previous year. The Honda Civic jumped from ninth to the fourth position by selling 5,37,763 units and has seen a hike of as much as 26 percent. Following the Civic, on fifth is the Toyota RAV4 which saw a sales hike of 13 percent and the sixth spot is clenched by the Honda CR-V which saw a growth of only 1 percent and slipped down from its previous year's fourth position. Notably, the Japanese automaker Honda is doing commendable worldwide.
The most prominent improvement has been sighted from the Ford Focus as it is in the eighth spot which surprisingly, was as low as 97 position in 2016. Yet another vehicle to have seen a remarkable hike in the sales department is the Volkswagen Tiguan, 4,39,163 units of which have been sold in 2017 and settles on ninth spot. In 2016, the same vehicle sat in the 22nd position and now saw growth of a whopping 43 percent.
A lot of manufacturers saw their offerings shifting to a large extent in this list. Whatsoever, we hope we get to see these global top-sellers do better numbers in the Indian market. Currently, every second car sold in India is a Maruti Suzuki.
Top 25 Selling Cars Of 2017
– The Toyota Corolla saw 6 percent dwindle in sales but remained the leader
– Most prominent improvement has been witnessed from the Ford Focus
– The Alto is at the 67th spot while no other model from Maruti appeared in the top 100 list