Top 5 Driver's Cars You Can Buy Today
Even though majority of Indian car buyers look for fuel efficiency and reliability while buying a new car, there are a quite a few of us enthusiasts who look beyond that. It's not that we don't care about fuel efficiency or reliability but it's just that we desire more out of the car we buy. We want the car to satisfy us each time we get into the driver's seat. There are a considerable amount of driver's cars available on sale in our country and these cars are not just about straight-line performance. It is their power, handling, suspension quality and dynamics which make us love them. These are guaranteed to satisfy the enthusiast in you while being practical and efficient.
Let's have a look at the top 5 driver's car that you can buy today.
1) Ford Fiesta – One of the most underrated cars sold in India today, the Fiesta has good handling capabilities like most other Fords and is powered by a 1.5-litre petrol engine which produces 110 PS of power and 140 Nm of torque. You can also choose the diesel powerplant which is a 1.5-litre TDCi engine producing 91 PS and 204 Nm of torque. Both these engines are mated to a 5-speed manual gearbox (the petrol is also offered with a 6-speed PowerShift automatic) and even though outright power doesn't sound good on paper, the diesel engine offers a blend of both performance as well as fuel economy. The ride quality is also very good and the car has an appealing exterior. The Fiesta is priced between Rs. 7.85-10.83 lakhs (ex-showroom, Mumbai).
2) Volkswagen Polo GT TDI – Volkswagen initially launched the Polo with 1.2-litre petrol and diesel engines. These engines did not offer great performance and left the owners wanting for more. Volkswagen has now launched the Polo GT TSI and Polo GT TDI, both of which are aimed at those who love driving. Powered by the same 1.6-litre TDI diesel engine that does duty on the Vento, the Polo GT TDI puts out 103 BHP of power and 250 Nm of torque. It is an absolute blast to drive the Polo with this engine. The GT TDI is pretty fuel efficient too. The Polo already has great dynamics and offers good handling. The only downsides are the cramped rear seat and VW's poor after-sales service. The Polo GT TDI is priced at Rs. 8.08 lakhs (ex-showroom, Delhi).
3) Honda City Petrol – Honda very recently unveiled the 2014 City and we are very pleased with this car. The new model has improved interior room over the outgoing version and better equipment levels as well. The 1.5-litre i-VTEC petrol motor loves being redlined and gives out a sweet exhaust note. The engine produces 119 PS of power and it is decently fuel efficient too. The interiors of the new City are well-improved over the previous version and while the exteriors are a bit similar to the outgoing model, we don't have much complaints in this department. The 2014 Honda City comes with thin tyres which aid fuel efficiency but if you want to improve the handling then be sure to upgrade to a better set of rubber (with at least 195 mm width). This is a great car overall and comes with the reliability of a Honda. The prices for the City will be announced soon.
4) Skoda Octavia 1.8 TSI – Skoda entered the Indian market with the Octavia in 2001 and the car was known to be a driver's car, especially the vRS version. The company then launched the Laura which aimed to take the legacy forward and now Skoda has again revived the Octavia nameplate by launching the 2014 Octavia. Here we are considering the 1.8-litre TSI petrol engine which produces 177 BHP of power and 250 Nm of torque offering great performance. The interiors give a very premium feel and the ride and handling is also very good. The rear seat could have been more comfortable whereas Skoda could have added paddle shifters for a bit more fun. The engine is mated to a 7-speed DSG transmission which isn't the most reliable. The Octavia Elegance 1.8 TSI is priced at Rs. 18.25 lakhs (ex-showroom, Delhi).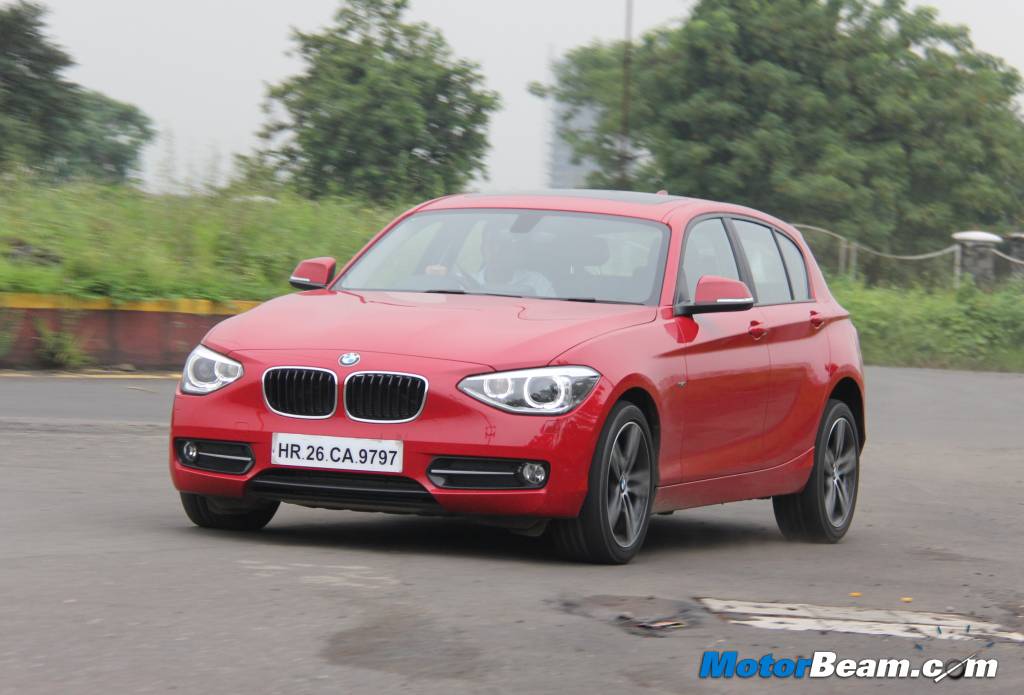 5) BMW 1-Series – The latest locally assembled offering from BMW, the 1-Series is a premium hatchback which costs as much as a premium sedan. There are two models on offer – 116i which is powered by a 1.6-litre petrol engine producing 136 BHP of power and 118d powered by a 2.0-litre diesel engine producing 143 BHP of power. Both these engines are mated to an 8-speed automatic gearbox and power is delivered to the rear wheels. The 1-Series offers excellent handling and the steering precision is very good. It is on the styling front that it loses out when compared to its immediate competitor, the Mercedes A-Class. The BMW 1-Series is priced between Rs. 21.02-30.07 lakhs (ex-showroom, Delhi) and we feel the car would have sold better if BMW had priced and specced it correctly.