Top 5 Tips To Buy Genuine Car Parts
Top 5 Tips To Buy Genuine Car Parts
Car ownership in India has been increasing exponentially over the past many years and the market has seen a flourishing growth. Various segments like compact sedans, compact SUVs, premium hatchbacks, etc. are witnessing the arrival of new competitors and buyers are truly spoilt for choice.
Obviously, with car sales being so high, customers are going to need spare parts too and not every customer goes to the authorised service centres once the warranty of their vehicle is over. Hence, people look for spare parts online or at aftermarket stores. However, it is a gamble because a lot of stores tend to sell fake alternatives for lower prices and these parts are not only inferior in quality but also don't perform optimally.
So, if you're someone who's looking to purchase spare parts independently, here's a list of things you need to keep in mind to ensure that you always get genuine car parts.
1. Check What You Need
First and foremost, you need to check what all parts do you need and in what quantity. You need to be clear with this so that you don't end up buying a part you don't need or miss out on a part that you actually need. Suppose you're replacing the AC condenser of your car, do check what other supporting parts (like pipes, hoses, etc.) are required for the condenser installation and then order all the parts accordingly. It is always helpful to write down the list of parts that you need.
2. Research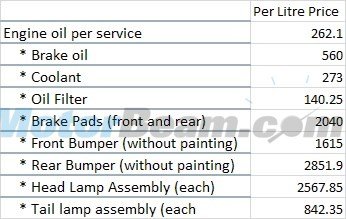 Always do your groundwork properly. Once you have finalised what parts you need, start researching on these parts to see whether alternatives from other reputed brands are available or not, the price difference, whether buying online is cheaper compared to offline, etc. You can also speak to the authorised service station or with local spare parts distributors to see if they have what you want. Do compare the prices of different brands and ensure the part is properly compatible with your car.
3. OEM Part Numbers
It is always sensible to make a note of OEM part numbers. You can find the part number of any spare by calling up the authorised service station. Some manufacturers even have their spare part catalogues where it is easy to locate part numbers for every spare. You can also check out https://boodmo.com/ where you just need to enter your car model, variant and year and you get a comprehensive list of every genuine spare parts and accessory which is compatible with your car.
4. Shortlist Parts
Boodmo.com also gives you the option to see alternative spare parts of the same type from other brands. If you're looking for brake pads for your car, you can have a look at the offerings from different reputed brands like Bosch, Brembo, etc. for your car. This way you can even compare their prices and buy the one which suits your requirements.
5. Check Payment & Shipping Options
Once you've added the required parts to your cart, always check what payment methods are accepted and choose the method which you feel the most comfortable with. On sites like Boodmo.com, you get a clear idea of the shipping charges (if any) and delivery timeline. This way, you can plan out better and set up an appointment with your mechanic to get the parts fitted without any hassle.
It is very important to take good care of your car by servicing it timely and always using genuine spare parts. Genuine spare parts provide optimal performance and are reliable too, decreasing the chances of breakdowns in your car. If you use counterfeit spare parts just to save some money, it actually turns out to be expensive in the long run because these cheap spares cause more wear and tear, don't last much and can even cause more troubles which could lead to you footing huge repair bills. Additional information HERE.
Keeping all these pointers in mind, you'll be all set for acquiring genuine and good quality spare parts for your car and give it the love that it deserves so that it can reward you with some truly memorable drives and excellent reliability.