Toyota GT-86 TRD Flaunts Style At Auto Expo [Live]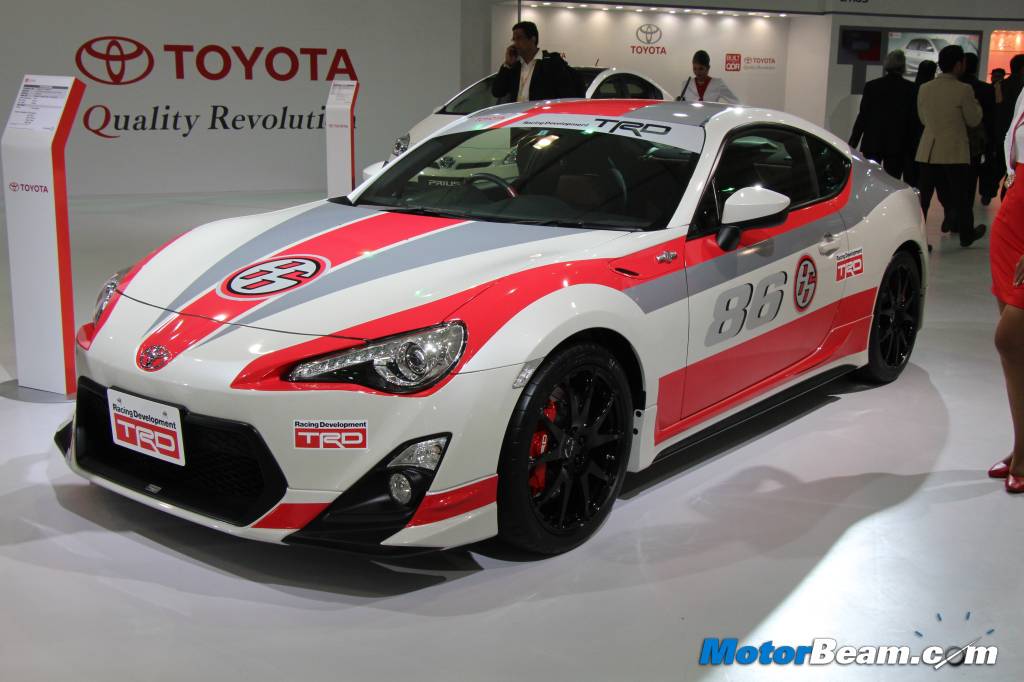 While the 2014 Corolla has been launched at the Toyota stall, another car grabbing everyone's attention is the GT-86 TRD. The sports car has been brought to the auto expo this year as just pure eye candy and Toyota has no intentions to launch the production model GT-86 in India in the near future.
The Toyota FT-86 II concept was first showcased at the Geneva Motor Show in 2011 and was the basis for an upcoming sports car later to be known as the GT-86. The car is powered by a 2.0-litre, 4-cylinder, boxer engine from Subaru mounted up front with power being sent to the rear wheels by a 6-speed manual or a 6-speed automatic gearbox. The engine is capable of producing 197 BHP of power and 204 Nm of torque. 0 – 100 km/hr comes up in 7.6 seconds with the car weighing 1275 kgs.
Styling wise the Toyota GT-86 looks more like a toned down Lexus LFA supercar. The sports car gets more flowing lines, a sculpted hood, pronounced wheel arches and a soft yet firm rear giving away its performance credentials with the twin exhausts. The prompt steering and the tight chassis make it a breeze around corners. It is said that the best angle to view this car is when it's going sideways. Toyota has kept its heritage of the Celica and the MR2 of a no nonsense compact sports car alive with the GT-86. The TRD version on display receives special race spec kit for track use.Toyota certainly showcased its motorsport prowess with the GT-86 TRD.
The production version does get the basic creature comforts and has decent levels of build quality. The two seater interior is equipped with automatic climate control, media system with Bluetooth connectivity, sat-nav and cruise control. Toyota has been selling the GT-86 internationally with Toyota as well as Subaru badges.
The ultimate aim behind this compact sports car was driving pleasure and it sure delivers. What Toyota has essentially done with the GT-86 is to put fun back in driving. It's simple, naturally aspirated and does not have a computer telling you to stop going sideways. Moreover it is an easy car to live with. We can only hope that Toyota does bring this one to the Indian shores for the enthusiasts.