Toyota To Stick With Rumion Moniker For Rebadged Maruti Ertiga In India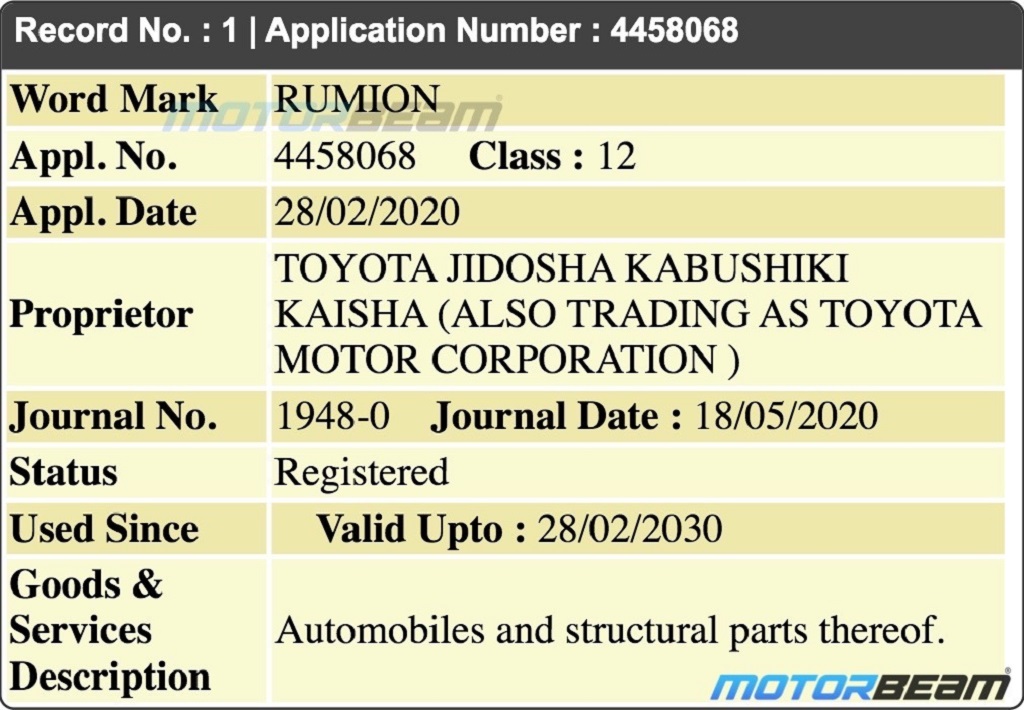 Toyota had got the trademark for the Rumion registered last year in India
Having introduced the Rumion (rebadged Maruti Ertiga) in South Africa, Toyota is expected to launch the car soon in India as well.
The Japanese firm was expected to introduce many rebadged models taken directly from Maruti Suzuki's stables last year and it had even applied for the trademark for such models, Rumion included.
Yup, the Toyota Rumion trademark was applied well before anyone could have anticipated. But the pandemic played spoilsport and Toyota could not introduce a flurry of cars.
With the situation easing up a bit, Toyota is expected to introduce the model in the market soon after it launches the Belta (rebadged Maruti Ciaz).
Looking the same as the Ertiga, the Rumion has a different front radiator grille, model-specific badging and a dark-themed interior.
Expect to see all the features offered on the Ertiga, like the 7-inch touchscreen, keyless entry, push button start, rear-view camera, among others, to be carried over to the Rumion as well.
Having the exact dimensions as the Ertiga, the Rumion also has the same 1.5-litre petrol motor making 103 BHP and 138 Nm, which can be teamed to either a 5-speed manual or a 4-speed automatic gearbox.