The Beast is a heavily armoured vehicle that comes with unlimited security equipment and active safety features for the US President.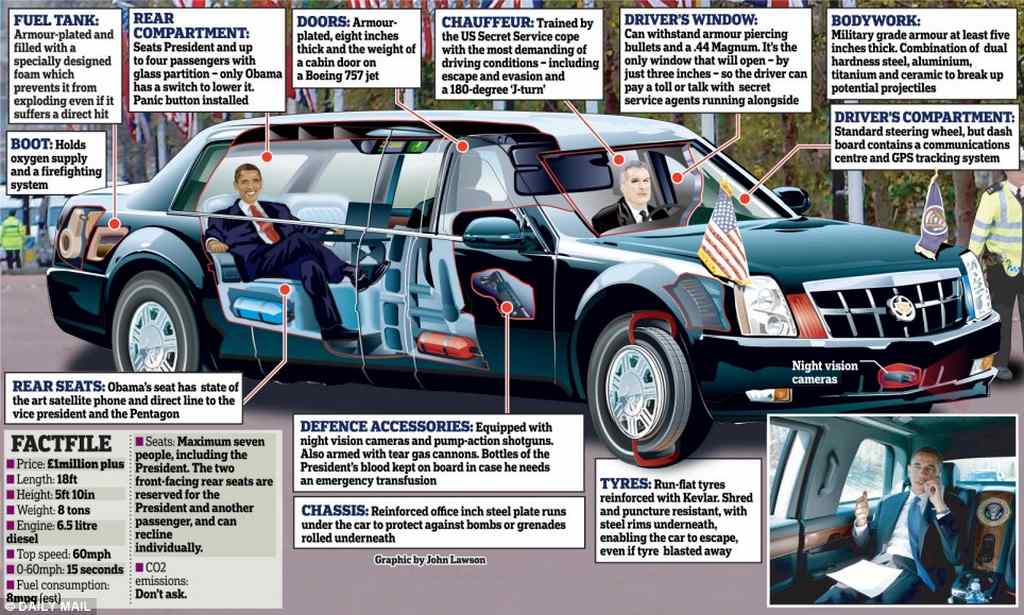 The Beast or Cadillac One is a specially customised limousine for the US President by General Motors. The heavily armored vehicle is based on the Cadillac DTS but with substantially revised chassis and cabin. The list of equipment on the Beast and the number of active safety features just makes you feel the chills down your spine. If you're wondering how much it costs, it's not for sale but if we had to put a figure on, it crosses 1 million pounds (Rs. 10 crores).
The boot of the Cadillac One features oxygen supply and firefighting mechanism. The fuel tank of the Beast is armour-plated, made of elements that prevent explosion even on direct hit. The limo is a seven seater with a glass partition from the driver compartment and capacity of four passengers at the back. The president's seat has a satellite phone, direct line to the vice president and Pentagon with a panic button installed.
Each door is armour-plated and 8-inches thick weighing as much as a cabin door of a Boeing 747 aircraft. The chauffeur is capable of the most demanding driving conditions of escape, trained by the US Secret Service. The driver's window up front can withstand 0.44 Magnum bullets and it's the only window that will open by three inches for the driver to speak to the agents or give toll (isn't it exempted for the US President?). The body gets a 5-inches thick military grade armour made with a combination of hardened steel, aluminium, titanium and ceramic.
The dashboard features a communications centre with GPS tracking system. The run-flat tyres are re-inforced with Kevlar that are shred and puncture resistant having steel rims underneath for a safe escape. A hardened steel plate runs under the car, which is bomb and grenade proof. The Beast is equipped with night vision camera, pump-action shotguns, tear gas cannons, etc. Bottles of the president's blood are kept in the boot in case of emergency transfusion.
Powering the Beast is a 6.5-litre diesel engine returning a mere 3 km/l of fuel efficiency. 0-100 km/hr sprint is achieved in just under 16 seconds while the top speed is also 100 km/hr. Weighing around 8000 kgs, the Beast is 18 feet long and 5 feet 10 inches high. Our Indian Prime Minister's BMW 760Li is way more powerful and faster than the Beast. The BMW 760Li Security Edition has a 6.0-litre V12 engine that puts out 544 HP of power at 5250 RPM and 750 Nm of torque at 1500 RPM, paired to an 8-speed transmission. It does 0-100 km/hr in 6.2 seconds and has a top speed of 210 km/hr. Our PM has no excuses for not reaching on time.