Volkswagen Sweden Builds A Snow Treading Touareg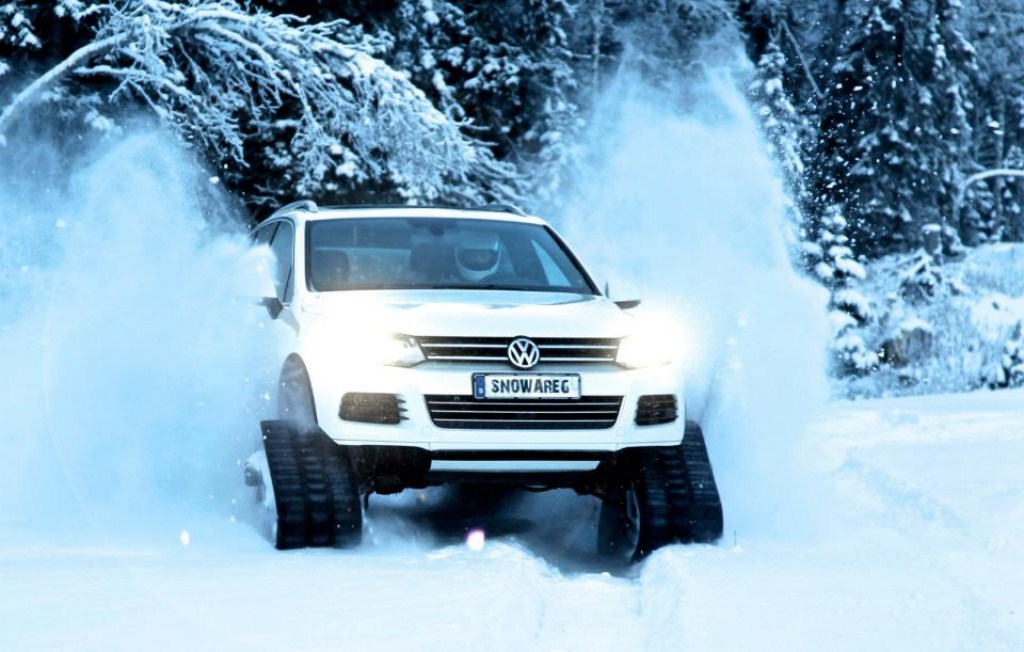 For people living in the snowy regions, it is a bit of harsh realization to find that the roads are all full of snow and that their cars cannot tread these snow clad roads. It brings about a little problem in their commute. But all this wouldn't be a problem if you owned the Volkswagen Snowareg. Undertaken as a project by Volkswagen Sweden in 2011 to tackle severe weather conditions during winter and to make the car find traction in the harshest of snow, this vehicle feels at home in the coldest of road conditions.
The Snowareg is based on Volkswagen's capable off-roader SUV Touareg along with tank-like tracks that help it manoeuvre on all surfaces. Under the hood is a 4.2-litre V8 TDI engine which builds up power of 340 BHP and a maximum torque of 800 Nm. This customized Touareg clocks 0-100 km/hr in just 5.8 seconds on wheels. Replace the wheels with rubber track conversion system/tank tracks and you have a Snowareg with a compromised top-speed of 64 km/hr. But that's an understood compromise as far as the vehicle lets you drive through snow.
The rubber tracks are fitted onto a modified suspension. The Snowareg is also guaranteed to feature most of Volkswagen's best accessories like heated seats, Dynaudio Stereo, dual-zone climate control and a host of other features too. The best part about the snow treading SUV is that it all comes assembled from the Volkswagen factory and not any after-market fitting. After several tests, Volkswagen confirms that it works perfect on all surfaces and that the Snowareg will let you move a lot of snow along with excess comfort at the same time.