Volvo Testing City Bus In Bangalore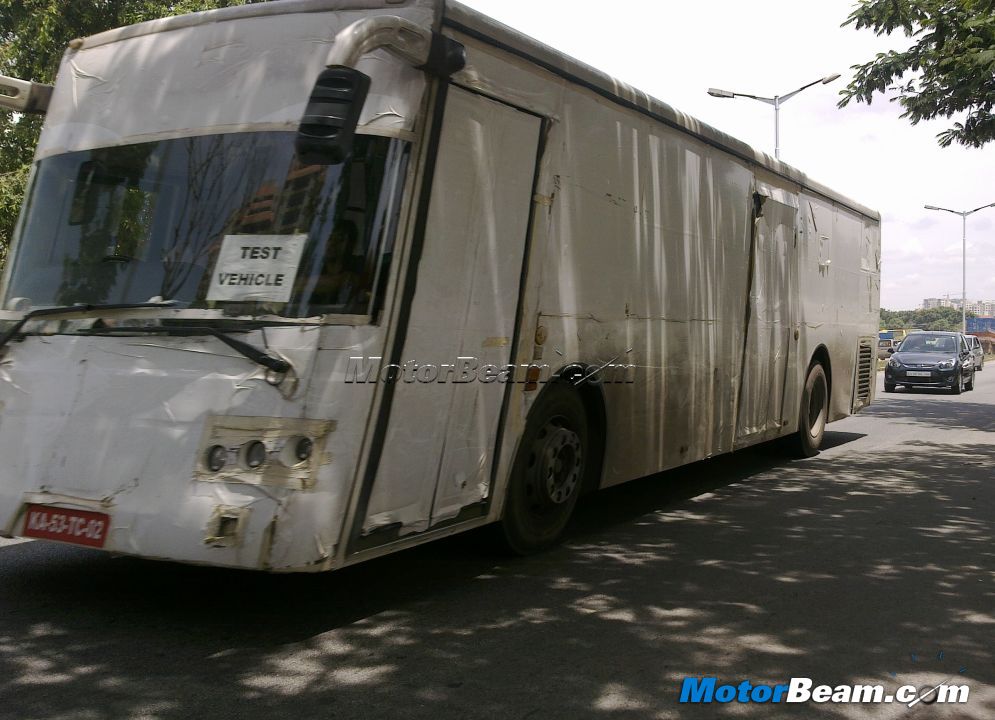 Volvo is testing a city bus in Bangalore and our long time reader Shrikanth Achar was quick to spot the test mule on the roads. The bus has heavy camouflage and is difficult to identify which model it could be. There are chances that this particular model could be in the hands of BTS (Bangalore Transport System) for their own set of tests. However it is certain this particular bus is an intercity bus, with doors placed at the front and center for easy entry and exit of passengers.
This particular bus also has a rear-engine, like all Volvo buses sold in India. Ironically the twin exhaust pipes seem to be placed at the rear number plate location. The ground clearance suggests that this particular bus is a low floor model, again being very helpful for easy boarding and departure of passengers. Could this particular Volvo bus test mule be an updated version of the 8400 low floor city bus which has gained massive acceptance in many cities, including Mumbai and Bangalore.
The Volvo 8400 city bus uses a 7-litre 6-cylinder diesel engine which produces a peak power output of 290 HP at 2100 RPM and most crucially a massive 1200 Nm of peak torque output between just 1050 to 1650 RPM. This engine is mated to a 6-speed fully automatic gearbox and the engine is Euro 4 compliant. The tyres are 295/80/R22.5 and the 8400 weighs 16,200 kgs. Top speed is 80 km/h which is more than enough for city commute. Fancy a test drive review?