World's Smallest V8 Engine Is 100cc Stinger 609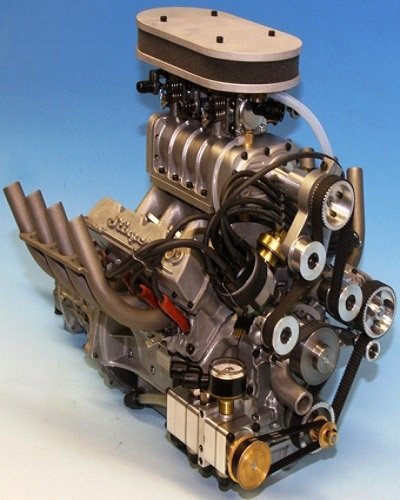 Stinger 609 is the world's smallest supercharged four-stroke V8 engine and now it has finally entered production. This engine is built by Conley Precision Engines, which manufactures 1/4 scale radio-controlled vehicles. There is something different about this small beauty. Unlike the other quarter-scale models, this engines looks, sounds and runs just like the actual full-size V8 engine. Well, isn't that astonishingly great. But, this similarity with the reality will cost you a good $7000 (Rs. 3.65 lakhs).
The name Stinger 609 comes from the 6.09 cubic inches displacement which happens to be 100cc, a very small displacement for a V8 powerplant. But, this does not stop the engine from being mighty and revs to 10,000 RPM and produces a power of 9 HP. This engine is just 14-inches long, 6-inches wide and 10-inches high. Since it is a quarter scale model, it weighs just 11.25 pounds i.e roughly 5.1 kgs. This engine is based on the modified and reclaimed molds for the scaled down Viper V10 which survived the catastrophic fire that gulped all of the V10 molds.
The engineers have taken every pain to pay attention to detail. The development process too has been documented by the team and is available in the official build log. Since, this is just a model engine, it holds no practical value in the real world. However, it will be something that will be remembered for its technical excellence and the brain child behind it, Mr. Gary Conley, has been awarded the "Metalworking Craftsman of the Year" award for the year 2012. Watch the video of the engine being tested on a table to get a feel of how this engine roars.
[youtube:http://www.youtube.com/watch?v=tTQCu1Rk3WM&feature=player_embedded 540 375]
Source – Motor Authority