Yamaha Unveils Ray Scooter, Launches Limited Edition R15
[singlepic id= 9556 w=540 h=375 float=center]
The Japanese motorcycle manufacturer, Yamaha Motors India has unveiled a range of their 2-wheeler products at the 11th Auto Expo currently going on in Delhi. The Yamaha booth's design at the Auto Expo was based in the "Yamaha Global DNA" and the message being emphasized was "Excitement Extended". The booth has been divided into two parts – Men section and Women section. The men's section mainly focused on its 50 years of association with motorsports, MotoGP. The company showcased the MotoGP special YZR M1, 50th Anniversary Special along with the YZF – R1 50th Anniversary Special. It also displayed the limited edition R15 version 2.0 at the 2012 Auto Expo.
"Yamaha has always been a committed player in the two-wheeler market and makes consistent efforts to adapt to market demand by launching exciting products year-on-year. The Indian scooter segment is growing tremendously and we see a lot of potential in this segment. We have developed a scooter prototype that has got the Yamaha DNA and signifies "Cool and Beauty" image, which are the right words for describing young Indian girls. With the launch of our scooter model later this year, Yamaha would now be present across all growing 2-Wheeler segments." Mr. Hiroyuki Suzuki, CEO and MD, Yamaha India, said.
The R15 version 2.0 limited edition was showcased in new attractive colors. One of the colors has flare-patterned graphics. One of the models also featured the White and Red color that was prepared specially for celebrating Yamaha's 50th Anniversary of Road Racing World Championship Grand Prix. Only 4000 of these limited edition models will be sold b the company so you better book yours as soon as possible. It is priced at Rs. 1,10,000 (Ex-showroom, Delhi). Apart from these, the company also showcased the FZ1, the VMax, the FZ-S and Fazer in the Street Fighting zone while it displayed the SZ Series, YBR 125 and Crux in the Commuter stand. At the Women's section, Yamaha displayed the ASEAN scooters which include the MIO, FINO and XEON and a scooter Prototype. The company also announced its future plans to invest Rs. 800 crores in 2012-13 on capacity expansion, new product development and network expansion.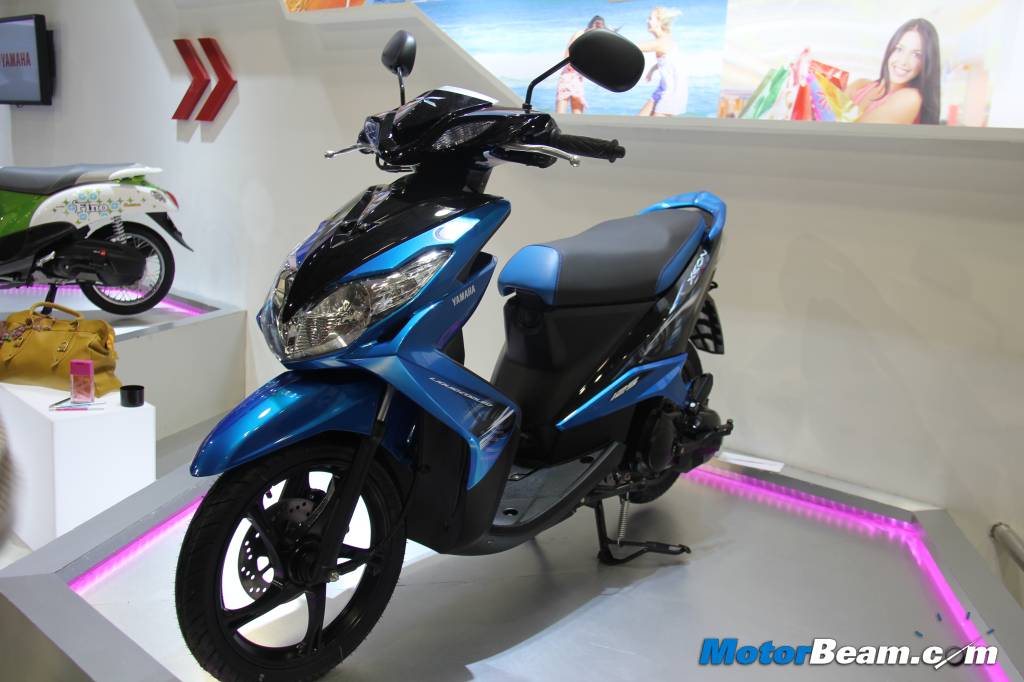 [singlepic id= 9530 w=540 h=375 float=center]
[singlepic id= 9531 w=540 h=375 float=center]
[singlepic id= 9532 w=540 h=375 float=center]
[singlepic id= 9533 w=540 h=375 float=center]
[singlepic id= 9534 w=540 h=375 float=center]
[singlepic id= 9535 w=540 h=375 float=center]
[singlepic id= 9536 w=540 h=375 float=center]
[singlepic id= 9537 w=540 h=375 float=center]
[singlepic id= 9538 w=540 h=375 float=center]
[singlepic id= 9539 w=540 h=375 float=center]
[singlepic id= 9540 w=540 h=375 float=center]
[singlepic id= 9541 w=540 h=375 float=center]
[singlepic id= 9542 w=540 h=375 float=center]
[singlepic id= 9543 w=540 h=375 float=center]
[singlepic id= 9544 w=540 h=375 float=center]
[singlepic id= 9545 w=540 h=375 float=center]
[singlepic id= 9546 w=540 h=375 float=center]
[singlepic id= 9547 w=540 h=375 float=center]
[singlepic id= 9548 w=540 h=375 float=center]
[singlepic id= 9549 w=540 h=375 float=center]
[singlepic id= 9550 w=540 h=375 float=center]
[singlepic id= 9551 w=540 h=375 float=center]
[singlepic id= 9552 w=540 h=375 float=center]
[singlepic id= 9553 w=540 h=375 float=center]
[singlepic id= 9554 w=540 h=375 float=center]
[singlepic id= 9555 w=540 h=375 float=center]
[singlepic id= 9557 w=540 h=375 float=center]
[singlepic id= 9558 w=540 h=375 float=center]
[singlepic id= 9559 w=540 h=375 float=center]