Youabian Puma Is A Big, Scary, Insane Car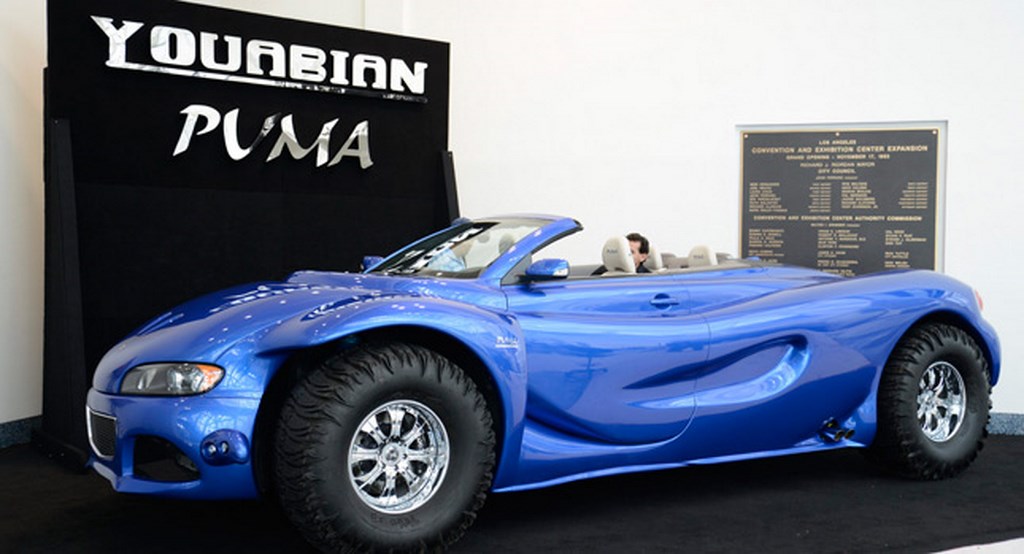 The Youabian Puma is a vehicle designed by Dr. K. Youabian and looking at the pictures of the vehicle parked at the LA Auto Show exhibition hall, we can only describe it as "Big, Scary and Insane!" There is even a photo of a puma hanging on the wall to remind us of what the car isn't. There is no proper way to describe this car. It is big, flashy, weird and surely attention grabbing.
According to the car's designer, "the Puma was designed for those individuals who dare to be different than the ordinary. Those who can go a step beyond achieving and dreaming the best that they can be." Just look at the picture of a fully grown man sitting inside the car and you'll get an idea of how massive the car is. This four-seater convertible is a full 242 inches long, 93 inches wide and 72 inches tall! The wheels which you can see here are a massive 44-inches and the chrome alloys are 20-inches in size.
Under the hood, the Puma comes with a 7.0-litre V8 engine which churns out 505 BHP of power and 637 Nm of torque. The engine is matched to a 6-speed automatic transmission. This allows the vehicle to accelerate from 0-100 km/hr in just 5.9 seconds. The LA-based manufacturer claims that the Puma will give a fuel efficiency of 5.95 km/l in the city and 9.35 km/l on the highways. The vehicle also comes with a retractable hard-top which completes its opening and closing action in around 20 seconds. The Puma is loaded with all sorts of creature comforts on the inside.
Now coming to the pricing, it costs $1.1 million in the US, which means Rs. Rs. 6.92 crores. That's more expensive than a Lamborghini Aventador or a Rolls-Royce Phantom! The vehicle's designer says that it was made with just one goal in mind – "To stand out and to be unique". What to you feel about this car? Let us know by commenting below.