10 Must Have Features On Your Next Car
What started off as novelty features to attract buyers are now creature comforts that are much needed in a car. You simply can't live without these features once you get used to them. Your next car will seem incomplete without these features, so make sure you tick of each one of the features below when you start hunting for your next car.
1. Power windows

Power windows came as a major departure from the wind up windows. Not only did they make your car look cool and state of the art but was also a very convenient feature. It takes barely 5 seconds to pull up or roll down your window, all at the touch of a button. Most cars today offer this feature and has become a must have in every car. You can easily get them installed if the variant does not offer power windows, at the rear windows in particular.
2. USB and Bluetooth

A USB input dock allows you to connect your smart phone, MP3 player or the iPod to your car's stereo. While Bluetooth allows you to connect your smart phone and an inexpensive creature comfort for integrating your cell phone into your car's communications system. Access your text, receive calls, browse your phone book or play your favourite track, without having to glance at your phone even once while driving.
3. Tilt steering wheel

Tilt steering wheel allows you to adjust your steering position as per your comfort. They will also keep the drivers in a safe position if the need be of an airbag deployment. Tilt steering can come in two features, that of height adjustment option allows you to adjust the steering up and down as per your comfort, while the rake and reach feature will help you adjust the steering horizontally.
4. Trip computer

The trip computer is an onboard device that tells you the distance travelled, fuel consumption, distance to empty and the real time mileage. It is an essential feature that will help you manage and decrease your fuel runs. Several trip computers also display other features like the current temperature outside as well as the temperature of the cabin.
5. Cup holders

With fast food consumption only increasing, cup holders will take care that the drink does not spill all over your carpet instead of quenching your thirst. Over the years, manufacturers have come with well integrated cup holders not only for the driver, but also for the co-driver and also the rear seat passengers. Cup holders also double up as storage to keep change, put parking tickets and so on.
6. Air bags

Unfortunately air bags haven't been mandated as standard on all cars but are now being offered on small cars as well. Air bags inflate automatically to prevent the occupants from sustaining injuries upon collision. Most cars are now coming with the driver side air bag as standard. Even though, manufacturers do not offer this feature in the base variants, we recommend you get the one that does.
7. Charging points

Smart phones come with dismal hours of battery life. Charging points come with 12V power outlets that will let you charge your phone, laptop or any other electronic gadget that you may have on you. Several cars also come with charging points in the rear, which is a boon for those who prefer to be chauffer driven.
8. ABS (Anti-Lock Braking Systems)

Anti-Lock braking systems or ABS have been the newest big thing on smaller Indian cars in the recent years. It is an added safety feature available mostly on the higher variants of hatchbacks and entry level sedans. The ABS allows brakes to keep the car in control and avoid skidding, especially under hard braking. Even if the ABS won't kick in, this could rarely happen; the brakes can still work fine with the drivers' inputs.
9. Steering mounted controls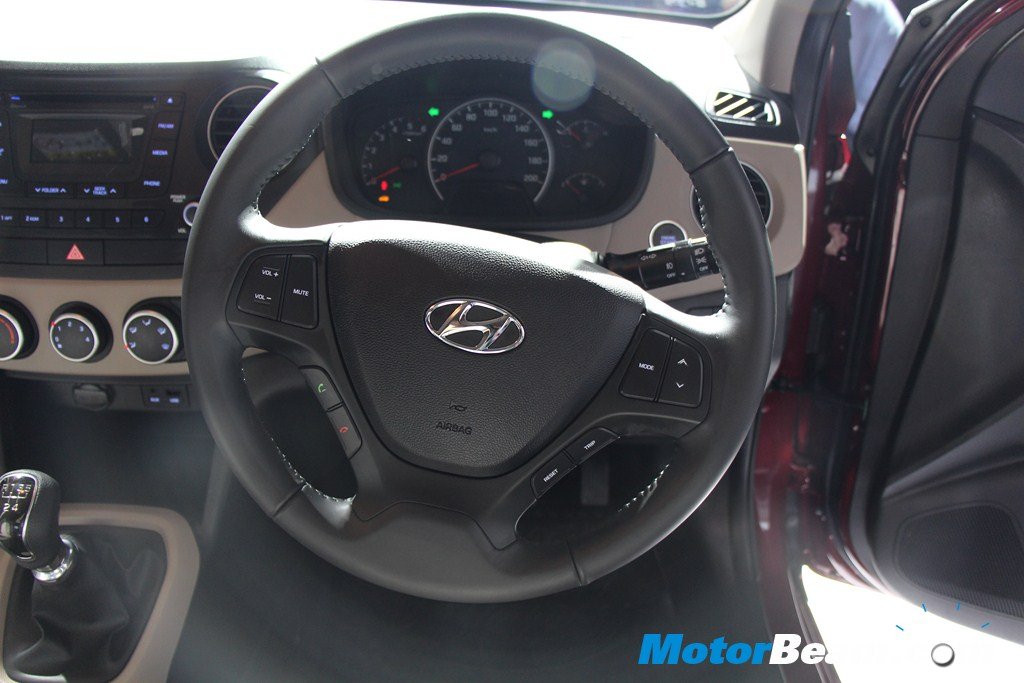 Automakers are now offering this feature even on the base variants of their cars. Change the volume settings, make and receive calls without having to take your hands off the wheel.
10. Automatic climate control

Automatic climate control (ACC) unit automatically maintains the temperature of the car set by you. The ACC unit continuously varies the temperature and blower speed to maintain the optimum temperature of the cabin. The ACC unit comes with an AUTO mode that will take care of the temperature, blower speed all at the touch of a button. The ACC unit also helps in lowering the load on the engine and will help you in getting good efficiency figures.
While some of the features come in as standard, some could be available on the options list or on the higher variants. The next time you go car shopping, make sure you get a deal with all these features as barely essentials on your new car. If you think, there could be some other features that we should add to this list, let us know in the comments box below.