12th Maruti Suzuki Raid-de-Himalaya Reaches Its 4th Leg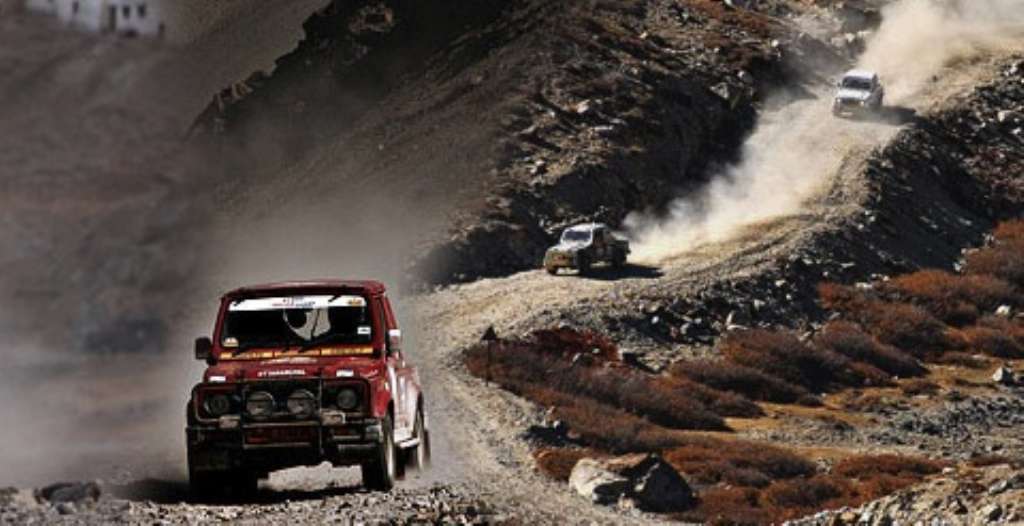 The 12th Maruti Suzuki Raid-de-Himalaya has entered its 4th Leg. The rally which was flagged off on Oct 10, 2010 from Shimla, will traverse through the arduously dangerous yet breathtaking Spiti valley and halt at Kaza. The rally which started with a total 38 teams in the X-Treme 4 wheeler category and 42 teams in the X-Treme two Wheeler category is now left with 25 teams in the X-Treme 4 Wheeler and 14 teams in the X-Treme 2 Wheeler categories. The 12th Raid de Himalaya got off to a busy start with Scrutineering starting on 8th October 2010. With 175 entries, an all time record for any rally in India, eventually the 4X4 category saw the 45 entries whittle down to 38 that finally cleared the intensive Scrutiny Checks. Amarinder Brar from Team Army, Suresh Rana of Team Thunderbolt were there but sadly missed was the charismatic Sunny Sidhu who could not participate this year.
Mr Suresh Rana from Kullu and his co-driver Mr Ashwin Naik from Mangalore in a Maruti Gypsy are leading the pack of the 4-Wheeler X-Treme category entourage. They have a Leg 3 penalty time of 4 hours and 29 minutes. Following them on a close second place is Capt. Sameer Pande from New Delhi and co-driver Honey Narula from Panchkula on a Maruti Gypsy. They have a Leg 3 penalty time of 4 hours 41 minutes. The X-Treme 2 wheeler category has Mr Ashish .S Moudgil from Kalka on his Yamaha WR450 lead the pack. He has a penalty time of 4 hours 28 minutes. Mr Rajan Sidhu on his Bajaj Pulsar is following on the second place in the X-Treme 2 Wheeler category. He has a penalty time of 5 hours 24 minutes. The Bike Brigade, now broken into two categories – the Moto Xtreme and the Moto – Alpine showed a remarkable increase in numbers. Out of a total 54 on the Entrant list, 42 cleared scrutiny.
As opposed to earlier years, the participants did not head off to Manali on the first day of the Raid. The first leg in fact saw the rally move from Shimla to the river beds of Nalagarh in the Shivalik range and then head back to Shimla for the night halt. Leg 2 on the 11th of October then took the rallyists on the traditional torture route to Manali. Day 3 (October 12) saw the participants enter the forests and head to Kaza via Komik. The eight-day event – October 8-16 – is listed on the off-road rallies calendar of Switzerland-based FIM (Federation Internationale Motorcyclisme), and is the only Indian motorsport event that draws attention from the international rallying circuit. The rally is scheduled to culminate at Manali, covering a distance of more than 2,000 kms, spread over 6 legs in 8 days.