2013 KTM E-Speed Concept Unveiled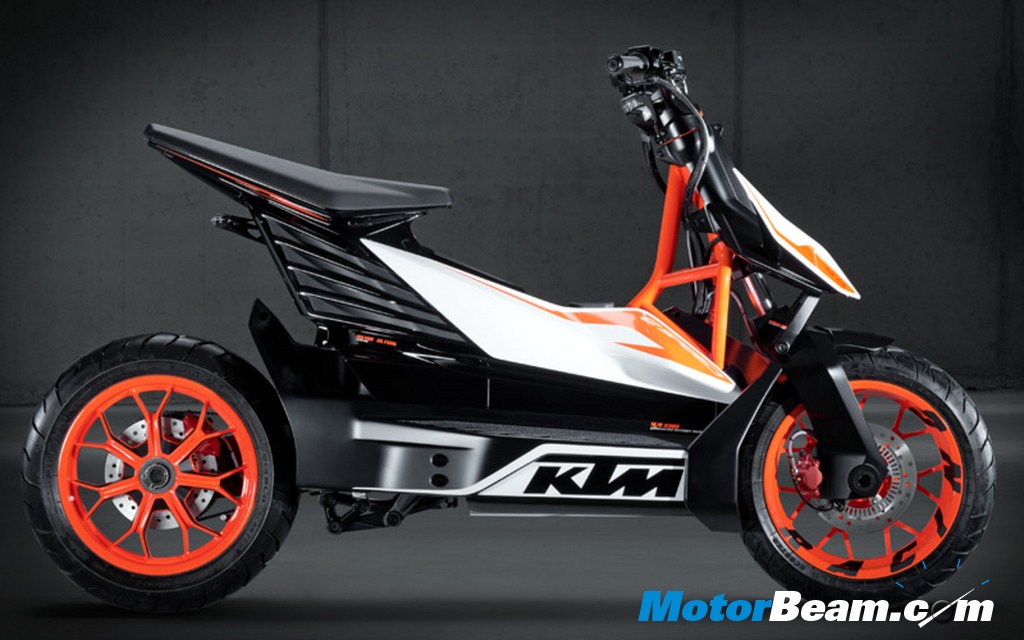 The Austrian performance oriented motorcycle manufacturer, KTM has unveiled the E-Speed electric scooter concept at the 2013 Tokyo Motor Show in Japan. The E-Speed concept scooter weighs about 140 kgs and claims a top speed of 80 km/hr. The scooter's lithium ion batteries takes just two hours to charge fully from a regular 220V household socket, that's equivalent to our smart phone's charging time. The E-Speed is capable of doing around 65 kms range on a full charge. The electric scooter looks sporty with modern styling elements and also features daytime running lights with LED treatment.
The KTM E-Speed is powered by a liquid-cooled, permanent-magnet synchronous motor that produces 15 HP of permanent power and 36 Nm of maximum torque. The power is transmitted to the rear wheel via a belt drive. The lithium-ion batteries have a capacity of storing 4.36 kWh. The KTM E-Speed features aluminium battery casing as a central, load-bearing chassis component which also carries the swing-arm, the motor and a lightweight sub-frame for the front suspension.
The electric motor is completely enclosed inside an aluminium casing with integrated cooling fins. Coming to the suspension of the KTM E-Speed, the rear swing arm acts on the WP shock via a linkage and the front wheel is suspended from a single-sided front fork. This concept electric scooter is equipped with regenerative brakes with 220 mm discs, ABS, and 14-inch alloy wheels. It produces no exhaust emissions and is nearly silent. KTM believes that the electric drive will come out on top for short distances and that electric mobility is a perfect complement to conventional powertrains.