Bajaj Testing RE60 CNG By Running It As A Rickshaw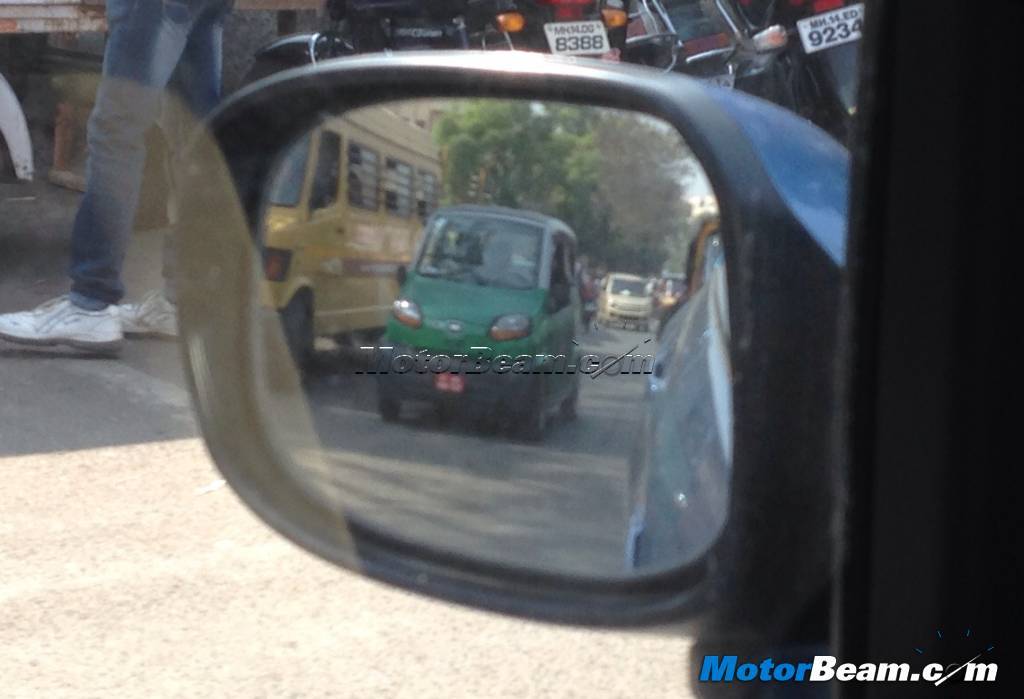 The Bajaj RE60 was unveiled a couple of days prior to the 2012 Auto Expo and Rajiv Bajaj made it amply clear that this vehicle isn't a car but a 4-wheeler. What he meant to say was that the RE60 isn't targeted at private buyers, something anyone can make out once they see the interiors of the car (there is a fare meter in the cabin). It's more than two years but Bajaj Auto hasn't launched the RE60 in India yet. The company awaits a quadricycle policy while taking the time to test the Bajaj RE60 in real world situations.
Bajaj Auto has been testing the RE60 in Pune since quite sometime now. We saw not one but quite a few of the vehicles on test but were surprised to see the vehicle loaded with passengers. The people inside were not from the company but passengers picked up for transport (their attire made it obvious). We also spotted a CNG variant standing near Akurdi railway station where the driver was asking around for people who wanted a ride. Looks like the company is testing the RE60 by running it as a rickshaw, the proposed intent of this 4-wheeler.
Since petrol isn't widely used in the commercial sector, Bajaj Auto has developed a CNG variant of the RE60 which can be seen in the pictures of this post. The engine in the RE60's CNG version is the same 200cc DTS-i unit which outputs around 20 BHP of power. Top speed is 70 km/hr but mileage is upwards of 35 km/l, the CNG version will be even cheaper to run. Bajaj has designed the RE60 from the onset to meet international norms and left-hand drive versions are also being tested for the export market. Expect the company to price the Bajaj RE60 at around Rs. 1.2 lakhs.
The Indian government is drafting a quadricycle policy but a few terms have been finalised. A quadricycle will need to have a Q symbol on the front and can be sold as a commercial vehicle only. It can't be used on the highway, restricting its usage to cities, towns and villages.