Indian Makes 800cc Bike, Calls It Amar Jawan [Video]
The bike has been produced by a Madhya Pradesh based engineer whose dream of doing something for the Indian Army really took-off after he watched the movie Kargil.
Catch All The Latest Videos, Subscribe To
MotorBeam
The valour and selfless nature of the Indian Armed Forces are something not many of us can boast about. It has three wings, Indian Army which is the ground wing, India Air Force which is the air wing and the Indian Navy which is the water wing. But more often than not, we hear a news about a soldier getting martyred from the Indian Army.
To pay tribute to such soldiers and the Indian Armed Forces in general, Vaibhav Bajpai from Madhya Pradesh has produced a bike named 'Amar Jawan'. The design of the Amar Jawan bike is quite likeable. It has a mean looking front with a face-styled headlight housing. The paint is but obvious a camouflage to reflect the essence of the Indian Army.
The Amar Jawan bike is powered by an 800cc, 3-cylinder petrol engine that has been borrowed from a Maruti Alto. The power figures haven't be disclosed yet but what has been is the mileage, which we Indians care too much about but still keep the engines running at traffic signals. The mileage of the bike is 22-27 km/l which is respectable considering that the motorcycle weighs about 500 kgs. The rear wheel looks something taken over from a chopper and is big and chunky. The bike is 7-feet in length and is a sure head turner.
Not only does the Amar Jawan bike look good but it also has a feature list to match the part. It comes with GPS and Bluetooth connectivity and read this, eight gears, four forward and four reverse, yes. It's a wise move as reversing the heavy bike will require some assistance. The total cost of this Indigenous motorcycle has come out to be Rs. 2.8 lakhs which makes it cheaper than the BMW G 310 R.
The Amar Jawan bike was unveiled by Vaibhav Bajpai on India's 72nd Independence Day. He now plans to get this bike commissioned into the Indian Army to serve the soldiers and the country alike.
Amar Jawan Bike
– The bike has been designed and produced by Vaibhav Bajpai from Madhya Pradesh
– It has an 800cc, 3-cylinder motor
– Total cost of the bike is Rs. 2.8 lakhs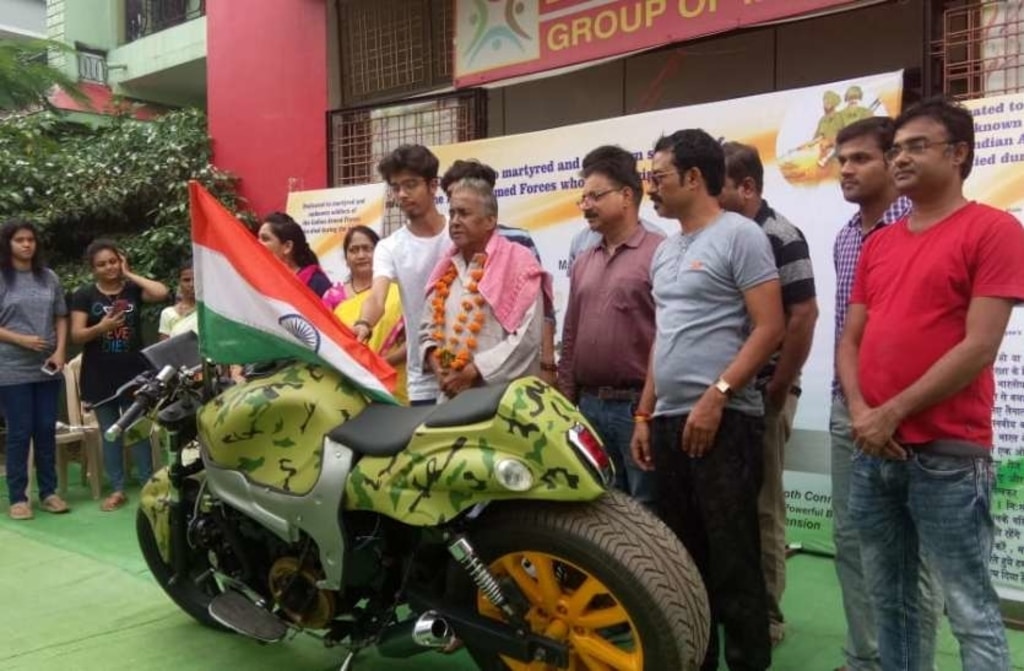 Video Source – IndiaTodaySocial