Bajaj Chetak Electric vs Ather 450 – Shootout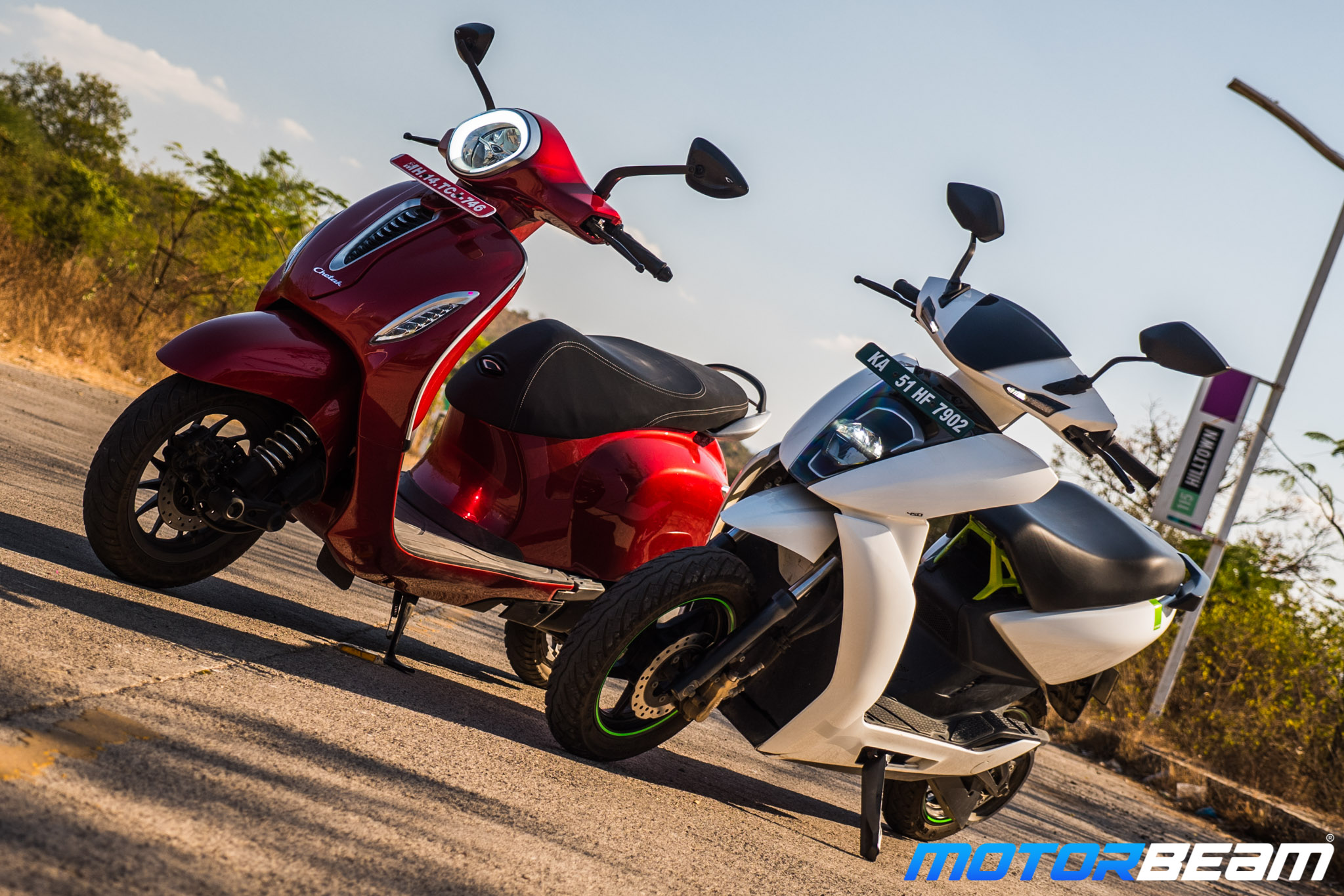 Shootout: Bajaj Chetak vs Ather 450
Shootout No. 227
Price OTR Mumbai: Rs. 1.18 lakhs (Bajaj Chetak Premium), Rs. 1.14 lakhs (Ather 450)
The Chetak might look and feel retro but cannot match the Ather 450's outstanding performance and riding dynamics
It's the first month of the year and we have already witnessed 3 electric scooter launches, two of them from mainstream brands who have relied on petrol power since their very inception. If this is not going to make you sit up and take notice of what's coming (a.k.a. the electric revolution), nothing will. On one side is the reincarnation of an iconic scooter in electric form (Chetak) from a mammoth motorcycle maker and on the other side is an electric scooter from a start-up company (their first product ever) but backed by a mammoth company (Hero), seems like a battle of David vs Goliath today as we pit the Bajaj Chetak against the Ather 450.
Motor Quest: The Bajaj Chetak was launched in 1972 and discontinued in 2006 as the Pune based automaker shifted focus towards gearless scooters and motorcycles. The Chetak brand name was brought back just a few months back with the electric version, meanwhile, the Ather 450 was launched in September 2018 and a performance version, 450X was launched earlier this week.
Styling – The Bajaj Chetak sports a very clean design with form over function, something which is rare in the scooter segment because to keep the right side of the alloy wheels seen, Bajaj has opted for a left-sided suspension system. There are too many Chetak logos including the mirrors replicating the design of the logo. So while the Chetak's styling is retro (hello Vespa!), the Ather 450 is sporty in appearance (also gets guide me home light) and the latter does stand out more. However, the Bajaj Chetak is a metal-bodied scooter and the Ather 450 is made of plastic, the former feels more robust and overall built and fit-finish is better on the Chetak while also offering a more premium feel (not a single bolt can be spotted and the rear indicators get the dynamic swipe treatment).