BMW i8 Plug-In Hybrid Is A 40 km/l Sports Car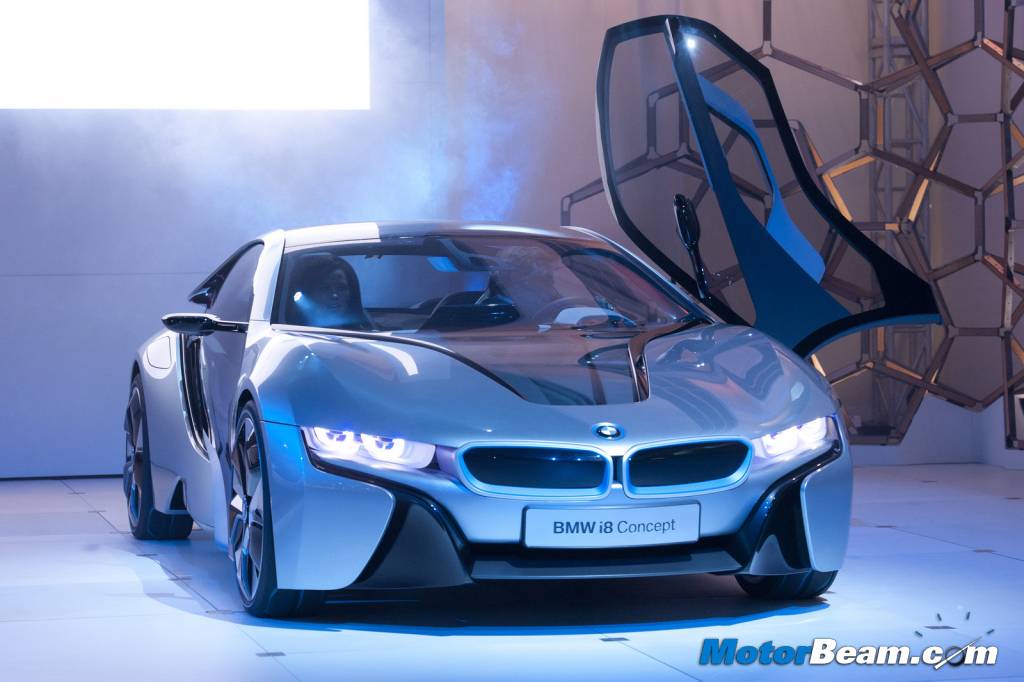 After introducing the BMW i3 recently, BMW is all set to introduce the i8, which is a plug-in hybrid sports car. BMW believes that the i8 is the most progressive sports car of this era. With the i8 plug-in hybrid sports car, BMW has focused on traditional driving pleasure along with high fuel efficiency and low emissions. The 2+2 seater design passenger cell of the BMW i8 is sculpted using carbon fibre reinforced plastic (CFRP) that helps in cutting the weight of the vehicle significantly.
The BMW i8 has got an impressive drag coefficient of 0.26. Paired to this light weight body shell and aerodynamic exteriors is a 3-cylinder 1.5-litre BMW TwinPower turbo petrol engine combined with an electric drive system. The TwinPower petrol motor produces 231 BHP of power that powers the rear wheels, while the 131 HP electric motor powers the front wheels. The i8 has a combined power of 362 HP with 570 Nm of torque. The setup of the body results in 50:50 weight distribution that gives a low centre of gravity. The i8 weighs less than 1490 kgs.
The BMW i8 is capable of a 0-100 km/hr sprint in 4.5 seconds. The electric range alone stands up to 35 kms with a top speed of 120 km/hr, while the top speed with the petrol power alone is limited to 250 km/hr. Average fuel consumption of the BMW i8 is 40 km/l and the CO2 emissions stands at 59 g/km. The lithium-ion battery that runs the electric drive is placed centrally, which, at a standard household socket takes less than three hours for a full recharge and less than two hours at a BMW i Wallbox.
The hybrid engine of the BMW i8 comes mated to a 6-speed automatic transmission, which can be manually controlled by switching to Sport mode. The i8 is also equipped with Driving Experience Control that offers two settings – Comfort and Eco Pro. The Comfort mode offers a combination of sporty performance and fuel efficiency, while the Eco Pro mode is a driving style optimised for fuel efficiency. The BMW i8 is fully equipped with Dynamic Stability Control, ABS, Cornering Brake Control, Dynamic Brake Control, Brake Assist, Brake Standby, Start-Off Assistant, Fading Compensation and Brake Drying function.