Next Generation Ford Endeavour Concept Leaked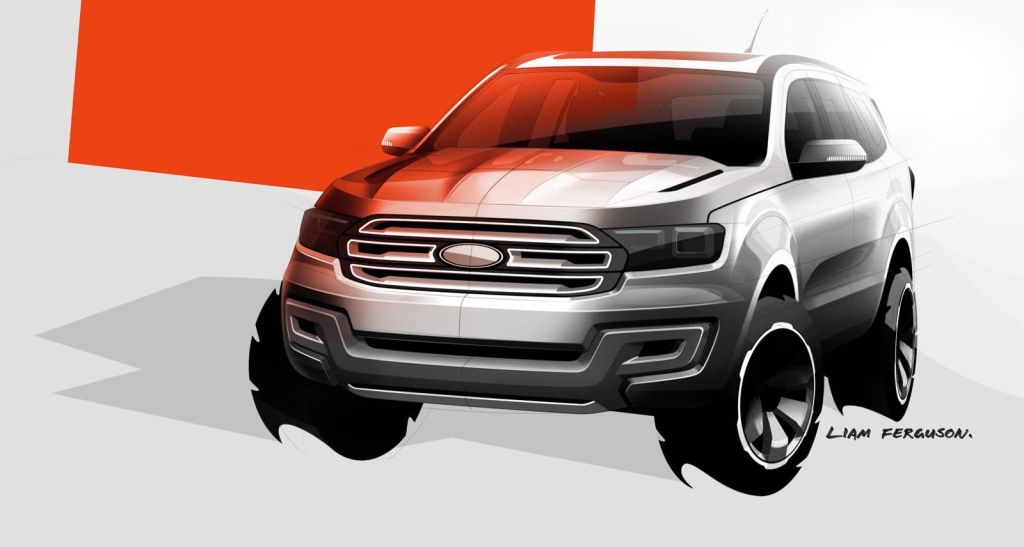 The concept version of the next generation Ford Endeavour, known as Everest in the international market has been revealed in Australia, where it has been designed. The leaked images of the concept showcase the new design philosophy of Ford, which is neatly executed on the upcoming SUV. The new Endeavour is already being tested in some parts of the globe and is expected to show up at the upcoming 2013 Frankfurt Motor Show in concept guise. The Ford Endeavour is currently in its second generation, which needs a makeover, as the competition is getting stiff.
The Ford Endeavour is based on the Ranger pickup's ladder frame chassis. From the looks of the new concept, the overall design language has changed drastically. The front end is dominated by a large sliver finished grille, which looks very EcoSport like. The aggressive looking angular headlamps are connected neatly to the grille. On the chin, it gets a broad scuff plate, which also acts as an extended fog lamps housing. On the side, it gets a fender vent for a sporty touch and brawny wheel arches connected with a meaty crease line.
At the back, the Ford Endeavour concept gets a wrap around windshield tipped with a roof mounted spoiler. The scuff plate at the rear gets treated with similar styling as seen on the front integrating the rear fog lamps. The tailgate gets a thick chrome strip that meets the tail lamp cluster neatly. Overall the design is attractive and reflects a proper stance of a full sized SUV. It is expected to have fresh interiors loaded with features and 7-seater capacity. The engine options expected to be introduced are a 2.2-litre TDCI with 150 HP and 3.0-litre TDCI with 200 HP.