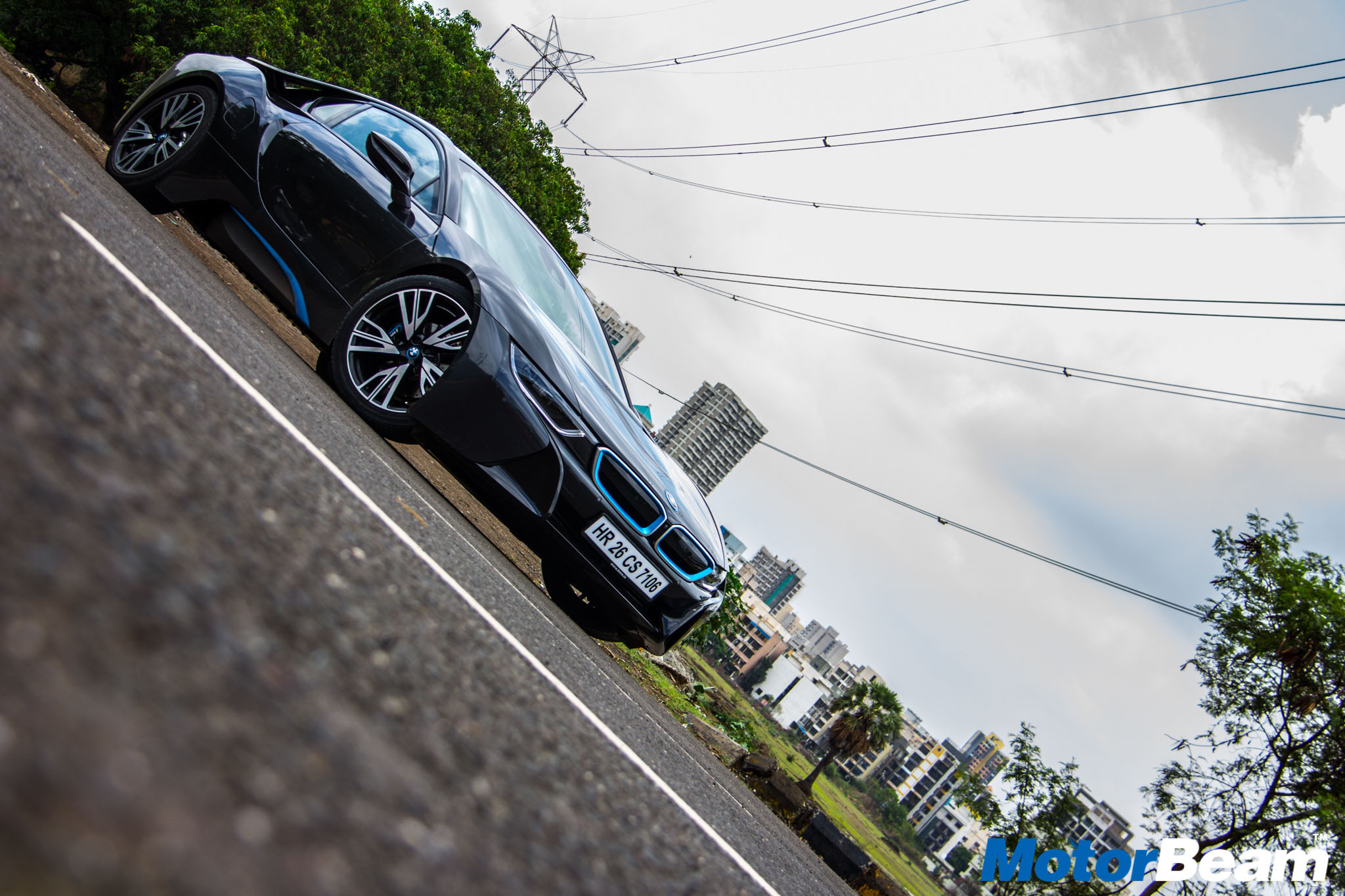 BMW i8 Review
Car Tested: BMW i8; Road Test No. 739
Price OTR Mumbai: Rs. 2,78,94,515/-
The BMW i8 is definitely a very unique car offering engaging perfomance and dynamics
We live in the present but are constantly thinking about the future. The future holds a lot of dreams, surprises and what not. That's what BMW was thinking about too, when they were developing the i8 – the future. When the BMW i8 production version broke cover for the first time, I remember having a mixed reaction, not sure whether people would like such a car or not. So one fine day when the i8 landed at our doorstep, it was time to take it out and see what it beholds.
Motor Quest: The passenger cabin of the BMW i8 is made up of carbon fibre reinforced plastic (CFRP) while the doors are made up of a CFRP-aluminium structure. The cabin is ultra-torsionally stiff and there is a thin glass separating the cabin from the boot.
Exteriors – Describing the exteriors of the BMW i8 isn't as easy as it sounds. There are multiple design cues, curves and lines. The i8 looks unlike any other car from the BMW stable. You still get the kidney grille at the front which gets blue surrounds. Next to the grille are the thin and sharp headlamps which also look very discrete. The front bumper has a flowing design and it blends seamlessly with the fenders. The side profile is where much of the action is. The scissor doors are the party piece of the i8 and the door handles are concealed slightly out of sight. Another eye-catcher on the side are the razor alloy wheels. Things get even more dramatic at the rear with the bumper getting a very busy and in-your-face design while the tail lamps carry a bold look. Not to forget, there is an abundance of blue accents all around the car.
Interiors – Getting in and out of the car is a supremely tricky affair. The doors open up wide but the seats are placed far too below, much lower than the running board too. Thus, you need to slide yourself inside. Getting out is a bit more difficult though and you will have to wriggle yourself out. However, once you're seated comfortably, you'll notice seats that the seats are super! They are extremely supportive for the back as well as under thighs. The rear seats are meant for children but space is too less and people might actually use them to store some luggage. The steering wheel feels great to hold too. The cabin itself is pretty compact and things fall in place easily. Quality is on par with other BMWs and the cabin feels special, though not as dramatic as the exteriors.
The cabin is compact while getting in and out is a rather amusing affair
The dashboard has a nice asymmetrical layout and gets some blue accents. You get features like Park Distance Control for front and rear, heads up display, Driving Assistant package ad 4-side top view and side view cameras with object recognition. You also get a 22 cm screen for the instrument cluster along with another 26 cm screen for the iDrive infotainment system. There's a 360W Harman Kardon audio system with 11 speakers too. The boot is very compact and it can hold just 154-litres of cargo.
Performance – The BMW i8 is a hybrid car which is a known fact. The batteries sit below the rather large centre tunnel. There are a bunch of modes to choose from – Comfort, Eco, Sport and e-Drive. If you want to drive the car in pure electric mode, e-Drive is the one to pick. On a full charge, BMW claims that the car can go for 36 kms but if you're driving aggressively, expect that figure to drop by almost half. The car can attain a top speed of 120 km/hr in pure electric mode. Comfort mode is best suited for regular driving. Provided there is enough charge in the battery, the car runs on electric mode up to 60 km/hr post which the petrol motor kicks in. In Eco mode, the engine responds to accelerator inputs in a toned down manner.
The BMW i8's engine and electric motor work in great tandem with each other
The petrol engine is a 1.5-litre, 3-cylinder unit which produces 228 HP of power and 320 Nm of torque. Mated to the electric motor, the total power output is 357 HP along with 569 Nm of twisting force. Coupled to a 6-speed automatic transmission, the BMW i8 races from 0-100 km/hr in 4.4 seconds which is quick. The i8 gets a 4WD system, however, you don't get that feeling of going fast that you would generally get in a conventional sports car. The exhaust sound is artificial coming through the rear speakers, but even while you're standing outside, you notice that the petrol engine does sound good. In 6th gear, 100 km/hr comes up around the 2400 RPM mark.
The BMW i8 has good punch and it responds to throttle inputs instantaneously. It gains pace swiftly and the gearbox also does a good and smooth job. Move the gear lever to the left and you enable Sports mode. The instrument cluster screen now turns into red showing you speedo and tacho meters. In Comfort and Eco modes, the screens shows quite a lot of info related to the batteries and the electric motor. The i8 has a standard 30-litre petrol tank while you do get the option of a larger 42-litre tank. After a lot of spirited driving, the i8 gave a fuel efficiency of 5.7-6.2 km/l on petrol with 27.02 kWh of electric consumption.
Driving Dynamics – As with any other sports car, the BMW i8 has a stiffly sprung suspension and it gets even stiffer in Sport mode. The car also has a low ground clearance of 117 mm and thus you need to be super careful on uneven speed breakers and sharp craters on our roads. The car comes with a staggered wheel set up and I honestly found the tyres to have excellent grip levels. The steering is one of the best ones I've ever encountered. It is superbly direct and precise and offers tons of feedback too. The chassis feels very tight and the i8 is an extremely fun car to tackle corners in. Braking is impressive and the i8 has good stopping power, shedding speeds without any drama.
Safety and After Sales Service – A lot has been spoken about BMW's after-sales service and the company offers pretty good service. On the safety front, the i8 is fitted with dual front airbags, head airbags for all 4 seats, side airbags for the driver and front passenger, ABS with Brake Assist, Cornering Brake Control, Dynamic Stability Control with Dynamic Traction Control, three-point seat belts with belt stopper, pyrotechnic belt tensioners and belt force limiters.
Verdict – The BMW i8 is quite a unique and fun car. It doesn't have that hardcore performance that you would generally get in proper sports car, but it is still very much fun to drive. The exteriors are outright gorgeous while the interiors come with all the latest gadgetry too. The best part about the BMW i8 is the way its driving dynamics are set up and it definitely makes for a fun car to own, along with the fact that you're doing your small bit for the environment too!
What's Cool
* Looks! The i8 is a splendid looker
* Brilliant driving dynamics, feels so easy and yet fun to drive
* Lots and lots of technology on offer
* Did I mention looks?
What's Not So Cool
* Doesn't have that sort of performance you would normally expect from a sports car
* Artificial exhaust note is something I'm not a fan of
Alternatives: Tesla Model S P100D
BMW i8 Specifications
* Engine: 1499cc, 3-Cylinder, DOHC
* Power: 231 HP @ 5800 RPM + 131 HP (from electric motor)
* Torque: 320 Nm @ 3700 RPM + 250 Nm (from electric motor)
* Transmission: 6-speed automatic
* 0-100 km/hr: 4.4 seconds, 5.16 seconds (VBOX)
* Top Speed: 250 km/hr
* Fuel Consumption: 47.5 km/l (Claimed)
* Fuel Type: Petrol/Electric
* Suspension: Double Wishbone Axle (Front) & 5-link Axle (Rear)
* Tyres: 215/45/20 (Front), 245/40/20 (Rear)
* Brakes: Ventilated Discs, ABS
* Safety: 8 airbags, ABS with BA, CBC, DSC with DTC, Acoustic protection for pedestrians
BMW i8 Dimensions
* Overall length x width x height: 4689 mm X 1942 mm X 1291 mm
* Wheelbase: 2800 mm
* Ground clearance: 117 mm
* Turning radius: 6.15-metres
* Fuel Tank Capacity: 42-litres
* Kerb Weight: 1485 kgs
Testers' Note:
"The BMW i8 simply wins your heart with its looks, what a design and when you open the scissor doors to get in, you realise it's a bit of a task but all worth it for the stares you generate are just priceless. There is good amount of performance by electric car standards but it doesn't have the rush of a gasoline powered supercar. Being a Bimmer, it has splendid handling and the interior feels futuristic even though there are familiar BMW bits. This is a second or third car for the supercar garage." – Faisal Khan, Chief Editor, MotorBeam.
"The BMW i8 is a very unique car and I was really looking forward to driving it. I found ingress and egress to be very tricky. The cabin felt very familiar too. The i8 has very good punch and it easily goes to 200 km/hr, post which it tends to lose some amount of grunt. Even though it is very quick, it doesn't give you that feeling that other sports cars have. The best part about the i8 is definitely the steering and also the way how the chassis feels, making this one a very involving car to drive." – Parth Gohil, Senior Road Tester, MotorBeam.