i8 Deliveries Commence In Germany, BMW Beats Audi In Laser Game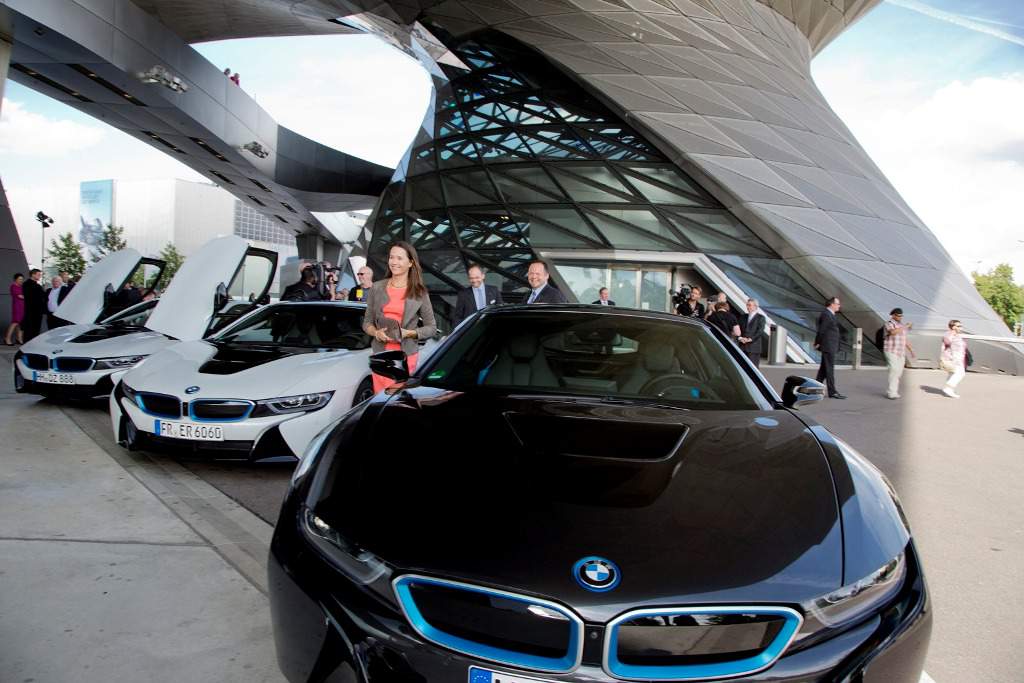 The i8 sports car has been one of BMW's most aspirational projects in recent times. Not only does the car look futuristic, it has been designed and built with techniques that truly come from the future. After a long wait and several showcases over the year, BMW delivered the first set of i8 plug-in hybrid sports cars over to 8 customers in Germany at a ceremony held at BMW Welt in Munich. This has also made the i8 the first car sold in the world with laser headlights, beating the Audi R8 for the honours.
However, the new laser powered headlights are optional equipment, whereas the i8 comes with full LED headlights as standard. The optional laser headlights though increase the high-beam range of the lights up to 1968 feet, therefore doubling the illumination of the lights compared to the standard LED high-beam headlight. Not only are the laser headlights more powerful, they are more efficient as well. BMW claims that the new technology uses 30 percent less power over LED lights, while taking up less installation space and weight.
BMW's first plug-in hybrid model, the i8 sports car is powered by a 1.5-litre, 3-cylinder twin-turbocharged petrol engine that produces 231 PS of power and 320 Nm of torque, sending power to the rear wheels via a 6-speed automatic gearbox. The petrol engine is married to an electric motor that produces 129 HP of power and 250 Nm of torque that sends power to the front wheels via a 2-stage automatic transmission.
The i8 offers a combined power output of 362 PS and 570 Nm, with 0-100 km/hr coming up in 4.4 seconds and has an electronically limited top speed of 250 km/hr. With all that performance at the disposal of your right leg, the BMW i8 is easy on the wallet as well with a combined fuel economy of 48 km/l and a total range of 500 kms. The BMW i8 has extensively used carbon fibre in its construction to keep the car light, which is being mass produced at the company's facility in the USA.
The Indian launch of the BMW i8 is confirmed for the end of the year and the carbon-fibre bodied vehicle will be brought in via the CBU route, complete with the optional laser headlights. The plug-in hybrid model was showcased at the 2014 Auto Expo earlier this year and the company has allotted 10 cars for India initially. Expect the BMW i8 to carry a not so modest price tag of around Rs. 2 crores when launched in the country. BMW will commence deliveries of the i8 in other markets later this month.