DC Design Unveils Tia At Auto Expo, 2016 Launch [Live]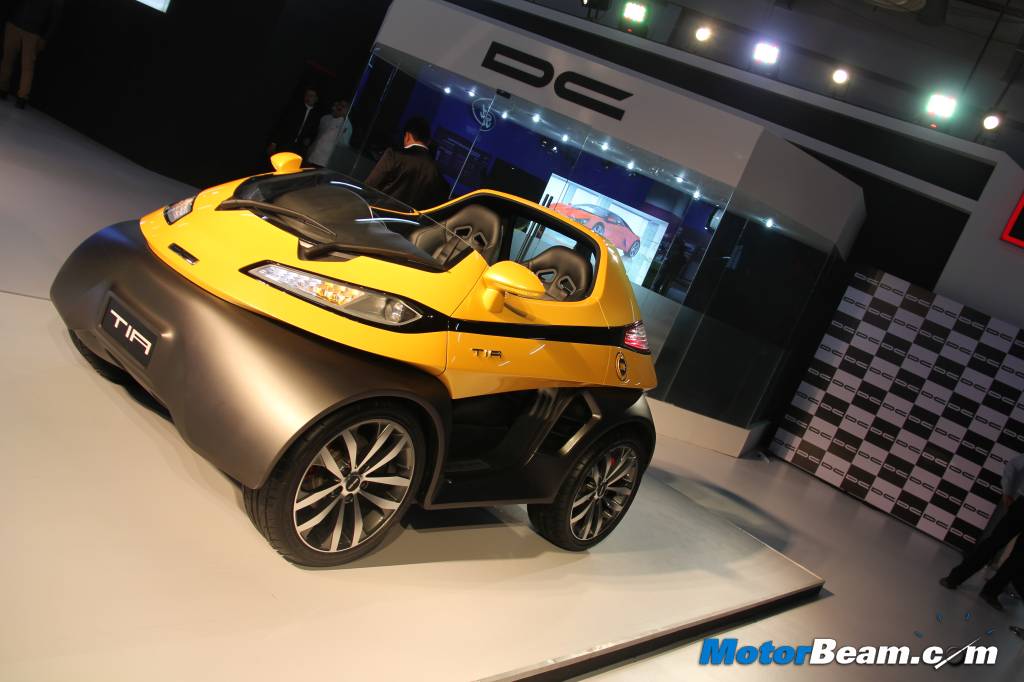 DC Design, hmm does that name ring any bells?? Yeah the same company which used to churn out tastefully modified cars earlier, then moved on to quirky cars, then moved on to create a cheap sports car and now it is here at the 2014 Auto Expo showcasing the Tia hatchback.
Now looking at the pictures I don't know whether it is a hatchback or a quad bike or a quadricycle. But since our editor has said it's a hatchback, lets call it that. Now the usual stuff, this is a very futuristic looking vehicle and aimed at the youth. The design of the headlights and the side profile looks very sleek but the overall body is curvy.
The DC Design Tia is powered by a 1.2-litre turbocharged Euro 5 compliant engine. The engine gives out 120 HP of power and 190 Nm of torque and mated to a 4-speed automatic transmission. The Tia is a RWD vehicle and the engine is placed in the middle of the chassis. The tyres are wrapped around 18-inch alloy wheels and DC has provided disc brakes all around. The body is made up of carbon composite and the roof is made of targa.
For safety you get ABS and the top speed is limited to 160 km/h. The 0-100 km/hr sprint takes 9 seconds and at 950 kgs the Tia is heavier than my Chevrolet Spark! The ground clearance is 200 mm and the seating capacity is two. DC Design has priced the Tia at Rs. 18 lakhs. Well, how much does a used 2010 BMW 320d cost?