EV Maker Tesla Officially Registers Indian Arm
At present, it has 3 directors and an address in Bengaluru.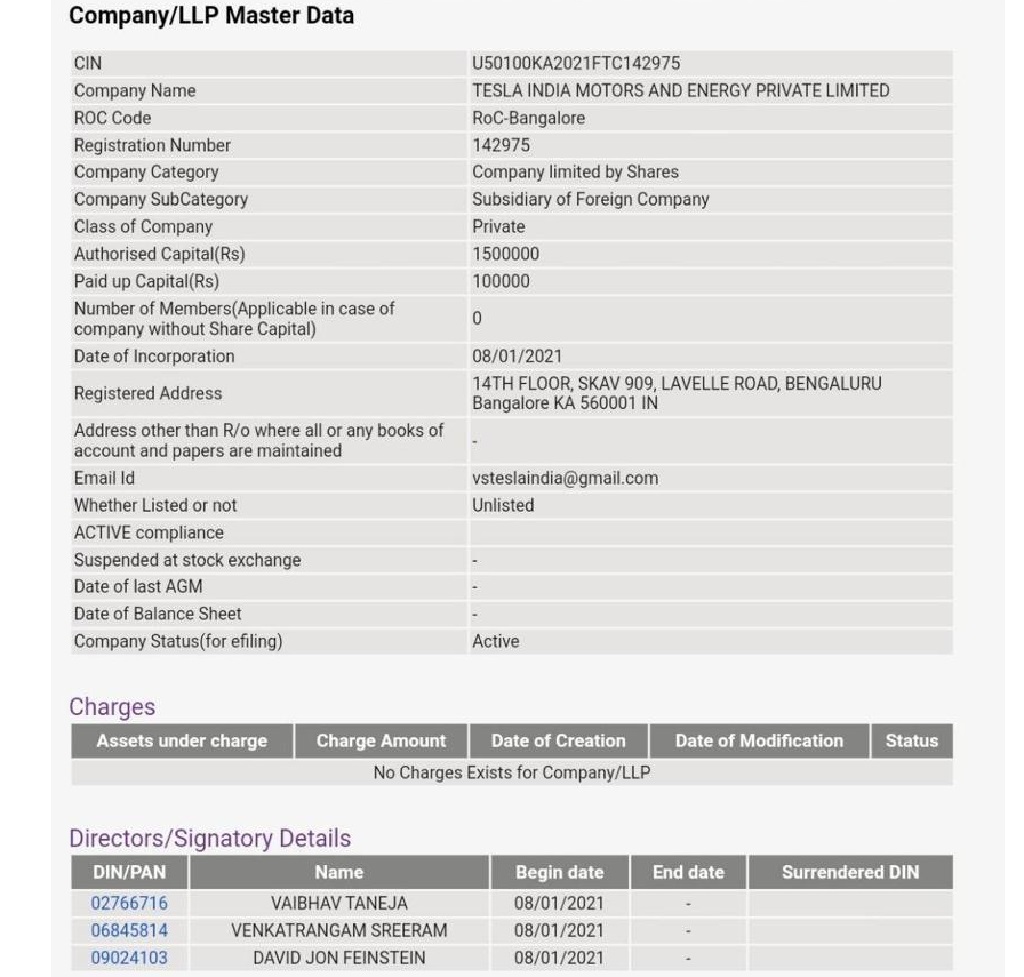 Tesla India Motors and Energy Private Limited is the official title that the California-based electric vehicle maker has given its Indian entity.
Registered in Bengaluru, the entity was incorporated on 8th January 2021 and is classified as a subsidiary of a foreign company.
According to a document filed with the Ministry of Corporate Affairs (MCA), Tesla India Motors' authorised share capital is Rs. 15 lakhs, while the total paid-up capital is Rs. 1 lakh.
Tesla has already appointed 3 directors – David Jon Feinstein, Vaibhav Taneja and Venkatrangam Sreeram – for its Indian arm. David Jon Feinstein is the Global Senior Director of Tesla Inc, while Vaibhav Taneja is its Chief Accounting Officer.
Venkatrangam Sreeram is an entrepreneur who is on the board of Xenon Automotive India (automotive fleet and dealer management firm) and Cleartquote Technologies India (AI firm that specialises in vehicle inspections).
Given his credentials, it is evident that Sreeram will spearhead the "direct to customer" retail model of Tesla India Motors.
On Tuesday (12th January 2021) Chief Minister of Karnataka B S Yeddiyurappa welcomed Elon Musk to India through a tweet and stated that Tesla will soon start its operations in India with an R&D unit in Bengaluru.
Recently, it came to light that the world's most valued automobile firm (by market cap) is set to launch its entry-level Model 3 sedan by June in India.
Expected to cost Rs. 55 lakhs when launched, the sedan can travel up to 500 km (claimed) on a single charge, can do the 0-100 km/hr sprint in around 3 seconds and achieve a top speed of 260 km/hr.
With the firm now having an official Indian address, the car's launch is now all but confirmed.