Ford Freestyle vs Honda WR-V – Spec Comparison
Although not as defined as the Jap offerings, the Ford Freestyle comes across as a tempting package.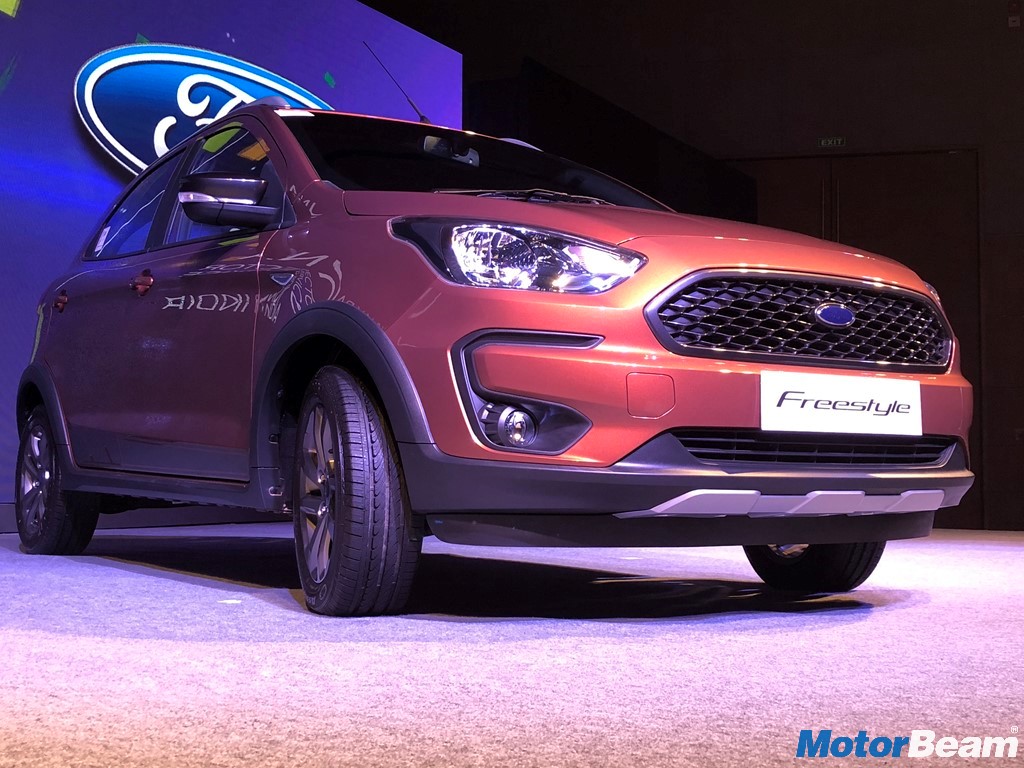 Known for triggering the pseudo SUV craze in our country, Ford's magic trick with the EcoSport seems to be fading away with time. To hit the jackpot in terms of sales volumes in a market as cost-sensitive as India, the American automaker has taken covers off a comparatively more affordable product based on its Figo hatchback. The car has been named as Freestyle and truth be told, it does pose a threat to the Honda WR-V which has surpassed all expectations in terms of sales volumes in the first place by performing well in the sales charts. We pit the two against each other through an evaluative Ford Freestyle vs Honda WR-V spec comparison.
Exteriors – "The bigger, the better" is really the norm in India when it comes to SUVs or even crossovers. Just ask Mahindra! However, the Freestyle is bound to disappoint in this aspect as the car it is derived from is a class (and size) lower than the Honda Jazz on which the WR-V is based. The Freestyle's striking resemblance to the Figo hatchback as a result of part sharing isn't helping its case one bit because the WR-V adopts a more thoroughgoing approach to pose as an SUV.
At 3999 x 1734 x 1601 mm (length x width x height), the Japanese contender is probably as broad-shouldered as a sub-4 metre can get. Raised close to 190 mm off the ground, the 5-seater duo is equally practical to tackle broken roads but the WR-V has a definitive edge with its raised bonnet edges, larger alloy wheels and more pronounced body claddings and faux skid plates lending it immense road presence for its size. Clearly then, it is the WR-V that takes the cake in this department.
Interiors – The Ford Figo on which the Freestyle is based wasn't exactly known to offer an upmarket cabin ambience. Although Ford has tried to spruce things up with the addition of a 6.5-inch Ford SYNC 3 enabled touchscreen, the cabin layout and part quality leave a lot to be desired. In comparison, Honda WR-V gets a more spacious cabin with 64 mm longer wheelbase, has a more accomodating boot with 363-litres of space and offers a more enriching experience with its 7.0-inch DIGIPAD unit, climate control with touch panel, electric sunroof and a plethora of silver accents in the cabin.
Engine and Mileage – Apart from the introduction of a 1.2-litre 3-cylinder Dragon series petrol engine, the Freestyle puts to use the explosive 1.5-litre TDCi diesel mill which coupled with a low kerb weight makes the car a hoot to drive. In their petrol avatar, both the cars come with a 5-speed manual transmission and are closely matched in terms of claimed fuel efficiency as well. Developing 94.6 BHP of power and 120 Nm of torque, the Freestyle packs abundant punch to smoke the competition in no time but at the cost of refinement at which the Honda excels.
Honda's 1.5-litre i-DTEC fuel-burner, developing 98.6 BHP of power and 200 Nm of torque, is no slouch when it comes to performance but the Freestyle has 15 Nm of additional torque combined with the added advantage of lower kerb weight. Rated at around 25 km/l, both the motors are high on fuel efficiency and offer exceptional drivability but come with sub-par NVH levels. However, the WR-V comes with an additional 6th cog which will prove to be a boon on highway jaunts.
Safety and Service – Equipped with a total of six airbags, ABS with EBD, electronic stability program and traction control, the American beats its Japanese rival hands down in the safety aspect. On the other hand, the WR-V comes with dual airbags and ABS with EBD which are becoming standard equipment in cars multiple segments below. With a larger dealership network across the country and a good image for customer satisfaction, Honda leads the way when it comes to after-sales service but Ford is steadily catching up with emphasis on low cost of spare parts and a satisfying ownership experience since the last couple of years.
Price and Verdict – Expected to be priced from Rs. 6.94 lakhs to Rs. 9.63 lakhs for the base petrol and top-end diesel trim respectively, Ford Freestyle undercuts the WR-V with an enormous difference of approximately Rs. 2 lakhs. And this is where things start making sense! Even though the WR-V is a better proposition with a lot of "feel-good" elements, the Freestyle has got you covered on some fundamental aspects which include performance, fuel efficiency and safety. To sum it up, the Freestyle is good for its price and we would vote for a Titanium+ trim of the Freestyle instead of under-equipped S variants of the WR-V any given day!
(Prices mentioned are estimated on-road, Mumbai)
Ford Freestyle vs Honda WR-V