Gabriel Motorcycles Builds A Custom Bobber Based On Pulsar 220
Custom motorcycle company, Gabriel Motorcycles has just built a custom black Bobber based on the Bajaj Pulsar 220 motorcycle, featuring stunning design elements.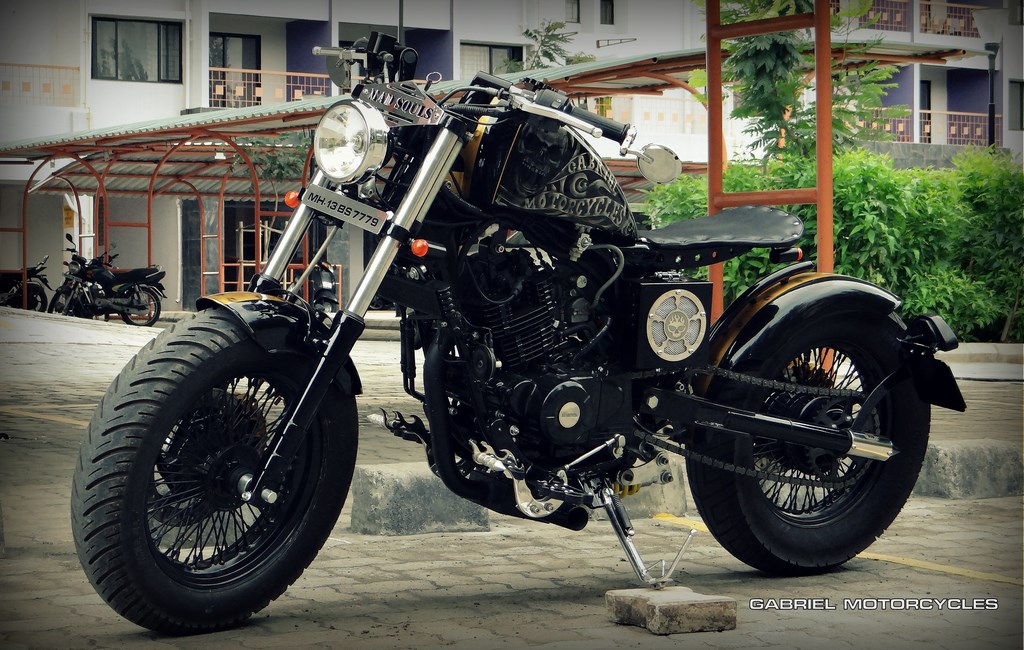 Popularity of building and owning custom vehicles has been steadily increasing in the country. This comes in light of the fact that there are many events being organised all over the country promoting the same. Large number of petrol-heads flock to these events to witness the aura surrounding the Indian customisation scene. Cars have always been modified in India, but two-wheeler customisation is still a path relatively less traveled on. However, we do have some very good examples of custom-built or tailor-made bikes to demonstrate Indian talent in this domain.
One such two-wheeler customiser is Gabriel Motorcycles. Their latest example is a unique Bobber which whether you believe it or not is based on a Pulsar 220. While many would choose to build a Bobber on a bike like Royal Enfield, Gabriel likes to take the less used path to suffice the needs of its clients. Coming to the design, the overall silhouette looks very classy and neat to put it in simple words. Except for the engine and few other mechanical components, the whole bike has been redesigned from ground up.
The front end gets a new round headlight, while the LED tail-light is found over the number plate housing that together has been mounted on the side of a cool looking swingarm. The single seat has been hand built and the rear turn indicators have been neatly placed underneath the same. The black Bobber gets custom front and rear fenders with custom black multi-spoke wheels that have been made in-house. It features an underbelly rear suspension with the rear tyre getting a single disc brake in addition to the single disc up front. Other custom parts include –
Knuckle duster foot pegs
CNC cut, flame shaped brake and gear pedal levers
Laser engraved air filter and battery box
Bar-end rear view mirrors
Peanut fuel tank with a sprocket lid
Custom silencer
Chrome made from 100% rustproof stainless steel
Heat resistant black coating on the engine and silencer
Gabriel Motorcycles has done an amazing job on the Bobber which features a one-off air-brushed paint job with a yellow stripe running down the centre of the bike. The distinctive badges/plates and paint job on the fuel tank makes it a true custom with no similarities whatsoever with the motorcycle it is based on.